Shopper Innovation Awards: Tech breakthrough
McDonald's takes Gold, Rockland Mall's virtual fashion experience win Silver and Sobey's Moodie Foodie app takes Bronze.
GOLD

McDonald's takes on the skeptics
As people become more informed about food production, the new battleground for the QSR industry is the perception of food quality. McDonald's has long been confident in its food, practices and procedures, however consistently low food quality scores revealed that some were not as confident.
The QSR found that food quality advertising actually fuelled negative perception, so McDonald's enlisted Tribal DDB to help target consumers who actively question the provenance and nutritional value of its food.
The only way people would start to listen to McDonald's was if it actively acknowledged consumer concern during the consideration and pre-shop phases of their path to purchase. This insight led to an integrated campaign across web, television, in-store and outdoor that provided shoppers who had questions with unfettered and unfiltered access to the company.
A website allowed Canadians to ask any food-related question they wanted, and received answers within three days. The brand created shareable video responses. "Behind the scenes at a McDonald's photo shoot" achieved 8.1 million views, "What is in the sauce that is in the Big Mac?" garnered 2.5 million YouTube views and "How McDonald's Canada makes their world famous fries" racked up close to 2.1 million at press time.
The brand received more than 18,000 questions, exceeding the campaign target by 600%, and the site generated more than five million Canadian interactions with an average engagement of four minutes, and over 13 million YouTube channel views.
Food quality perception metrics have exceeded all expectations. An independent study showed that the top three measures for food quality perception among the brand's target improved by 70%, 31% and 39%, respectively, translating into increased pre-shop purchase intent. The campaign also saw a startling 48% improvement in overall opinion of McDonald's among lovers, haters and fence-sitters combined.
Credits:
Client: McDonald's
Agency: Tribal DDB
CD: Louis-Philippe Tremblay
Strategists: Jason Chaney, Kevin McHugh
CWs: Ryan Lawrence, Ian McKenzie, Tiffany Chung, Sanya Grujicic
ADs Benson Ngo, Derek Blais, Kara Wark, Amy French
SILVER
Rockland Mall's virtual fashion experience
Though small compared to New York or Paris, the city of Montreal is still considered to be fashionable. Rockland Mall is in a remote area of the city and is sometimes forgotten when it comes to shopping. With a young professional female audience, Rockland needed to give them a reason to drive the extra miles away from the trendy downtown boutiques.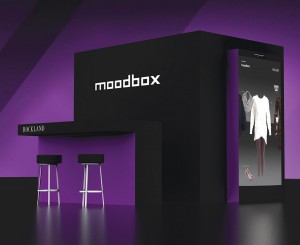 High-end fashion isn't just about buying the most expensive items, it's also about matching different items and delivering a high-end look. Fashionistas typically find items at separate stores and match them at home.
Rockland's most distinctive strength resides in its boutiques – unlike its downtown competitors, they are all located under the same roof. This led Rockland's agency Lg2 to create an interactive shopping section in the mall, called the "Moodbox Experience." The booth allowed users to match featured items from Rockland stores as if they were at, for example, Michael Kors, Judith & Charles and Birks at the same time.
It allowed consumers to put together an outfit, then print a map of the mall to find the stores that stocked the items. Using Kinect technology, cameras detected the user's movement and height, and interactive screens showcased the participant wearing the clothing in a virtual environment.
In less than a month, more than 2,000 consumers experienced the Moodbox, with more than 73 users each day at peak periods and a 63% conversion to printing, sharing and shopping. Time spent was an average of three minutes.
Credits:
Client: Rockland Mall
Agency: Lg2
VP/CD: Claude Auchu
AD: Jean-François Clermont
Strategy: Pénélope Fournier, Sabrina Côté
CW: Jean-François Perreault
Group accounts: Catherine Lanctôt, Julie Bégin
BRONZE

Sobeys spawns an emotional app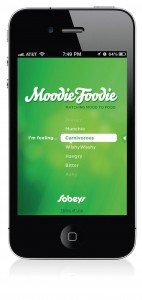 Sobeys wanted to create a new way for shoppers to navigate and discover meal inspiration that acknowledges a deep emotional relationship with food. The result was "Moodie Foodie" – the first app that matched a person's mood to their food.

The app, created by Leo Burnett, serves up food inspiration based on how the person is feeling – from flirty, feisty and playful to carnivorous, experimental and "hangry" (angry because you're hungry). The app emphasized and reinforced Sobeys' passion for food and provided a form of genuine utility the consumer couldn't get anywhere else.

The app was designed to have users participate in building the different mood and food categories, essentially having them help feed the growth of the app. Moods and foods can be shared with friends on Facebook or Twitter – driving more downloads and participation. And a multi-platform media campaign supported the launch to create awareness.

Within the first few days of launch, it became the second most downloaded app in Canada in the iTunes Lifestyle section. There were over 20,000 downloads in its first month, achieving Sobeys' goal of making it to the iTunes "What's Hot" list, and more importantly, engagement is high with new foods and moods being added by users every day.

Credits:
Client: Sobeys
Agency: Leo Burnett
CEO/CCO: Judy John
CDs: Lisa Greenberg, Shirley Ward-Taggart
ACD: Ian Kay
AD: Mark Nilsen
CW: Jennifer Smith