The rise of retail-tainment
Retailers and entertainment companies are increasingly allowing consumers to "shop the show," as branded content takes on a different spin.
TV properties and retailers have a common foe: the internet.
With the rise of the net, retailers have increasingly felt the pinch on their bricks-and-mortar locations as consumers flock to the lower prices and the best deals online, leaving an in-store sale for as little as a 2.5% discount, according to a Group M study last fall. In Canada, Best Buy, Future Shop and Sears have all shuttered stores, citing declining profits as the reason.
Television producers and networks, conversely have felt the pinch of downloads and online streaming stealing eyeballs from primetime ads, while PVRs mean traditional screen viewers can simply skip the commercials.
But in this pinched economy, a new possibility for retailers and entertainment companies to connect has emerged.
"With new technology that's available, you can click on something on [a computer or mobile] screen and find out how much it costs and order it on the spot," says Tony Chapman, CEO of Capital C, a judge on the first-ever TV-to-next-day-retail reality show, Recipe to Riches, alongside the Food Network, Loblaw and Temple Street Production.
That's the idea behind W Network's Shop the Show, a new digital portal that will connect viewers with the products they see on screen.
The portal was launched in partnership with online retailer eLuxe and reality real-estate show Love it or List it Vancouver in March, with host Jillian Harris curating her outfits online for people to buy.
"eLuxe was a great way to test the waters," says Christina Litz, VP digital content and engagement at Corus, which owns W. Despite having minimal marketing support, it's been a successful first month, she says. Though she can't share hard figures, anecdotally some of the products have sold out, while eLuxe has reported strong sales numbers.
The partnership arose because viewers would regularly ask where they could buy products they saw on screen. Connecting viewers to a place to purchase seemed like a natural extension of its programming and advertising partnerships, she says, and was something magazines began testing out last year (such as the Harper's Bazaar and Sak's e-retail shop launched in September 2012).
Going forward, Shop the Show will make up an important part of the network's digital strategy and Litz says Corus is actively looking for new partnerships and ways of integrating on-screen content with advertisers.
"We can look at a number of arrangements from simple affiliate relationships, where we just make the connection between the product and the [place to] purchase, to deeper client integrations, where our W editors and producers put together looks inspired by our shows or movies," she says, adding that programs like this could also drive foot traffic into stores through in-store experiences that are tied to particular shows.
Chapman says this offers a huge opportunity for retailers. He points to the exclusive partnership between Hudson's Bay and Kleinfeld Bridal – which is the star location of the show Say Yes to the Dress – to open a 20,000 square-foot shop, carrying the same designer d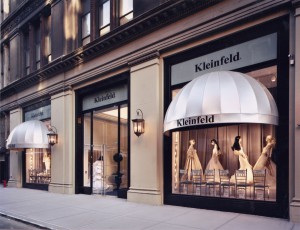 resses as Kleinfeld's New York location, set to open in 2014.

Chapman says if properly done, it could entice consumers to come in to fulfill the fantasy they see on screen. He adds that for the Kleinfeld/Bay partnership to work, the dresses should only be available at the Bay, and the in-store experience must reflect the one on TV. It would be even more effective if an episode or two were actually shot in Toronto. "It's creating a level of engagement that I see something on TV and can now experience it live," he says.

To that point, the Tim Horton's sponsored Food Network's Donut Showdown (which takes a bit of screen time away from cupcake shows to pit wannabe donut masters against each other), could have taken its integration a step further by selling the winning tasty concoctions in store, fulfilling edible retail-tainment fantasies.