Canada's top ad ideas: curated
A few of Canada's top marketing and ad execs pick their favourite work of the year ahead of this year's Cannes Festival of Creativity.
It's been an interesting (and creative) year for Canadian brands and agencies as marketing continues to reinvent itself (just check out the AToMiC Award-winning cases). But will homegrown campaigns stand out on the world stage? This month's Cannes Lions International Festival of Creativity is the toughest global ad competition, yet some of Canada's top marketing and ad execs believe the calibre of these Canadian ideas could have an impact at the ad world's Oscars.
Brent Choi's choice:
Leo Burnett and AMC's gruesome countdown
To vie for attention, out-of-home keeps getting more extreme. Rather than compete with consumers' smartphone addiction, some of the best ideas exploit this behaviour. In February, to promote the return of AMC show The Walking Dead, Toronto-based agency Leo Burnett placed two giant decaying hands in transport hub Union Station. A finger was lopped off each day until the show was back on air. Passersby were invited to tweet #TWDFeb10 for a chance to win one of the fingers. On the last day, there were product giveaways and hordes of "walkers" (a.k.a. zombies) were chained to the installation for photo opps. The execution achieved 18 million Twitter impressions, 3.2 million Facebook impressions and was shared 24,000 times within Canada.
"I know an ad is good when ad industry friends share it on Facebook. I know an ad is great when people who don't give a crap about ads, like my wife and neighbours, share it," Choi says. "Not only was it disruptive, each day it communicated brilliantly on-brand. And the cherry on top? The 'tweet to win a finger' social component, which definitely helped amplify the story."
Brent Choi, chief creative and integration officer, JWT, took home two Gold Lions in Mobile last year for his work on the SickKids Pain Squad app  while he was chief creative officer at Cundari.
***
Helen Pak's pick:
Grey Canada and Missing Children's social value
Some campaigns are festoo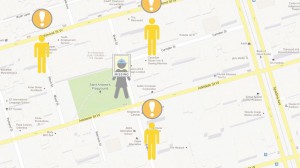 ned with trivial social media components. This one puts them to shame. Last May, Toronto-based agency Grey developed a tool called "The World's Most Valuable Social Network," whereby Facebook and Twitter users can "donate" their walls so that whenever a child goes missing, an alert is posted automatically. The agency followed up with a tool that replaces Google home page ads with missing kids alerts, a pin board that pins extra information about abductions, and an app that sends alerts to people in that region. More than 20,000 people have signed up for the tools, which reach more than one million people each time an alert is sent out. The drive successfully helped find six missing kids in the past year.
"I am one of many who go to my social networks to find out about current news," Pak says. "This idea harnesses the immediacy of shared info and turns it into a powerful tool for alerting people about missing children. Projected to reach 70% of all Canadians, this idea truly shows the strength and larger potential of social networking."
Helen Pak, EVP, executive creative director, Saatchi and Saatchi, has been recognized at Cannes and the One Show, while her recent @Random online video for the Tourette Syndrome Foundation of Canada has screened at TIFF and Hot Docs.
***
Lynne Clarke's call-out:
KBS+P and Target say hello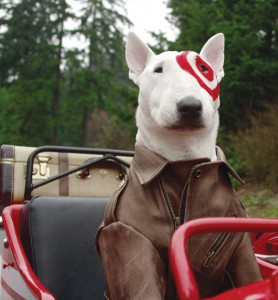 To introduce its cheap and cheerful take on retail to Canadians, Target unveiled its "Can't Wait to Meet You Neighbour" campaign with a TV spot during the 2013 Academy Awards. Created by Toronto-based agency KBS+P, it featured Bullseye the bulldog mascot riding around iconic Canadian sights (viewed more than 500,000 times online), while out-of-home featured local landmarks and was tailored to different neighbourhoods. Leading up to its arrival, the brand created hype with a holiday road-trip tour (with Canadian singer Carly Rae Jepsen making a guest appearance), a summer pop-up beach day in five cities across the country, and a one-day pop-up store featuring designer Jason Wu in Toronto, which attracted more than 1,500 people.
"Maybe it's because you had to be living under a rock not to notice the fantastic integrated campaign, or maybe I'm just really excited that Target launched in Canada this spring," Clarke says. "The care taken by the U.S. retail giant to show they had invested significant time in truly understanding not just Canada, but the Canadian mindset, culture, habits and icons that create a unique national identity is subtle yet omnipresent in design and messaging. The launch campaign is at once recognizable and offers a happy familiarity to Canadians who love the U.S. retailer, but is also surprising and aesthetically pleasing in large-format creative. It does the job of building excitement and anticipation."
Lynne Clarke, marketing director at Microsoft Canada, has more than 12 years of marketing experience on both sides of the Atlantic and was an AToMiC juror this year.
***
Steve Mykolyn's faves:
Lg2′s show-stopping spots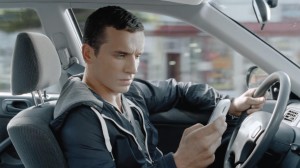 With all the focus on media innovation, TV spots get short shrift. They shouldn't, as the persuasive power of these mass-reaching short films attest. In a spot called "Texto" (pictured at top) for Société de l'assurance automobile du Québec (Quebec's auto insurance board), Montreal-based agency Lg2 highlights how absurd people throughout history would have looked if they were to write while driving (be it with a typewriter on the passenger seat or trying to use a quill pen while driving a horse and buggy), and culminates with a man texting and a well-placed car crash to remind people not to text and drive.

For Réseau de transport de la capitale, the agency reminds everyone that public transportation offers people time to think. The spot features a man who decides it's time to have a baby, before changing his mind (thanks to thinking time on the bus) and telling his wife it's time for a dog. Following the commercial, 73% of people polled said the spot helped them reflect on public transportation in their lives and ridership increased 3.8% as a result.

"This is the year for Lg2 on the global stage. It has [done] a lot of great work over the past year and its TV campaigns for 'Texto' and the 'Baby' spot for the Quebec City bus should do well," Mykolyn says." In both cases it's the same theme: simple and smart. VP and creative director Luc Du Sault and Lg2 are doing a fantastic job."

Steve Mykolyn, chief brand officer, Taxi Global, is a frequent Cannes judge (Film, Cyber, Titanium and Integrated so far) and has won multiple Cannes Lions over his career.