Hellmann's: 100 years of keeping it real
How the brand has stayed true to its positioning through a century of change.
Richard Hellmann wasn't the inventor of mayonnaise. That honour goes to folks in a French town in the 1700s. Nor was he the first person to successfully bottle and mass produce the product in the United States. Amelia Schlorer of Philadelphia gets that title.
Hellmann is, however, the name behind the most successful mayonnaise in North America, going on to sell more than $1.8 billion worth in the U.S. alone, where it maintains a 31.1% share. The brand, introduced in Canada in the 1950s, is sitting pretty atop a 52% market share today, almost doubling its sales in the past 12 years.
This year, the Unilever brand enjoys its 100th anniversary – working with Toronto-based creative agency Ogilvy, PR firm Harbinger and media agency Mindshare – with a social and PR campaign that celebrates the birthday and updates some classic recipes by adding a healthier twist (for example, Caesar salad with kale, instead of romaine lettuce). It's been a busy century for the mayonnaise, including a brief scuffle with the Canadian government during its consumer protectionist phase, a dip into comedy and a head-first jump into the healthy food movement.
While it competes against dressings and "mayonnaise-like" products, Hellmann's is the most popular "real" mayo – a claim it held dear throughout its lengthy history and that serves it well today.
1913-1920
Richard Hellmann was born in Vetschau, Germany and immigrated to New York in 1905, where he married into his wife's family business, a delicatessen. After a near run-in with death (the couple almost travelled aboard the Titanic) in 1913, Hellmann and his wife introduced two flavours of mayonnaise. To help folks know the difference, Hellmann's wife put a blue ribbon around her favourite flavour, says Jennifer Pyne, account director at Harbinger, giving the mayo its iconic blue ribbon logo it maintains today.
The product proved so popular that in 1917, Helmmann closed the shop to dedicate his time to selling his mayo, buying a fleet of trucks to deliver straight to consumers and  opening a manufacturing plant. Despite the distribution push, advertising was almost non-existent.
1920-1945
In the 1920s, General Foods bought Hellmann's and gave the brand its rectangular logo. Though actual blue ribbons were no longer used, the product still bore the symbol.
Food marketers had a tough sell over the next 25 years. Between the Depression and the Second World War, it was an age of austerity, and many women were skeptical about buying products they could make at home, such as soup, butter, and of course, mayonnaise.
In her book, Food Is Love:  Advertising and Gender Roles in Modern America, Katherine Parkin found (unsurprisingly) that ads at the time reinforced the idea that a woman's place was in the home, and food ads rarely deviated from this view. A woman's validation came from her family's appreciation of her food. Perfection at meal time was a must. To convince women to buy a product she formerly made herself, ads focused on it being a "smart choice" to buy packaged food, because it would enhance or perfect a meal.   For example, one 1930s Campbell's ad declared that women were "Soup Wise" using the product, while a Crisco ad proclaimed that the brand did the work for the woman so she could concentrate on making the best food. Advertising was designed to assure her she wouldn't be letting her family down when using packaged foods.
Print and radio, which debuted in 1923, were the primary media for ads, with packaged food folks preferring the picturesque pages of magazines to show off delectable meals and product instructions.
It wasn't until the 1930s, when purchased by food co Best Foods, that Hellmann's began any major advertising, focusing largely on magazines such as cooking pub Correct Salads For All Occasions, which often contained recipe cards to show women how to integrate Hellmann's into cooking. Much like other prosaic food advertisements of the time, copy focused on the quality of the product and the benefit of using the "whole egg," and highlighted the multiple uses of mayo ("Thin it, vary it, cook with it, serve… Hellmann's as is" read one ad. "Use it on sandwiches, salads and in sauces," read another).
Its main competitor, Miracle Whip, was introduced in 1933 at the Century of Progress Exposition in Chicago, as a cheaper alternative to mayo during the Depression era. It was a blend of mayonnaise products and used powdered eggs instead of real ones. To this day, Miracle Whip is a "dressing" and not a mayonnaise, says Alison Leung, marketing director, foods, Unilever, because it doesn't meet the standard of identity of mayo (which must contain eggs, vinegar and olive oil).
As the products entered a two-horse race, capturing nearly all the market share between them, Hellmann's found itself increasingly reliant on its claim to "real" as a distinguishing factor, brand promise and identity. Without meaning to, the introduction of Miracle Whip may have given Hellmann's its strongest positioning possible, and one that it retained through the next 80 years.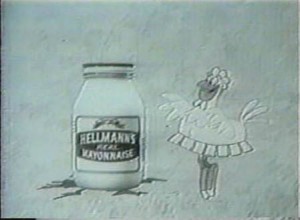 1945-1970
An age of rapid consumerism followed the Second World War, with suburbs and mass market retailers flourishing. As people moved out of the cities into prefab communities, hosting dinner parties came into style, with books like Entertaining is Fun recommending extreme measures – like a freshly painted front door –for parties in order to "keep up with the Joneses."
Through the '50s and '60s more women began working outside the home, incomes increased and there was less time to cook meals. Capitalizing on this, fast food chains proliferated: McDonald's opened its first franchise in 1953, Burger King followed in 1954, while Tim Hortons launched in 1964. Reflecting a more sophisticated and informed society, creative, on the whole, became more brazen and risky, with companies introducing self-deprecating humour (such as Volkswagen's "Lemon" and "Think Small" ads) and social issues (Lever and Gillette both introduced African Americans into their ads).
But despite a shift in attitudes and increased competition from fast food chains, food advertising remained relatively staid, Parkin found. Ads continued to focus on a woman's place in the home, while her cooking remained the source of her family's love. The only major change during those two decades was the increased focus on the ease and convenience of meal preparation with packaged foods.
Ads for Chef Boyardee emphasized the quickness of meal prep ("In five minutes…dinner with an Italian touch"), Libby's Beef Stew promised its "most like homemade" quality and mothers were assured Campbell's four-minute soup was perfect for growing kids.
Hellmann's bucked the food advertisement trend by focusing on quality instead of speed. Introduced to Canadians in 1955, it came out with a TV ad depicting an animated chicken happily cracking her own egg and espousing the benefits of real ingredients in the product. Live food shots of elaborate sandwiches, salads and dips were cut into the cartoon promoting the brand's ability to "bring out the best" in your home-cooked meal.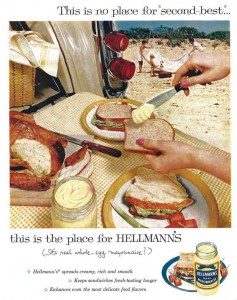 In the '60s, it introduced the tagline "There's no place for second best. This is the place for Hellmann's," with one ad featuring an elegantly styled potato salad masquerading as a two-tiered cake while another features a family at the beach with the wife making sandwiches out of a fully roasted chicken she brought along.
A '60s TV spot featured a woman hosting a dinner party, while a (surprisingly catchy) jingle plays over top: "It's fun to have a party, but everything must go right. Now here's a dip that's so right. This is no place for second best. When you want to bring out the flavour and bring out the zest. Just bring out the Hellmann's and bring out the best."
Hellmann's deviated from the simple and fast packaged food messaging trend by featuring elaborate meals and concoctions. Hellmann's was meant to enhance a meal that took some effort to prepare, not simplify it. Unlike brands like Campbell's and Chef Boyardee, it was not presented as a shortcut.
1970-1990
In the '70s, the Canadian government became more involved in protecting consumers, cracking down on false claims and potentially inaccurate brand promises.
Towards the end of the decade, Harold Simpkins (who is now a lecturer of marketing at Concordia University) began his career as product manager at Best Foods, which was owned by the Corn Products Refining Company at the time, and remembers receiving notice from the Department of Consumer and Corporate Affairs that Hellmann's could no longer use the word "real" in ads. Decisions from the DCCA were considered final and couldn't be appealed.
"Their logic was it implied other mayonnaises aren't real," he says with a laugh. "It got a bit scary [because] I think we would have been the only country Hellmann's was marketed where we wouldn't be allowed to call it real."
The brand got a reprieve in 1979 when Labatt challenged the constitutionality of the department over its decision to bar the company from naming a beer "Labatt's Special Light," setting a precedent that allowed brands to appeal the department's decisions. The DCCA was later dissolved in 1993.
This wasn't Hellmann's only challenge during the decade, says Simpkins. Nutritional information began appearing on packaging and the notion that certain foods cause health problems began to emerge. Butter and eggs turned into public enemy number one, which was not great for a brand built upon its stance that it is made with real eggs.
Hellman's stopped mentioning eggs in ads, though Best Foods continued to maintain the "real" nature of its product.
Our obsession with health continued into the 1980s, and marketers saw it as a huge opportunity. For example, Slim-Fast emerged with its first shake in 1987 and Stouffer's introduced Lean Cuisine as a healthier frozen dinner option in 1981. Companies raced to release "light," "no fat," and "low fat" offerings, cutting calories out of food (and sometimes taste).
Hellmann's was no different, introducing a low-fat option, deviating from its traditional promise of "real" by adding modified starch and sorbic acid to the recipe (low fat Hellmann's is listed as dressing, not mayonnaise, and doesn't use the claim "real" anywhere in the messaging).
On TV, Hellmann's began to toy with the use of comedy in its commercials, as did most brands in the '80s (the other go-to being quick-cut music video-style spots). One ad featured two women continually bickering over everything, from card games to recipes, only agreeing that a recipe is better with Hellmann's.
1990–2005
The brand moved deeper into comedy and away from pure product benefits through the '90s.
Hellmann's main competitor Miracle Whip also tapped witty lines and began its "A sandwich isn't a sandwich without Miracle Whip," campaign with tags like "Ever seen a grown man cry?" and "You can still invite people over for the game. They just won't come" next to an empty jar. This was the point when ads began to shift away from functional benefits of the brand, says Leung, towards a more emotional connection.
An early '90s Hellmann's ad emphasized the brand's prestige, featuring a group of construction workers eating bland sandwiches, while one enjoys his by candlelight, declaring in a pompous tone: "Gentleman, your culinary preferences are exceedingly appalling."
Another features a young boy navigating through his cheek-pinching family at a reunion only to discover his sandwich is without Hellmann's. He must brave the room again to make his sandwich complete. All the ads focused on the exceptional taste of real mayo. (Toronto's BBDO picked up the account in Canada in 1994, though information wasn't available on which of these ads it made.)
Best Foods was acquired by Unilever in 2000, which maintained the '90s advertising status quo. Hellmann's ads in the early part of the decade began to take on an almost absurd tone. One spot, by New York's BBDO, features a man mesmerized by a magician on TV who can bend metal with his mind, only to discover the knife in his hand has been warped. Another, by Lowe and Partners, features three male strippers at a bridal shower who can't compete with the attention Hellmann's laced food is getting, while a third, by U.K.'s Ammirati Puris, features a woman getting comfortable with her sandwich while she removes her bra. All the ads ran in Canada.
After 2003, Canadian creative, which consisted mostly of print ads, was handled by the now-defunct Toronto agency Zig, though local ads seemed to be minimal.
2005-present
Hellmann's was losing momentum with consumers. A survey conducted in 2005 found that 75% of Canadians believed that Hellmann's was "junk in a jar." But there was a changing perception of food on the horizon that Hellmann's, with its claim to "real," would be able to easily tap into.
Throughout the late '80s and '90s, free trade agreements made it possible to have goods manufactured cheaply overseas, but as society moved into the era of the internet and hyper-transparency in the new millennium, the human and environmental toll of the migration abroad led to a push-back in the food industry.
Added to that, people moved away from "light" or "low fat" options towards calorie controlled "skinny" (but full-flavoured) offerings and the increased "foodie" movement sparked a desire in us to play with our food and create elaborate concoctions and flavours.
More than that, people began examining the contents of what they ate much more closely, with concern over how processed and preservative-filled foods would affect long-term health. Brands like McCain's and Maple Leaf Foods experienced sales declines or stagnation. But while processed food companies raced to catch up (Maple Leaf and McCain's, for example, have both introduced "all natural" or "all real ingredient" products in the past three years), Hellmann's was already there.  Though it hadn't talked about the "real eggs" and ingredients used since the 1950s, the recipe for Hellmann's hadn't changed, says Leung. And with 80% of the ingredients sourced from Canada, she says they were able to quickly capitalize on the locavore movement. (Globally, the brand has committed to using only free-range eggs by 2020.)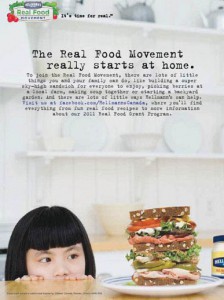 After signing on with Ogilvy in 2005, and coming off the heels of Dove's "Real Beauty" movement (another Unilever brand that works with Ogilvy), Hellmann's set about creating a movement of its own.
The "Real Food Movement" marked a turning point for Hellmann's in Canada. It was both the creation of a social cause and the point when the bulk of ads started coming from Canada rather than the U.S. While the brand still utilized American creative, the Canadian office took more control over the marketing message, opting from a more grassroots approach.
While both countries focused on the "real" nature of the product, once again highlighting the simple ingredients, Canada opened urban gardens, signed Montreal-based chef Chuck Hughes as a spokesperson in 2008 (he recently baked a birthday cake with his mom in celebration of the brand's anniversary in a YouTube video), and began to reach out to families and kids, promoting healthy eating through locally-produced fruits, vegetables and protein.
"We gave [consumers] an idea to buy into," says Leung, who joined the brand in 2011. Communication and ads focused on the people – how could you support your local farmer? What should you eat? How could you grow your own food? – rather than the Hellmann's product itself.
"In our [Real Food Movement] communication, you'll rarely see a pack shot," she says, which sharply contrasts with ads from the previous 90 years. But Leung says it's been a successful move. "It makes sure people see the philosophy behind Hellmann's. Let's stop talking about how creamy and delicious our mayonnaise is. This isn't about shoving a jar [at consumers] and making a chocolate cake with it. We started saying, 'Hey, we're more than just a product.'"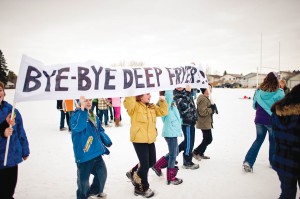 The brand took money from its ad budget to start up urban gardens for people to plant their own fruits and veggies in 2007.In 2009, it created a mini-documentary looking at the state of food production in Canada, highlighting that as a nation, we import more food than we export, despite our abundance of farm land. In 2011, it established the Hellmann's Real Food Grant Program to help organizations that connect families and kids with locally grown foods. In 2012, it gave a new kitchen to an Alberta school so it could make its own food rather than serve re-heated or deep-fried meals (and, despite not planning for it, an online video of the kitchen demolition was later turned into a commercial, "Bye Bye Deep Fryer."

Going forward, its grant program will undergo some changes in structure, but Leung says they won't announce specifics until September.
And despite the lack of product shots, the campaign has been a success. In 2000, market share for the brand hovered below 30%, while Miracle Whip enjoyed 54% share. Today, that's reversed with Hellmann's at 52% and Miracle Whip dropping below 35%. "Bye Bye Deep Fryer" has been viewed online more than one million times since May 2012. Unilever has given away more than $320,000 to organizations that connect people with "real food," and the Real Food Movement has picked up numerous CASSIES and Effies for sustained success.

"I've been at Unilever since 1998," says Leung. "And it was always, 'Hellmann's? Yeah, we're a good brand, but we're not number one,' and you never heard a lot about it. But [now] when we talk about how we grow Unilever, Hellmann's is at the forefront."

The folks from Ogilvy compiled all the footage they inherited from previous agencies. Check out some of Hellmann's advertising efforts throughout the past century.