Fall TV: Primetime battlegrounds 2013
With the battle lines drawn, an expert panel predicts the winners and losers for the upcoming season.
Rogers Media is going younger and lighter on City by beefing up its roster of new comedies, Bell Media has moved the majority of its reality programming to CTV Two to give the channel a brand identity, and Shaw Media continues to try to own the 10 p.m. drama block on Global.
But what new shows will stick and which will be cancelled faster than you can say Animal Practice? Don't fear, help is here in the form of picks and pans from the upcoming slate of new programs.
Monday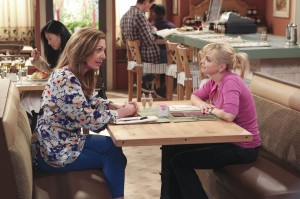 City is kicking off the week with its laugh-heavy strategy, putting new Canadian comedy Package Deal, which is based on three dysfunctionally close brothers and the woman who comes between them, at 8:30 p.m. ahead of the third season of 2 Broke Girls at 9 p.m., which leads into Chuck Lorre's new Anna Faris-starring show Mom at 9:30 p.m. (pictured) about a newly-sober alcoholic who moves home to Napa Valley. Rebecca Carter, broadcast buyer at Maxus Canada, calls the new show from the creator of Two and a Half Men "quirky," but adds it is one she thinks will appeal to the whole family.
Global Television's first new drama for Monday night, Sleepy Hollow at 9 p.m. is a miss according to Bailey Wilson, director of investment at J3, and Lina Alles, managing partner at Mindshare, who says the new show – based on Washington Irving's classic story of Ichabod Crane told in the present day – "doesn't stand a chance" against The Voice on CTV and Dancing with the Stars on CTV Two.
The battle of the new dramas heats up at 10 p.m., with CTV debuting new Dylan McDermott-starring FBI thriller Hostages, about a rogue agent who takes a surgeon (Toni Collette) and her family hostage, against the James Spader-topping crime drama The Blacklist (pictured, top right) on Global.
In The Blacklist, Spader stars as an FBI fugitive who surrenders to the organization on the condition that he will only speak to one agent.
Both are picked as hits by strategy's commenters, but Alles says pitting the two dramas against each other as well as returning hit Castle on CTV Two will "split the female audience."
Comments
"If NBC's 10 p.m. time slot was enough to keep Revolution around last year, The Blacklist will be an even bigger success."
– Bailey Wilson, director of investment, J3
"Hostages has great pedigree with Jerry Bruckheimer, and this show provides good competition for Blacklist which I also think is going to stick around even though both of these are running at the same time on Mondays."
- Atreyee Dey, group director, PHD
Tuesday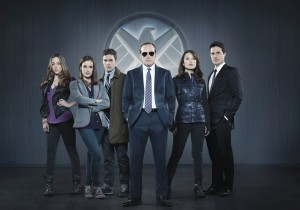 CTV and City have three new series on Tuesday night. CTV leads off with the most buzzed-about new show of the season, Marvel's Agents of S.H.I.E.L.D. (pictured) on the Bell Media channel at 8 p.m., and City leads off with Seth MacFarlane's new comedy Dads  followed by a second laugher, Brooklyn Nine-Nine at 8:30 about a laid back cop (SNL's Andy Samberg) and his tight-laced boss. CTV Two will air Anger Management and Hot in Cleveland.
Wilson's favourite of the new shows, '80s-based family comedy The Goldbergs  gets the Marvel lead-in at 9 p.m., with the broadcaster's third new comedy of the night, Trophy Wife, about a younger woman who marries an older man with kids, airing at 9:30 p.m.
"The cast is great and the trailer was hilarious and heart-warming," she says of The Goldbergs. "Good thing it has S.H.I.E.L.D. as its lead-in, but it is in a tough time slot against the results show of The Voice [CTV Two], NCIS: Los Angeles [Global] and New Girl [City]."
City's 10 p.m. debut, drama Lucky 7 about a group of gas station employees who win the lottery, the only new show in the time slot, won't stay on the air, according to Dey.
"The storyline of that show is weak and I am not sure how many episodes it can sustain to profile the lives of lottery winners," she says.
Comments
"With the powerhouse of Joss Whedon and The Avengers behind it, it should come as no surprise that Marvel's Agents of S.H.I.E.L.D. has lots of buzz. Those who don't watch CBS's number one show NCIS, which is the time period's only real competition, will definitely tune in
to S.H.I.E.L.D."
– Wilson
"Even though Brooklyn Nine-Nine stars Andy Samberg, it could have a difficult time surviving. Honestly, how many times can you watch [what seems like] an SNL skit that's been way overplayed?"
– Rebecca Carter, broadcast buyer, Maxus Canada
Wednesday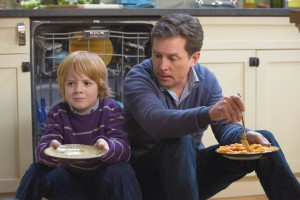 City and Global are the only networks introducing new shows to the Wednesday lineup, with the Sean Hayes (Will and Grace)-starring comedy Sean Saves the World about a divorced dad trying to figure out his new life on Global at 9 p.m. It is up against hit show Modern Family on City, Criminal Minds on CTV and The X Factor on CTV Two.
Our panel is split on Michael J. Fox's return to TV on The Michael J. Fox Show (pictured), based loosely on Fox's real-life struggles with Parkinson's through his character as a TV newsman, which Global is airing at 9:30 p.m. against Conan O'Brien-produced new laugher Super Fun Night on City, starring Rebel Wilson (Pitch Perfect, Bridesmaids) as one of three friends on a quest to have fun every Friday night.
"While his brief appearances on The Good Wife were well received, the laughs seem to float around his diagnosed condition of Parkinson's and how his life goes on after this. I feel this is going to fall flat after a few episodes," says Dey on Fox's new show.
Wilson disagrees, saying that if the show hadn't already been picked up for a full season (it has been), then she would give it the green light.
"The trailer was witty, original and refreshing, and everyone loves Michael J. Fox," she says.
Global also introduces a reboot of classic police drama Ironside, this time starring Blair Underwood, at 10 p.m. against CSI on CTV, Nashville, which is now on City, and repeats of Mike & Molly and Hot in Cleveland that run during that hour from Tuesday to Sunday on CTV Two.
Comments
"With executive producer Conan O'Brien and rising star Rebel Wilson, Super Fun Night will fill our nights with laughter. Also written by Wilson, the show is fast-paced with little room for a break from laughter."
– Carter
"The sitcom Sean Saves the World was full of slapstick humour and the jokes were predictable and eye-roll worthy. But in a world where shows like Happy Endings get cancelled, maybe I'll be wrong and this is the type of humour Americans are looking for."
– Wilson
Thursday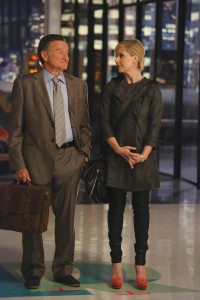 There are six new shows on the Canadian dial for Thursday night, with City leading off with Once Upon a Time (which airs Sunday nights on CTV) spinoff, Once Upon a Time in Wonderland, based on Alice in Wonderland and starring John Lithgow as the White Rabbit, at 8 p.m. The show is up against Global's new comedy, Welcome to the Family, about two families of different cultures thrown together by an accidental pregnancy, ratings killer The Big Bang Theory on CTV (the show averaged 4.1 million viewers last season, according to BBM Canada numbers) and The X Factor on CTV Two.
Carter thinks there is only room for one Once Upon a Time show on the dial, and it isn't this spinoff: "It requires quite a mental and time commitment to keep up, which not many can make. Once you lose traction, it is hard to jump back into it."
Up at 9 p.m. on City is the much buzzed-about Robin Williams return to TV with Sarah Michelle Gellar in The Crazy Ones, a comedy that has Williams as the head of a large ad agency, up against long-running fan favourites Grey's Anatomy on CTV, Glee on Global and a new female-targeted royal drama about Mary, Queen of Scots (it has been called the female Game of Thrones meets Marie Antoinette) Reign on CTV Two.
Carter says Grey's will take the time slot because of its long-time big fan following.
Up at 10 p.m. is new CTV original undercover police drama Played starring Vincent Walsh (Deception, Lost Girl) against the second season of Elementary on Global and political drama Scandal on City.
Comments
"Robin Williams is just known for being Robin Williams and everyone knows he is crazy – so the title of the show is appropriate. From what I've seen of The Crazy Ones, and I have only seen the clips, it looks like it's Robin Williams playing Robin Williams, which will not sustain long-term appeal. If viewers want to see Robin Williams doing comedy they can watch one of his many stand-up DVDs. I think for this show to engage an audience (especially up against Grey's Anatomy), it  needs to be more than just the Robin Williams Show."
– Alles
"I don't think CTV Two's period piece Reign about Mary, Queen of Scots will do well up against Glee. It's a CW show, so it will be going after the same younger audience and Glee will win."
– Wilson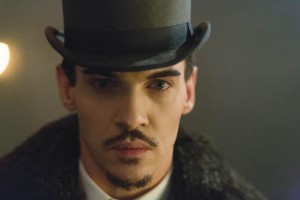 Friday
The 8 p.m. time slot is a fight for family viewing on Friday night, with CTV launching Junior MasterChef against returning shows The Carrie Diaries on City, Parenthood on Global and Undercover Boss on CTV Two.
Also new for the night is military comedy Enlisted on City at 9:30 p.m. about three very different brothers all located at the same Florida military base, against one of Global's top dramas, Hawaii Five-O, Grimm on CTV and Shark Tank on CTV Two. Carter is betting on the returning Hawaii Five-O continuing to do well as it did when it had House as a lead-in.
One of Shaw's new dramas, the Jonathan Rhys Meyers-starring period piece Dracula, is in the 10 p.m. slot. The show takes on the fourth season of Blue Bloods on CTV, and OLN series about buying and selling, The Liquidator, on City. Wilson says Dracula will do better in the U.S., where it has Grimm as its lead-in, but might earn enough viewers to have its 10 ordered episodes make it to air.
Comments
"Dracula is gorgeous – I personally think it looks great (but that might be attributed to Jonathan Rhys Meyers alone). If there is an audience for Dracula, Friday nights is the right place to look for it."
– Wilson
"I am a little unsure about Enlisted because it seems a little too American for Canadians."
- Carter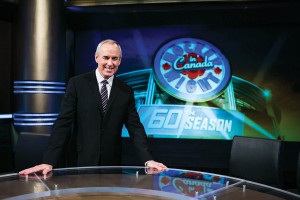 Saturday

The one night of the week when CBC is guaranteed to own the schedule with Hockey Night in Canada, most networks haven't made any big changes to their Saturday night lineups.

Global has introduced new, original factual programming to the night with Obsessions, a documentary series about people whose lives are ruled by their personal obsessions, at 8 p.m., followed by its slate of re-run crime shows Crime Time at 9 p.m. Walk the Walk, another new, original series that introduces Canadians to their personal heroes, bows at 10 p.m.

Sunday

Leading Global's Sunday schedule is the new Tony Shalhoub and Jerry O'Connell comedy We are Men at 7:30 p.m., which is a pass according to our panellists.

"This just won't make it past a few episodes as the clips shown at the upfront drew very few laughs," says Dey.

Global's Sunday night continues with its slate of adult cartoons followed by its hit drama The Good Wife returning at 10 p.m., airing against new shows on City including the introduction of Storage Wars Canada at 8 p.m., the Canadian version of U.K import Meet the Family at 8:30 p.m., the returning Revenge at 9 p.m. and a new infidelity-heavy drama about a photographer and her affair with a lawyer, Betrayal at 10 p.m.

Comments

"Betrayal has all the makings of a great drama: marital affair, deceit, chemistry, political aspirations and ambitious prosecutors on opposite sides of a high profile murder trial. It has the potential to capture the female audience who has just tuned in to Revenge, especially because its only competition is The Good Wife."
– Alles

"We are Men is about four newly single guys who are unlucky in love and total losers. It will be one of the first shows to be cancelled (let's hope)."
– Alles

The social hits

Social media listening company Networked Insights tracked the upfronts to find the shows with the most social engagement and the ones people are looking forward to least. Numbers are based on the volume of posts about the show, positive or negative sentiment around it, the acceleration of conversation and thematic analysis, such as whether one actor from the show was being singled out in discussion.

The most buzzed-about new series

1.    Marvel's Agents of S.H.I.E.L.D.
2.    The Blacklist
3.    The Crazy Ones
4.    Almost Human (mid-season on Global)
5.    The Michael J. Fox Show

The least-anticipated new shows
1.    Ironside
2.    Sean Saves the World
3.    Enlisted
4.    Surviving Jack (mid-season on CTV)