Retailmenot comes to Canada
The coupon aggregating website arrives on scene with retail partners, such as Hudson's Bay, Sears and Indigo.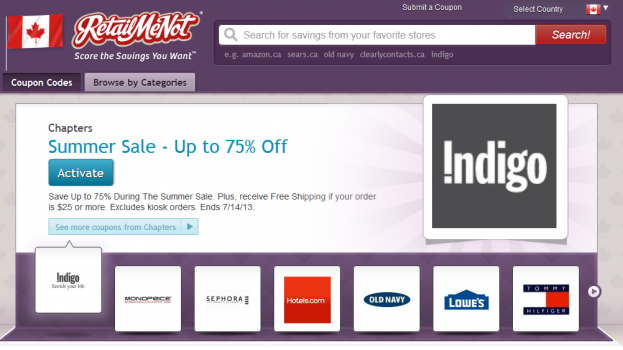 U.S. couponing site Retailmenot.com recently launched its .ca domain, bringing its digital offering to the Canadian market.

The site, which boasts 445 million unique hits since its launch in 2010, including one million Canadian-specific hits in 2012, is a coupon aggregator. Consumers can go online and share deals, voting on which ones were most useful. Brands, specifically retailers, can also submit coupons, which are given top status, and are charged a small fee upon a completed transaction.

The move north made sense, says Josh Harding, VP operations, considering the large number of Canadians and Canadian brands already using the American site. He adds they've been in chats with local brands for many months. Despite only launching at the end of June, Retailmenot has already partnered with Canadian retailers Indigo, Hudson's Bay, Sears and Lowe's. It also already has user-submitted coupons from most major stores available in Canada (such as Shoppers Drug Mart, Loblaws and Sobeys).

Though it's largely an e-commerce coupon site, Harding says part of its expansion plan is to increase the number of in-store redeemable coupons (of which it carries a handful) and boost its mobile presence (which is only available through its U.S. site), though he wouldn't give a specific timeline for when those features would be more widely available in Canada. A high percentage of mobile traffic in the U.S. comes directly from in-store searches, making this an important space it is exploring globally, though he says it is still early days.

The company works almost exclusively with retailers, though it does carry brand-specific deals, such as Lancome, L'Oreal and Mattel for discounts on their online stores.

Retailmenot will use its existing Canadian user base, social media and contest partnerships to promote its new northern presence, Harding says.