Brands we'd like to pair
From Lululemon and Blackberry to PepsiCo and Fashion Week, here are some brand partnerships that seem like matches made in heaven.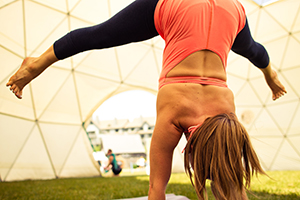 Everybody's doing it. Shoppers Drug Mart and Loblaws (solving the grocery chain's small-format conundrum), Microsoft and Nokia (trying to cling to mobile relevancy) and ad giants Publicis and Omnicom (making a super-giant). We're talking brand relationships that seem like matches made in heaven. So here's who strategy would like to see sailing off into the sunset together.

Lululemon and Blackberry: Stick with us here. What could yoga pants and smartphones possibly have in common? Beyond the fact that a Lululemon/BlackBerry romance would combine two of Canada's hottest exports (albeit, one with a recent fall from grace), merging the pair could actually tap a yet-unknown market. Think about it: Zen business people. Studies have proven that well-rested people perform better. So why not unveil a line of calming smartphones with features such as screen-saver desk-yoga poses, relaxing ocean ringtones or meditation settings? It could be called the Wheatgrass model. Lululemon could even start stitching a BlackBerry holder into the side of its yoga pants for the business tycoon who just can't turn off.

AB InBev and Cineplex: The beer manufacturer has already dipped its toe into the movie industry with Kokanee's The Movie Out Here, so maybe it's time to sink in all the way. Both companies are at the top of their respective categories, and a merger of minds could give the beer-maker even wider distribution of its products across Cineplex's network. With some Cineplex locations already licensed to serve, a deal with Labatt could make the cinema the new "it" place to see and be seen. And as Cineplex delves deeper into the digital content mix (offering services like movie streaming), partnering with a beer brand's wide paid, earned and owned media network (from restaurant beer coasters, to social channels to TV ads), would give the cinema chain huge exposure.

PepsiCo and Toronto Fashion Week: Should MasterCard ever step away from its Toronto Fashion Week sponsorship, we've got the perfect replacement. Even supermodels need to eat. And while chips and pop may not be considered the fashion-crowd food of choice, that's nothing a little clever branding can't fix. Imagine how much more inclusive those parties would feel if they served Mountain Dew and Ruffles instead of canapés and champagne. Pepsi already has its "Forever Young" positioning, and we all know how the fashion world is youth-obsessed. Co-branding opps with various designers and models abound, not to mention all the press at the event itself. We bet some designer would totally be up for allowing his or her clothes to appear on a runway made entirely out of Doritos.