Wine borrows from beer's badge-branding recipe
Vino makers like Constellation Brands and Peller Estates Winery are moving away from talking about terroir and tannins, looking to build a stronger emotional connection with a wider audience in the same vein as beer brands.
On a quiet street in Scarborough, ON., in an architecturally modern home, a group of eight or so people sit, gathered around a TV. Upstairs, director Robert Logevall is shooting a scene with a man pulling out a box of old photographs and adjusting the label on the front. The performance plays on a loop for those downstairs in the living room.
"I used to love going to my grandma's house and going through the old black and whites she had," Sara Myers, business lead at Bensimon Byrne, says, as she watches the scene on screen.
"I just did that last year," says Zeeshan Hussain, group account director at the Toronto agency. "My mom was going to throw out three albums. [So I told her] I'm going to take all of this – you look beautiful in these pictures.
"With the flood that happened, it's amazing how many people talked about all the photos they lost," he continues, referring to the massive rainstorm that hit Toronto in July, causing floods across the city. "It became a very emotionally-charged thing where you saw people helping their parents and grandparents out with [clearing] their basements."
Maria Melo-Boone, VP marketing, domestic wines, at Constellation Brands – makers of Jackson Triggs and Inniskillin – raises her hand. "I lost my floor. If it had gone up another inch, I would have lost my photos."
To break the silence, Hussain jokes, "Do you need a wine for that, Maria?"
He's referring to Jackson Triggs' 2012 campaign, "We've got a wine for that," which was the first time the wine co used TV. The spot features vignettes of memorable moments potentially associated with wine, such as birthdays, sunsets or firework shows, shot from an "insider's perspective" (i.e. close up shots, behind-the-scenes style or on hand-held cameras) and quickly cut together to draw the viewer in.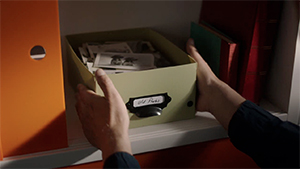 Today, at the house in Scarborough, the group is sitting around after two and a half days of intense shooting across 14 different locations, working on the second run of the brand positioning (which will maintain the tone of the last campaign, featuring short shots of wine-related moments). It's all part of Constellation Brands' attempt to crack the code to a more emotional connection with consumers and create an association with more occasions.
Whether you call it lifestyle or badge marketing, wine is treading into new territories, talking less about the product in the glasses and trying to associate with emotionally-charged day-to-day moments that may be made better with a glass of wine.
It's a page straight out of the beer marketer's handbook (though thankfully devoid of the awkward "bikini-clad women sitting on docks" phase), as brands compete for a small share in an incredibly crowded alcohol market. It's a fitting juxtaposition as beer brands are also looking to increase product selection, turning more towards traditional vino-marketing tactics to grow audiences.
Wine is a hot industry to be in right now. "I love this category," says Melo-Boone, who joined Constellation less than a year ago after working at Maple Leaf Foods (most recently as VP of marketing) for the past 12 years.
"When I was at Maple Leaf, if we got 1% growth, we were [cheering]. Here, this category has been growing 6% or 7%
year-over-year."
There are a few reasons for this, including an increasingly health-conscious nation (which has been told wines have associated health benefits) and consumers' changing palates.
People are no longer just wine or beer drinkers, Hussain says – they'll consume whatever they please. While in the past they may have shied away from a glass of wine or a cocktail in the middle of the day (avoiding the higher alcohol content), it's becoming normal to ask for wine at lunch.
And more occasions for drinking wine have opened up, adds Melo-Boone. It's no longer just a glass of red with a steak over dinner. Now, people drink before, after or during a meal, not to mention the party-toting wine drinkers or the relax-after-work sippers.
As a result, wine makes up 31% of all alcohol consumed in Canada (or roughly $6.5 billion in alcohol sales in 2012), up from 24% in 2002.
But while the market as a whole has boomed, it remains incredibly fragmented. "It's the most proliferated category outside of books and DVDs," Melo-Boone estimates. "It's very different from consumer-packaged goods, where you have the Cokes and the Maple Leafs. In this category, [there's a] constant need to have smaller and multiple brands. So it makes it very hard to build a big brand."
This has led to brands like Jackson Triggs re-examining their approach to reaching consumers. In 2011, JT lost its top market share (by single brand, not single wine). The brand brought in Bensimon Byrne, replete with a background in beer marketing (while at Draftfcb, Hussain led the Molson account, while founder Jack Bensimon helped create Molson's famous "I Am Canadian" anthem). They started with a big brand audit, finding that JT was stuck in a rut and was suffering from increased local competition.
"As a brand, we were stale," says Hussain. "We were a heritage brand, and unfortunately, a lot of our loyal drinkers continued to get older and drink less."
So it decided to shift focus from wine lovers to a bigger demo – wine drinkers.
"Wine marketers traditionally approached it as, 'Everyone's a wine lover. Everyone has a sense of reference,'" says Hussain.
"They swirl and sniff," Melo-Boone adds.
"It's [all about] the appellation, the terroir," finishes Hussain, "versus a wine drinker, who is someone who casually enjoys the taste, the flavour, the mood, the occasion. It's part of their day-to-day ritual." The brand, he says, needed to welcome the new target into the fold by alleviating the wine-snob pressure of finding the perfect vino.
The brand unveiled its "We've got a wine for that" campaign in late 2011, showing off moments that would be perfect with wine, such as birthdays and concerts.
The campaign, which targeted millennials, has been a huge success, Hussain says. Sales are up 29% versus the year before, which was sustain
ed during its second year in market. Each region across Canada experienced double-digit sales growth, an
Following the huge success of this more emotionally-driven campaign, the brand recently unveiled its second push with two new spots, which were unveiled on Sept. 30.d most importantly, the brand has recaptured the top market share.
One spot focuses on boxes in an effort to promote the company's box or cask wines. It includes short shots of items like wine boxes, family photo boxes and of moments like a father-daughter team packing away some trinkets.
The second isn't product-specific, and will include shots of signs from around Toronto – from a congratulations banner to a "do not disturb" tag on a hotel room door. The push is a continuation of the brand's original TV launch, and will live largely on specialty channels, such as HGTV and W.
This doesn't mean the brands are foregoing more traditional wine marketing tactics, Melo-Boone says. Reaching out to wine writers is still an "incredibly" important aspect of their marketing, as are traditional tastings and vineyard tours that drive a lot of new traffic to wine and still appeal to approximately 10% of its drinkers.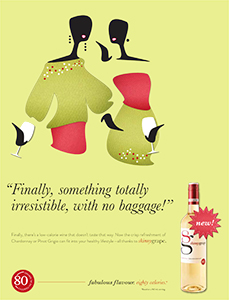 Other brands are getting into the beer-marketing action as well – Niagara-on-the-Lake-based Peller Estates Winery recently unveiled a calorie-conscious wine, Skinny Grape, (snagging a play directly from Molson Coors' 67 line, launched in 2009, or the popular Skinnygirl line), while Australia-based Yellow Tail has recently tapped Grey Canada to create a lifestyle-focused positioning around the brand's "Colour your life" platform.
Yellow Tail's campaign will launch on Oct. 5 during Toronto's Scotiabank Nuit Blanche festival (the brand isn't an official part of the all-night outdoor art installation evening but sees it as a big opportunity to reach its target demo). "[Yellow Tail] is a very confident wine [that's] about enjoying life on your own terms," says Malcolm McLean, VP director of strategic planning, Grey Canada.
He remained mum on specifics of the launch, which will include an experiential push on the evening of Nuit Blanche, supported by a Facebook and digital push afterwards, as well as a print campaign launching in November. But he says the campaign will speak to the lifestyle of millennials, the target demo many wines these days are looking to reach.
The lifestyle approach has meant the industry has had to catch up in other departments, going deeper into ad tracking, which hasn't been wine makers' strong suit, Melo-Boone says, though she adds they're starting to see the value in measuring those numbers.
"I'm big on measurements. How do we know if we've hit success? For three months when I first got here, I was asking for [an alcohol consumption study]. So when we got it, I said, 'Oh wow – I finally have penetration and loyalty data!' So now we can make our decisions [more strategically]."For example, she says she now knows Jackson Triggs has a great penetration rate, but lacks on the loyalty front, while Inniskillin has great loyalty, but not so great penetration.
Armed with broader data, ad tracking and success from the first campaign, Jackson Triggs aims to repeat success with two more brands, which will relaunch in the coming months (Melo-Boone wouldn't disclose which).
She'll also continue to focus on growth for Jackson Triggs, which they've recently learned now over-skews towards millennials, creating a new opportunity to reach "zoomers" (boomers who want to live an active and connected lifestyle). "They're not all wine lovers, but they've got the income to buy the good stuff," she jokes. "So having recently discovered we under-indexed with them, we're definitely looking at what we would have to do to appeal to them from a lifestyle [perspective]."
Check out "Beer borrows vineyard techniques" to read about the big beer cos' attempts to crack the market.
********
Bensimon Byrne and OneMethod's foodie obsession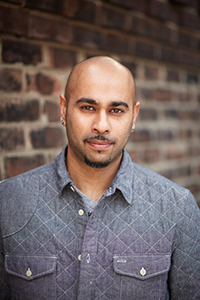 When it comes to repositioning Jackson Triggs and other Constellation brands as lifestyle lines, it helps that Bensimon Byrne is steeped in Toronto's foodie culture.
It's in part thanks to agency partner Amin Todai, who is also partner of an astonishing 10 restaurants on the side. The 37-year-old is president and CCO of Bensimon's digital shop OneMethod, and a self-described foodie who would rather spend two hours on a Friday evening chopping up vegetables to prepare the perfect meal than go out for a night on the town.
Todai, a designer by trade, got into the restaurant biz after a friend approached him years ago to help start up Lucien, an upscale joint just East of Yonge Street in Toronto. Though he was originally brought in as a financial partner (and helped with the branding and website design), Todai quickly learned the ins and outs of running a restaurant.
He parlayed that into a second partnership with Lou Dawg's Southern BBQ on King Street West in Toronto's trendy club district, and then a few years later, working with his design director Andrew Richmond, launched La Carnita, a pop-up taco shop.
La Carnita operated exclusively out of the OneMethod office (which hadn't yet been acquired by Bensimon), running on a two-week cycle. It was the agency's love child (with everyone from the project manager handling cash and designers making food). Without a proper food licence, it sold art prints for $10 with a free taco on the side. Quantities were limited – 150 taco/art prints – and word quickly spread, which made lineups a common sight. After finding an affordable location on College Street, Todai and Richmond moved the shop to become a full-fledged restaurant.
This past September, the pair was at it again, opening up Home of the Brave, a gourmet Americana-style resto, above Todai's second shop Lou Dawg's. Todai signed on to partner with six other restaurants, including the recently opened Weslodge and Patria.
Though relatively separate from agency life, the entrenched food nature at Bensimon Byrne/OneMethod has translated into help for clients as well, with brands like Svedka Vodka tapping Todai's Weslodge mixologists to create recipes to be seeded out through social channels, and Constellation Brands hosting PR events at the various Todai ventures. Narrative PR, the agency's communications arm, has even won local restaurant business as a result of the work they do for Todai's restos.
Todai adds that the heavy presence of food at the agency has also helped attract food-loving staff, which make for good additions to the lifestyle brands, such as wines and vodkas.
At Patria, a Tapas joint he partnered with in 2012, over a chorizo, goat cheese and jamon surrano (Spanish ham), flatbread and avocado Caesar, he says, somewhat obviously, "I think we over-index with foodies."