Best brand extension: Magnum's decadent pop-up store
When Magnum ice cream opened the doors of its pop-up store in Toronto this past summer, it was dessert pandemonium.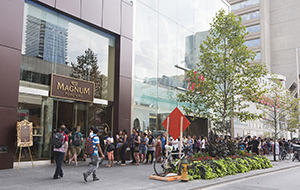 When Magnum ice cream opened the doors of its pop-up store in Toronto this past summer, it witnessed a similar giddy reception to what electronic stores receive when a shiny new piece of tech is shipped in.
For two months, patient fans made their way (sometimes from far outside the city) to the store to join a seemingly never-ending lineup outside – waiting for up to an hour to design a bespoke Magnum bar from an assortment of 21 toppings (including surprising ingredients such as bacon bits and rose petals).
"We're living in an era where the notion of customization is really valued," says Charlie Clark, brand manager of the Unilever-owned ice cream. "The ability for [Magnum] to be able to provide experiences that are made for you or designed by you [makes this] pretty exceptional."
The aptly named Pleasure Store extended the brand's alignment to life's indulgences and marveled visitors with a $1.5 million gold sequined dress inspired by the luxurious ice cream, as well as visits from Cirque du Soleil performers to mark its opening.
Celebrities and fashion icons (such as popular design duo Greta Constantine, who visited the store to showcase their wares and create their own ice-cream bar) were crowd-pleasers and helped to create a positive effect on the brand's equity, Clark says.
"We look at celebrity and fashion [because they] provide a universal reference for premium and luxury and embody the kind of pleasure-seeking that Magnum stands for," he says, adding that this alignment has helped Magnum surpass rival Häagen-Dazs in the frozen novelty ice cream category since arriving in North America from Europe in 2011.