A young couple sitting shyly over a meal, a pair of siblings arguing over spilt milk, a mother-daughter team talking intently. A voiceover says these are the people responsible for the massive changes taking place at McDonald's Canada. The Toronto-based QSR's latest campaign showcases moments people experience at McDonald's and is meant to illustrate the company isn't just changing its façade for the sake of it, says David Daga, co-CCO, Cossette, AOR for McDonald's.
The brand has gone through a massive image overhaul over the past few years, culminating in a digital execution, "Our Food. Your Questions." from the brand's digital AOR Tribal DDB, and its latest campaign is a thank you to consumers for all the help.
"Our Food. Your Questions." may have picked up the awards (including a 2013 Gold Cyber Lion), but McDonald's, Cossette, DDB and its media agency OMD, have been busy working on the overarching strategy, which is part of the company's plan to redominate the marketplace and reconnect with consumers.
Much ink has been spilled over that particular campaign, which invited consumers to ask the brand any question and receive a response online as quickly as possible. The brand pulled back the curtain, giving consumers the recipe for its semi-secret Big Mac sauce and showing what goes into product shots in ads. And through it all, the brand received impressive social and engagement numbers, says Joel Yashinsky, CMO, McDonald's Canada, scoring more than 12 million views, 15,000 questions asked, and various elements seen 132 million times around the world during its two-phase run.
But most importantly, the campaign, which also contained a mass-market push including OOH and TV, helped build back brand affinity and overall trust in the products.
During internal research, where the brand asked consumers' opinions, scores were higher than it had ever seen before, says Yashinsky. For example, "Has good quality ingredients" saw a 16% increase post-execution, with 50% of respondents agreeing (compared to 34% prior to "Our Food. Your Questions). "Good quality food," and "Food I feel good about eating" each saw bumps of 12% and 10%, respectively.
"We knew as we entered this program it wasn't going to provide an immediate impact on sales," he says. "But we did believe it was going to have a very big impact on brand perception. We knew inherently, if you increase your brand affinity, you're going to see customers come to you more often."
With all the coverage received by "Our Food. Your Questions." over the past 12 months, you'd be forgiven if you missed some of the QSR's other digital activations.

There was the Fruit Ninja Frenzy Facebook app to promote the brand's fruit smoothies, based on the popular mobile game Fruit Ninja, inviting fans to slice up blueberries, bananas and strawberries. Or the FrapTap app, which gave two people 50% off coupons for the brand's Frappé line when they tapped their smartphones together. There is also the Snack Tracker mobile ad, targeted at folks in Western Canada, which can be used to geo-locate the nearest open McDonald's and provide directions to the store.
Most recently, the brand unveiled a Twitter-powered contest, asking fans to submit a movie plot for the food chain's popular products in less than 140 characters. The winning storylines will be made into animated shorts released in early fall.
Since bringing Tribal into its agency mix, the brand's digital presence has skyrocketed, with almost 500,000 new Facebook fans (for a total of 700,000), says Andrew McCartney, SVP, managing director, Tribal DDB.
Now the brand is set to release a calorie counter, The Nutrition Centre, this fall, and will continue to leverage the "Our Food. Your Questions." work.
The entire initiative started in 2008, when new president John Betts and then-CMO Brian O'Mara set out to reconnect with Canadian consumers.
The company laid out three important areas of attack: breakfast, value and premium products. (This would later expand to include a better in-store experience and increased digital engagement).
For the breakfast push, the brand unveiled new creative showing staff members cracking fresh, real eggs (to fight the perception that it used an egg substitute in McMuffins) while a more recent ad by Cossette features a story of two strangers who fall in love one night and share the sunrise over a McDonald's breakfast.
"[We] try to find those moments that exist in real life that McDonald's is part of," says Matthew Litzinger, co-CCO, Cossette. "Spend an afternoon in a McDonald's. You'll see old friendships meeting, new friendships forming, parents and children. You'll see a snapshot of the [role] the brand has in people's lives."
Beyond refocusing on breakfast foods, the brand also made a play for the coffee market, dominated by Tim Hortons (which controls a 70% share of all coffee sales in Canada). To entice Canadians to try its roast, the brand put a big push (including OOH, TV and print), behind its fresh brew, handing out free coffees for a week to a month each year.
Since its launch in 2009, the brand has handed out more than 9.5 million free cups of coffee and has more than doubled its market share, which now sits at 10%. Discussion has turned to potentially getting the coffee beans, currently sold through restaurants in bulk packages, into the supermarket aisle.
Congruent to the coffee push, the brand unveiled its McCafé line within sectioned areas of McDonald's restaurants.
"Our research was telling us customers wanted an authentic coffee-house experience," Yashinsky says. "So [it introduced] a coffee house section with big comfortable chairs, décor and lighting. People needed to know our coffee was freshly ground in every cup, whether that was brought forward in the visuals, merchandising or advertising."
New McCafé lines were rolled out simultaneously with the restaurant's refresh, which included modern furniture, sleeker storefronts and an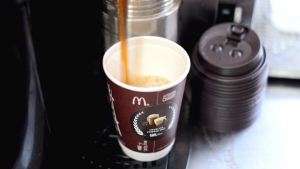 updated colour scheme. The brand also rolled out new customer-focused perks, such as free Wi-Fi. The entire refresh was an estimated $1 billion, and is now 90% completed across the country's 1,400 stores, all within a 30-month window, Yashinsky says.
While the brand updated its look, McDonald's also began introducing new products at a more premium price, such as the Angus burger or the Signature McWrap line.
The brand is aware of the increasing competition from  gourmet fast food chains, such as Missouri-based Panera Bread, with 10 stores in Canada that compete with the Signature McWraps and salads, or the proliferation of burger shops such as Virginia-based Five Guys or Toronto's Hero Burger and Big Smoke Burger, which offer gourmet patties at a higher cost.
McDonald's new, more premium line, is a direct response to the changing tastes of consumers, Yashinsky says. "McDonald's was the place you could go and get your Big Mac and French fries; we're always going to be that company. But we also know that in today's day and age, consumers want more choice."
Alongside any new product launch, there has been an increased focus on trial and sampling, Yashinsky says, after learning from the impressive results from the coffee push.
While the brand reconnects with consumers on various fronts, it's had to reintroduce brand-led advertising, rather than promotional or product-led spots, says Litzinger and Daga. When the pair started on the account in 2009, the marketing calendar was void of any brand-building spots, something they've changed over the years. Daga points to spots like the Egg McMuffin romance video (which doesn't reveal the product shot until the last 10 seconds) as a perfect example.
Over the coming months, campaigns will include activations around the 2014 Sochi Winter Olympics, bowing early next year, and the release of the fan-submitted short animated films based on tweet-length (140 characters) plot synopsis, while its current mass-market campaign thanking customers for their patronage over the years will run until the fall.
"I think we saw an opportunity to really reconnect with Canadians," Yashinsky says. "We have a big legacy and heritage, and we need to revitalize that here in Canada."