BrandAid comes home to Canada
Ad agencies help Haitian artisans to brand and market products now sold at Hudson's Bay.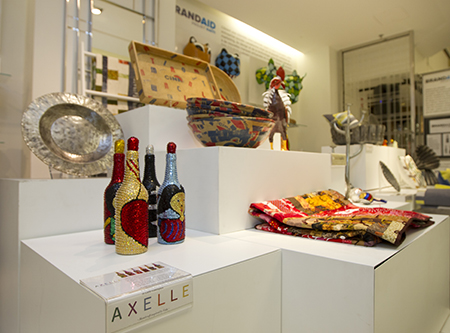 Shipped across the North Atlantic from the small island mass of Haiti, intricate home decor items from blankets to bowls to bags now sit on white chunky shelves in Hudson's Bay's flagship stores in Montreal, Ottawa and Toronto.

It took five years, but BrandAid has finally come home. The Canadian-born project, which pairs creatives with Haitian artisans to craft brand identities for their collections of art pieces, has come full circle after appearances in London department store Selfridges, U.S. retailer Macy's and others. Hudson's Bay's store-within-a-store modular displays were created by design agency Jackman.

"[The retailers overseas] gave us this fabulous opportunity to find out how people reacted to the products, how the story was being [perceived] and how the items were being displayed," says Tony Pigott, global CEO at JWT Ethos and co-founder of BrandAid. "That helped us refine the collection, the marketing and the merchandising. So we were ready for primetime by the time we were done."

The collections arrived from five Haitian communities, handcrafted by 300 artisans. The artists have the ability to trade in a developed market today thanks to Canadian ad agencies DDB, JWT, Ogilvy, Taxi, Tunji Design and Miami-based TBWA, which all worked pro bono to provide necessary branding and marketing to help them sell their wares. For each item sold in stores, the artist is given 25% of the sale price (a substantial jump from the going rate of 3% for artisans in most retailers).

"It's always been my belief, and co-founder Cameron Brohman's belief, that there is a huge role marketing can play at the bottom of the pyramid," Pigott says. "We have done a lot of work finding the model and the Canadian government got behind [us and invested more than $750,000]. So that was [also] critical for bringing this to Canada."

Next up, BrandAid will make a stop in Kitchener to work with innovation lab Communitech, as well as Google, Aimia and KPMG, on the next phase of the project. They'll be looking at developing a platform that will allow agencies to collaborate online and create efficient, low-cost marketing and branding for artisans in other developing countries.