Taco Bell inks a fan
The QSR celebrates the permanent addition of the Doritos Locos Taco by documenting a fan's extreme brand dedications.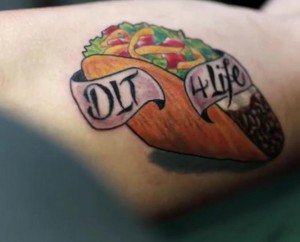 Taco Bell Canada has put skin in the game with a new campaign for its Doritos Locos Tacos, documenting one fan having  a taco tattooed on his arm.
The #DLT4Life campaign launched on Facebook Monday with a YouTube video, TV teaser spot, in-store signage and social media promotion, and celebrates the Doritos Locos Taco becoming a permanent fixture in Canadian restaurants.
Initially the tacos, featuring a shell made from Doritos Nacho Cheese tortilla chips, were supposed to be in Canada for a limited time, but sales and customer requests via social media for the QSR to keep the taco prompted the Canadian branch to increase supply here. Fans' hunger for the taco also inspired the tattoo idea.
Creative AOR Grip Limited proposed the idea, searching through social media and through word-of-mouth for its most passionate Doritos Locos Fan from its target audience of men ages 18 to 24, says Randy Stein, partner, creative at Grip Limited.  The fan, Tyler, who has loved Taco Bell since he was 10, was a clear choice: When the DLT was available only in the U.S., he convinced his girlfriend to go on a trip across the border to try it there.
In the video at the centre of the campaign, Tyler goes to Black Line Studio in Toronto to have a taco with the slogan "DLT 4 Life" etched on his arm and in exchange receives a lifetime supply of DLTs.
Sons and Daughters handled production, with Jake Kovnat as director, Alter Ego did the transfer and Grip did editing and audio in-house while Mediacom was responsible for the media buy.
The QSR has also created a microsite featuring the video, tweets and Facebook posts pulled in from the social media sites.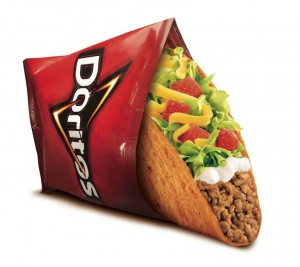 Veronica Castillo, marketing manager, Taco Bell Canada, says the taco's sales had outpaced expectations since its launch in August, with more than one million units sold in Canada.

It's not the first stunt the QSR has pulled to promote Doritos Locos Taco. Its launch in August had been highly-anticipated, with some consumers taking to Twitter to complain that they couldn't get the taco in Canada. So for the launch, it engraved some the complaints of Twitter users on taco shells and served it to those individuals at a restaurant location so they could "eat their own words."