Corona parties on a volcano's edge
This latest social stunt marks part of an on-going branded content play for the beer brand.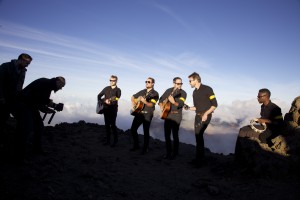 Corona sent up-and-coming indie rock band Wildlife and 14 lucky radio contest winners to new heights recently, having the band perform a live concert 10,000 feet in the sky on the lip of a volcano in Hawaii.

And beyond simply running a contest, the brand used the experience as an opportunity to create original content for its digital and social channels, a growing trend for Corona and other brands that are moving into the branded content space.

Done in partnership with indie music label WAX Records, with creative by Zulu Alpha Kilo and media by MEC, the experience was done as part of Corona's "Live Mas Fina" branding launched in March, which positions the beer co as creating opportunities for people to step out of their comfort zones.

The full experience was filmed and turned into a 1:15 spot that was then released this week on YouTube and promoted via Corona's social media channels. In addition, the experience took place as Wildlife filmed the official video for their single, "Lightning Tent," in which Corona's bottles were featured. With no paid media, the brand is relying on its social media channels and word-of-mouth to promote the video.

"It's really what we've been doing since March last year, trying to connect with and recruit millennials," says Mike Sutton,  president of Zulu Alpha Kilo. "All of our marketing activity is geared toward building brand sentiment and growing sales."

Stewart Priddle, director of marketing, Modelo Molson Imports LP, Corona Extra, says the brand has increased its spend towards online in the past year because it provides a targeted channel to reach its target of Millennial consumers and allows the brand to start conversations via its social platforms. Online spend sits at approximately 30% while broadcast TV is in the area of 50%, Priddle says.

"This is a space where rather than buying GRP's against an audience and hoping that they have viewed our spot, we know when a consumer has viewed the content," Priddle says. "As an example, we look at YouTube as a delivery vehicle that can help us to reach millions of consumers and with our launch video for Live Mas Fina we had more than 1.5 million views."

Sutton says that while this particular campaign did not have a call to action, the brand has seen increases in key engagement metrics since the launch of the "Live Mas Fina" campaign in March, which has included a paint party in Montreal and Toronto in June (which was ranked by YouTube as the third most-watched piece of branded content in Canada that month) and a "Uncharted Adventures" series of videos  in November that highlighted a contest winner getting to travel in the Northwest Territories.

"Overall the social community for Corona is very healthy, with positive growth and brand sentiment building steadily," Sutton says. "Our representatives at Facebook have noted Corona Canada as one of the most engaged branded Facebook communities in Canada."

Meanwhile, Priddle says the brand's English and French-speaking Facebook fans have grown to more than 253,000 in the past 12 months from 168,000.

The content play is part of a growing trend of brands taking fans on incredible experiences, then creating content to be shared with the world. In December, Coca-Cola Zero flew the heavy metal band Metallica and some fans to Antartica for a concert, then live streamed it to the world. Closer to home, Volkswagen partnered with band Walk Off the Earth to create an 11-minute music video using the car as an instrument.