Rickard's creates a new holiday
With help from Rethink, the beer brand is coming to market with quick-hit digital campaign to promote "Valenpints Day."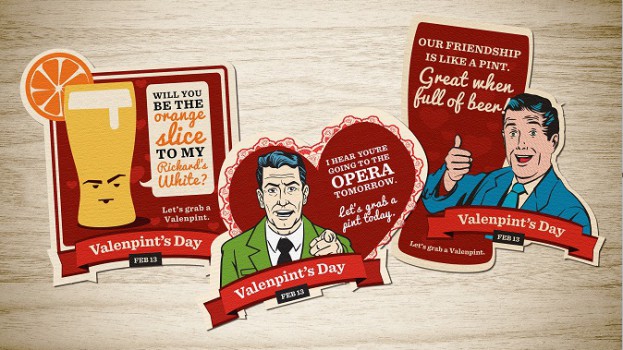 Rickard's is declaring Feb. 13 "Valenpints Day." And promotion for the new festivities will begin the day before (in other words, today) and cease the day after (Valentine's Day).

Forest Kenney, a spokesperson for Molson Coors, says the brand is encouraging people to send retro-Valentine's Day e-cards in the shape of coasters to friends and loved ones. The campaign, with creative from Rethink and media by MEC, will live on the brand's Facebook page and the Rickards.ca homepage with responsive design (mitigating the need for device-specific apps). It targets men aged 24 to 35, but Kenney says Rickard's has always skewed a bit wider in its audience reach than most Molson brands.

It will be promoted through search engine optimization and paid search ads, and will leverage the brand's different social channels for the most reach.

"Valenpints" is all part of a greater "newsroom" strategy from the brand to tap into culturally-relevant moments throughout the year through social. At Molson Coors, it's also part of a greater shift at the beer co to be "always on" with consumers, pumping out new consumable, bite-sized content.

Though shaped like bar coasters, Kenney says there are no immediate plans for real-life "Valenpints" cards this year. That being said, he says moving forward they plan to align these bite-sized promotions across other channels, including retail, traditional mass and on-premise, meaning we could start seeing this social content strategy bleed out into more traditional media around future holidays and news-worthy events.

Molson has been increasing its capacity and budget in the content space, especially in community management, says David Bigioni, VP marketing, brands, media, social and digital, Molson. Spending on original online content will be three to five times higher in 2014 than previous years, he says.

"People's attention spans are a lot less than they used to be and we're very stimulated by the different devices and streams we're engaged in," he says. "So the smaller, bite-sized bits of social content allow us the frequency – because things don't last as long in people's minds – and let us [do] more experiments to see what will catch to learn from."

"Valenpints" follows an execution last month featuring stop-motion animation bar etiquette videos.