Electronic Nation techs out a festival
The Bud Light Digital Dreams music festival reveals how brands could tap the power of its futuristic RFID bracelets.
The expected 80,000 attendees at this summer's Bud Light Digital Dreams Music Festival will be able to leave their cash at home, thanks to a new cashless payment platform being debuted there.
For brands looking for new ways to cash in on a festival sponsorship, the platform is offering them new opportunities to engage with music fans.
Electronic Nation, the electronic music division of entertainment company Live Nation, announced details of the integrated platform Tuesday, which combines an RFID (radio frequency identification) enabled wristband with a mobile app to enhance a festival attendee's experience.
The platform, developed with tech companies Intellitix and Greencopper, will debut at the Bud Light-sponsored festival June 28 and 29 at The Flats at Ontario Place in Toronto. Bud Light came on board as title sponsor of the event with a core audience of 19- to 24-year-olds in February, while Bacardi is another major sponsor.
The RFID wristband will be mandatory for attendees as a way to improve security, but when partnered with the app it offers lots of potential for marketers, says Mark Russell, marketing manager, Electronic Nation, Canada.
For instance, attendees will be able to check in to brand "activation areas," allowing brands to understand who has come to their zone, and even push messaging to them via Facebook, Russell says.
While they are still in the planning stages for the festival, Russell says a brand could sponsor something like a countdown timer to the next artist about to take to one of the stages. It also provides rich push notifications, which could allow a sponsor to send notifications via the app about a contest it's running, which could direct fans to an external site to sign up for it.  The first generation of the app at last year's festival was downloaded over 10,000 times, says Russell.
The RFID also makes sharing on social media easier, which should help boost brand engagement, Russell says. For instance, at last year's festival, Smart Set set up a "bubble" where people could dance inside a structure as confetti swirled around them. Fans could then share the content but had to sign up to do it.  Were there to be a similar activation point this year, Russell says people would be able to scan in at the site using the wristband and have the content automatically uploaded once they left.
The wristband can trigger other actions, such as personalized messages, emails, the redemption or collection of virtual funds, a tweet or post on Facebook, Electronic Nation says.
However, Russell notes Electronic Nation wants to ensure that any messaging is organic.
"There are a lot of activations we haven't activated that we could," he says. "But we don't want to be hitting people over the head or making them do something that doesn't feel right."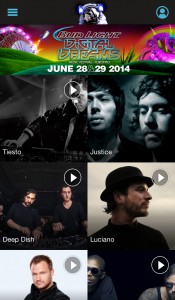 The app also includes a Soundcloud player that allows for the discovery of participating artists, an interactive map and a photo booth where pics can be uploaded directly to social media. It also makes people aware of which performer is currently on stage, in real time, as well as upcoming acts.

"It is highly engaging and highly beneficial for consumers in terms of their organization of the day," says Russell.

Available for download for iOS and Android, it currently enables users to view the festival's schedule, buy tickets, take a photo, read news, discover artists and view Digital Dreams social media feeds. Once they receive their RFID wristband, fans will be able to use the app to set up their profile and load money onto the wristband.

While this type of technical innovation has previously only been seen at U.S. festivals Bonnaroo and Coachella, this is the first festival to use exclusively cashless payment, says Russell. Part of the challenge for the company is educating consumers about the platform, he says, which it is doing mostly via online channels for its tech-savvy attendees. A brochure explaining how to use the wristband comes with it in the mail, Russell adds.

The RFID wristband also helps the festival to decrease wait times, provides greater security because it automatically knows if someone has left the event and tried to return, and can definitively cancel a minor trying to purchase alcohol. It can also be used to send push notifications of a storm warning, for instance.