Today's consumers expect brands to make an effort to improve the world, but they are skeptical about whether companies that ask them to pitch in for a cause are, in turn, making a real difference. U.S.-based Cone Communications' Social Impact Study, released in October, found that while 54% of adult Americans bought a product associated with a cause, only a quarter of them believe their purchase decisions have a positive impact on social and environmental issues.
This attitude is especially true when it comes to millennials, says Mike Farrell, SVP, research and strategic insight at Conversion Marketing-Communication.
"Millennials in particular want to see that ROI very quickly," he says. "If they can't get information quickly, they wonder WTF? Any organization asking for funds or time needs to show, in particular to this rising generation, exactly what is happening."
So, how do you convince people their money is being put to good use? "Show consumers specifically how their purchases will make a difference, and they'll show you their support," the Cone report says.
It's not a new concept. For instance, non-profit Raising the Roof and Leo Burnett repackaged toques for its annual charity drive, launched in June, putting them in transparent bags with messages printed on them such as "This hat will help a homeless man eat tonight," so people could discern how their purchase helped. The non-profit sold out its 40,000 hats in less than three months, about nine months ahead of schedule.
It's a path Russ McLeod, chief operations director at social enterprise Me to We, expects more brands will take. For instance, his company (which directs 50% of profits to the charity Free The Children) offers products with a code so people can track the effect of their purchase (see sidebar on opposite page). Recently, it struck partnerships with retailers such as Indigo to stock the products in stores.
"There has been a transformation, where people are looking for ways to make positive impacts in all areas of their lives," McLeod says. "They are demanding that organizations and companies act ethically all the time."
Recently, brands such as 7Up and P&G have stepped into this space with campaigns that are more upfront about their effect. Read on to see how they're getting creative to drive donations and engagement.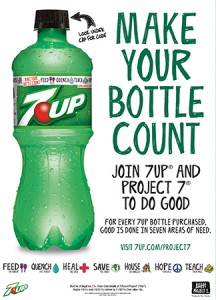 7Up bottles goodwill options
Recently, Dr. Pepper Snapple Group-owned 7Up launched a partnership with Project 7, a social enterprise that sells items like gum and mints, and gives part of the proceeds to non-profits, (talk about a name-match made in heaven) to put codes under the caps of 20-ounce bottles in four of the brand's flavours. During the campaign (running until November in the U.S.), people who buy one of the products can go to 7Up.com, punch in the code and choose one of seven causes to donate to – such as "healing the sick" (malaria) or "hoping for peace" (anti-bullying) – and have 10 cents donated toward the cause of their choice.
Consumers can then view an "Impact Report" on the site to see how many caps have been donated to each cause (more than 5,000 as of early April) and how they translate into help for the issue.
Julia Howell, who leads cause-related services at Toronto agency Corktown Seed Company, calls this project the "poster child" for giving consumers choice in corporate responsibility.
"They are embracing it wholeheartedly, putting it on the home page of their website rather than buried in the sustainability pages," she says. "My only question is will they get beyond superficial engagement to raise some real dollars for the causes? At 10 cents per bottle cap it's going to take a lot of engagement to have any real impact."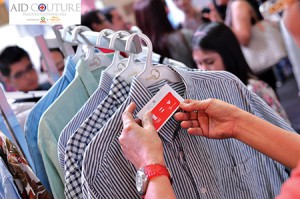 P&G's real-time donation tracker
Every year, the Philippine Red Cross receives 18 tons of donated clothes for people affected by typhoons, but a lot of them are fashionable pieces not appropriate for storm victims. So when Typhoon Haiyan struck the country in November, P&G, the Red Cross and agency Leo Burnett Manila came up with a unique way to turn clothing donations into aid while showing people the impact of a purchase. They cleaned the items using Ariel detergent (available in the Philippines) and Downy Fabric Softener, and put the clothes on sale at a pop-up store in a Manila mall. Shoppers checking an item's price tag could see both its cost in pesos and its value to victims – one top provided 15 hot meals, for instance. Meanwhile, a real-time purchase converter was displayed on LCD screens, showing how each buy was providing aid. And by the end of the event, there was enough funding for 258 mosquito nets, 157 hygiene kits and 2,640 bottles of water, among other items.
The event, supported by stylists and celebrities, was promoted via Twitter, Instagram and Facebook. In all, it resulted in nearly 10 million media impressions, according to Leo Burnett.
Cards for a cause
In Canada, social enterprise Me to We, which sells products and trips directing 50% of its profits to its charity partner, Free the Children, partners with retailers Indigo, Second Cup and Longo's to offer a similar service to 7Up for people who buy its greeting cards and Rafiki Friend Chains, a fashion accessory that can be worn in various ways.
The online Track Your Impact tool allows consumers to learn how the proceeds from their purchase are used (whether to provide pencils, water or medicine) and see, on a map, where their money is helping.
Me to We's Russ McLeod says the company first introduced the idea during the East African drought in 2011 with on-pack messaging that explained how one chain would provide a month's worth of meals for a child. The items were a bestseller at the time, with 35,000 units sold in four months.
"We realized that year that millennials in particular were connecting to the idea of knowing exactly what impact a product has," he says.