Canadian apps to track
Check out these hot new platforms with features like 3D, sensor-activated avatars and product searching based on photos.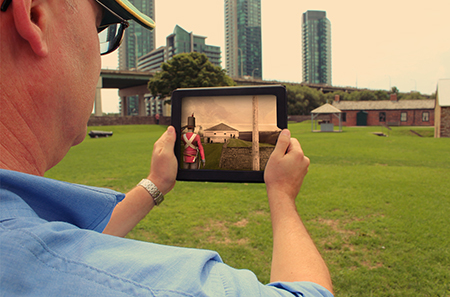 By Jennifer Horn and Matthew Chung

Toronto is set to be the next technology hothouse with the arrival of three new apps for marketers to keep tabs on.

Awe brings virtual characters to aisles

Thanks to a new augmented reality app, 3D avatars like Tony the Tiger or the Pillsbury Doughboy could be the next shopping companions in aisles.

Awe Company has developed Time Tablet, which will be used initially at the Fort York National Historic Site in 2015, where visitors with tablets can interact with characters re-enacting historic scenes.

Avatars can be downloaded to the app and activated by sensors and mapping systems when a person enters a room. Awe founder Srinivas Krishna says brands can offer a pre-determined story to download, and they're working to enable avatars to interact with people intuitively one day.

Slyce creates human flyers

Think of the world as one big showroom, where people can photograph any item they fancy (like a stranger's purse) and buy a similar item on the spot.

It's not a prediction for the future; the technology already exists.

Slyce ingests information about retailers' products, and categorizes them by colour, material, size and texture. The technology is embedded in a retailer's app, so a user can take a photo of a Coach bag, for example, and find the closest match from items in the database.

"Brands want to be able to transact with customers wherever they are," explains Mark Elfenbein, chief digital officer at Slyce. "And customers like it because it's instant gratification."

It will launch with six major, yet-to-be-named retail partners this year.

Think Dirty's toxic test

It's do or die time for cosmetic and personal care brands. Consumers want goods they can trust won't lead to serious health issues, and new platforms like Think Dirty, created by art director Lily Tse, are supplying that info.

The app houses data on 80,000 products, and allows users to look up ingredients by scanning a product's bar code or searching by name.

Think Dirty breaks down each chemical with simple explanations of what they are and how they can potentially cause cancer. Since its launch, it has received 70,000 downloads.