AToMiC Awards: Re-engineering media, moving from passive to active play
Traditional platforms were re-imagined for these winning campaigns.
Looking at media through a new lens
Some brands have been tampering with traditional platforms lately, re-imagining their basic capabilities to stir consumer participation. The movie theatre, for example, has become more than a place for passive viewing experiences, evolving into an environment where brands are using multi-sensory technology to engross audiences in participatory content. That same rethinking has extended to other platforms, where new ways of using social media sites, like Instagram, are being tested, and traditional milk cartons for missing children are being re-imagined for the digital age.
It's no wonder car brand Mazda is one of these media meddlers. The automotive industry is competitor-rich, with many stepping outside the dealership doors and developing interactive ways for people to test drive their vehicles online and out-of-home. So when the brand introduced its new Mazda3 model to Canadians in November 2013, it decided to present the vehicle in an immersive gaming experience that allowed movie-goers to digitally test drive the car by competing against others in the audience using their smartphones.
The brand's agency, JWT, implemented the "Mazda3 Fast Lane" program in Cineplex Odeon theatres, using TimePlay (an app that allows users to interact with others in real-time and influence game outcomes on a theatre screen). The driving game, which played during movie previews, turned phones into steering wheels, and showed players if they were falling behind or taking the lead in cutaway portions of the race on the screen. The ultimate goal was to increase test drives at physical dealerships, which it was able to do with 8,809 requests (approximately 5% of all players) through the app.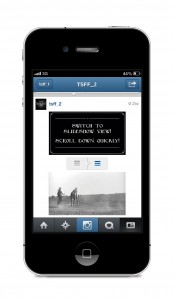 From the big screen to the small screen, the Toronto Silent Film Festival and its agency Cossette also set out to transform what has become a fairly common platform for brands these days. In keeping with the silent film industry's inventiveness, having broken ground with moving imagery back in the day, the festival decided to use Instagram in a way that had never been done before, creating stop-motion-style trailers for its films on its account feed. When users landed on its page, they could view images in the slide show mode, and quickly flick through the feed, frame by frame, for a motion picture effect. The trailers resonated with film buffs and tech followers, and the campaign was spread across social media and picked up by the press, garnering over two million impressions and counting.
And finally, taking what was once a major media vehicle to involve the public in the search for a missing child, the Missing Children Society of Canada and agency Grey reinvented the milk carton call-for-action and produced a series of web and mobile tools that would lead to the rescue of six missing children.
It began with the "The World's Most Valuable Social Network," where people could donate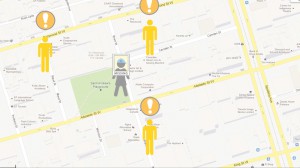 their social media page to the organization to post alerts of a missing child to their feed, and later evolved to include "The World's Most Valuable Search Engine," where ads on Google were replaced with active missing children cases and tips for parents, as well as "Pinboard" and "Check-In" executions on Pinterest and Foursquare, where images of a child's clothing and an abductor's vehicle were shared on the former platform, while alerts of locations where the child was last seen were sent to users on the latter.

The hardware

Missing Children Society of Canada "Milk Carton 2.0″ Grey AToMiC CSR: Gold / Best Digital Engagement: Gold / Best Tech Breakthrough: Gold // Mazda "Mazda3 Fast Lane" JWT AToMiC Collaboration: Silver / Best Tech Breakthrough: Silver // Toronto Silent Film Festival "Instagram Time Machine" Cossette AToMiC Idea: Bronze