Throwback Thursday: strategy in 1994
For our 25th anniversary, we're travelling through time. In '94 Walmart arrived and Judy John opened an agency.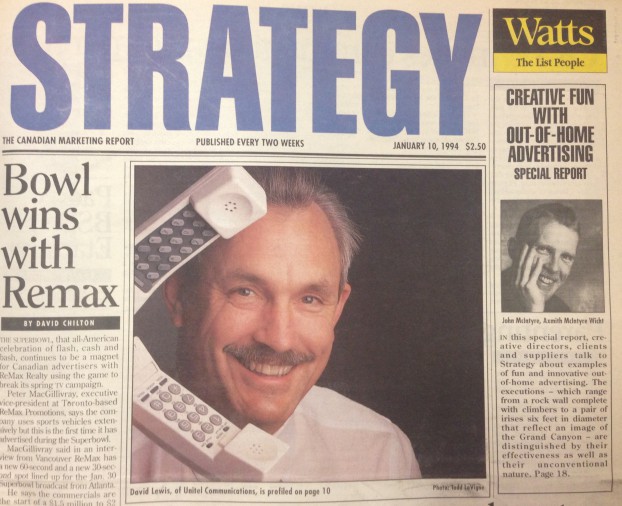 For strategy's 25th anniversary, we're travelling back in time, flipping through the pages of old issues to highlight some big news you may have forgotten, trends you wish you'd had a crystal ball to predict and marketing issues that never seem to change. Check back next Thursday to pick up some valuable insights into Canadian marketing history. This week, we tackle 1994.
Headlines you might have forgotten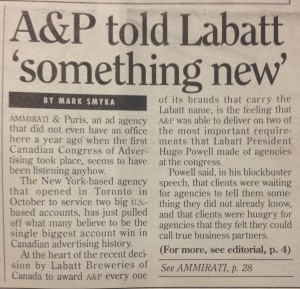 [Ammirati & Puris] told Labatt 'something new' Jan. 24, 1994
"The New York-based agency that opened in Toronto in October to service two big U.S.-based accounts, has just pulled off what many believe to be the single biggest account in Canadian advertising history. At the heart of the decision by Labatt Breweries to award A&P every one of its brands that carry the Labatt name, is the feeling that A&P was able to…tell them something they did not already know and that clients were hungry for [an] agency that they could call true business partners."
Cable ponders specialties June 27, 1994
"The decision by the CRTC to license eight specialty and two pay-TV services meant the shape of broadcasting in Canada has changed again."
Those new specialties included: Bravo!, The Discovery Channel, Lifestyle Television, Showcase, You: Your channel, Le Reseau de l'information, RDI, Arts et Divertissement and The Country Network, while on pay TV, there was The Classic Channel and Moviemax.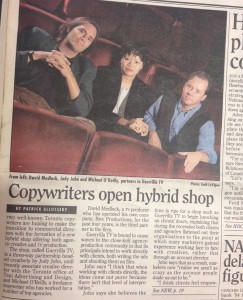 Copywriters open hybrid shop Oct. 3, 1994
"Two well-known Toronto copywriters are hoping to make the transition to commercial directors with the formation of a new hybrid shop offering both agency creative and TV productions."
It was a three-way partnership called Guerrilla TV, between former Taxi copywriter Judy John, freelance copywriter Michael O'Reilly and David Medlock, a TV producer.
Choice move at Loblaw Oct. 17, 1994
This article outlines the departure of Dave Nichol, the former president of Loblaw International and the brains behind the President's Choice line. He was succeeded by Robert Chenaux, who said Nichol's high-profile marketing style wasn't for him. Advertising under Chenaux would become more traditional, result-oriented and wouldn't try to build advertising around a single person.
The trend everywhere (and we mean everywhere)
You couldn't go three pages in 1994 without seeing some sort of story on "interactivity." Everyone from Padulo to LCBO was installing "interactive" kiosks, which allowed consumers to browse through multimedia files, while new agencies popped up dedicated to the practice. We even launched a column for the topic, with headlines like "Information not gimmicks is key to future marketing" (May 2, 1994) and "Designers must embrace multimedia" (May 2, 1994). Here are some other headlines from the dawn of interactivity.

UBI: Interactive service 'good bet' Feb. 7, 1994
"In 1995, the [universal, bi-directional interactive] UBI Interactive TV service will be introduced in test form in the Saguenay region of Quebec. The system will bring interactive shopping, banking, bill-paying, entertainment, travel reservations and more into the homes of some 34,000 cable subscribers."
Virtual reality joins the mix Aug. 22, 1994
"During the course of a July 17-21 trade show in New Orleans, Autolab Systems of Toronto was able to give hundred of potential buyers a virtual introduction to its lab concept…a high-tech system of conveyor belts and robots [to] perform many of the routine tasks that would otherwise have been carried out by highly paid lab workers."
To show off this high-tech lab, In-form Interactive – a Toronto supplier of interactive media products and services, created a virtual reality simulation of the lab. People donned head-mounted displays which offered colour, 3D animations, allowing them to "walk" the lab.
The ins and outs of marketing on the internet Nov. 28, 1994
"How can consumers check the latest Canadian airline arrival and departure times, obtain current software for their computer, experience the wonder of viewing an interactive online annual report…or subscribe to leading magazines in less than 15 minutes? Creative marketers realize this new medium can improve market access and potentially increase market share."
The more things change (you know how the rest goes…)
In other words, things never seem to change. Even in 1994, we were talking about branded content and storytelling.
New mag for Globe March 21, 1994
"A 'strategic alliance' between the Globe and Mail and the Loblaws supermarket chain in Ontario means the newspaper has again entered the magazine fray…producing Gusto!, [a] glossy…'supplement to the Globe and Mail.'"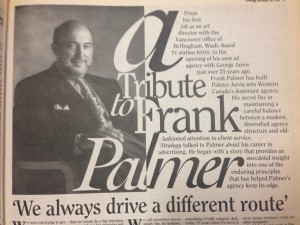 Storytelling makes the world go 'round April 18, 1994
"Great storytelling is what's made the world go 'round from prehistoric cave writing through the Bible to Richard Lester's Beatles movies. I use this to console myself when I hear 'marketing' people pontificate as to how the future of persuasion is really database management and interactive communication interfacing!"
And, here's an old photo of Frank Palmer, for no reason other than we wanted to highlight this photo.
Walmart had everyone in a tizzy
This was the year Walmart made its Canadian debut, to much fanfare and discussion. We dedicated a number of inches to the telling of its arrival (from when it signed a deal with McDonald's to its first campaign from SMW): here are some highlights.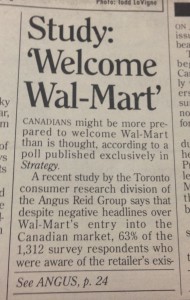 Study: Welcome Walmart May 30, 1994
"Canadians might be more prepared to welcome Walmart than it thought, according to a poll published exclusively by strategy."
According to the piece, 63% of Canadians aware of the retailer's existence believed it to be 'good news.'
Out of breath and fat: Retailers eye Walmart June 13, 1994
This piece, by Barbara Canning Brown, a specialist in the direct marketing industry, compared Walmart's coming to that of the Walrus and the Oyster in Lewis Carroll's Through the Looking Glass. "But wait a bit, the Oyster cried. Before we have our chat. For some of us are out of breath and all of us are fat." In this case, Canadian retailers were the Oyster.
Ten reasons why retailers must adapt or perish Nov. 14, 1994
This feature warned of Walmart's real-time product tracking systems. "The standards have been raised," it said. "It reduces out of stock. It generates better inventory management. It reduces markdowns. It maximizes productivity."
Some competitors didn't learn. Consumers Distributed closed in 1996, while Kmart followed suit in 1998.
Creative Report Card
Finally, because everyone loves lists, take a gander at the top creative agencies, brands and creatives who graced strategy's annual Creative Report Card. See if you can spot any names still playing big today. (We spy Paul Lavoie, Judy John, Stephen Jurisic, Ian Grais, Chris Staples, Ian MacKellar and more.)


 Want more strategy Throwback? Catch up on the headlines from 1989, 1990, 1991 1992 and 1993.