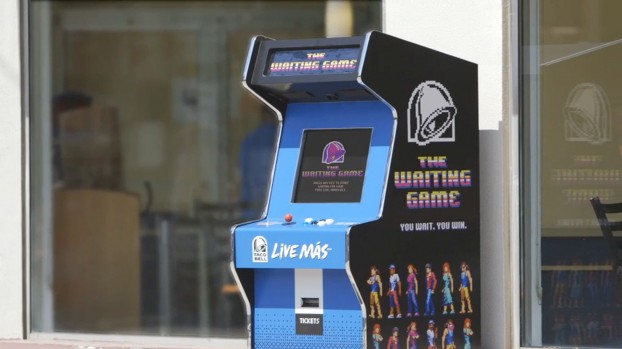 Taco Bell Canada's fans have proven to be a reluctantly patient group. First, they hungered for the QSR's Doritos Locos Tacos while consumers in the U.S. tucked into the taco with a Doritos Nacho Cheese chip shell.
Having gotten that, they then had to wait for Taco Bell's Cool Ranch chip flavour. And while they weren't as frustrated this time around, Taco Bell's agency Grip knew from monitoring social channels that a few were tired of playing the waiting game.
The brand and agency turned that angst into creative fuel for the taco's launch campaign in Canada, building a custom 1980s-style arcade game that is purposefully dull (and appropriately called The Waiting Game) for a few of those fans to line up and play.
To celebrate the taco's July 7 arrival, the execution was done earlier this month at Taco Bell's Queen Street West and Augusta Avenue location, where fans invited via social media and passersby lined up to try the game.
"It was kind of this Inception idea," says Trevor Gourley, a copywriter at Grip who worked on the campaign. "They were waiting in line to play a game about waiting in line."
The stunt has been turned into an online video, which is launching today, and a shorter TV spot, showing a mix of people invited via social media and passersby taking a crack at beating the game and receiving a coupon for a free Cool Ranch DLT. Winning was easy, so long as someone was willing to spend about 10 minutes playing the "world's least exciting video game," Gourley says.
The game play is really simple. A character stands in line at a Taco Bell behind several other customers, waiting to order. Actions available to a player include what Gourley calls "really high-stakes, high-octane moves" like tapping their toes, yawning, checking their watch, stretching and blowing a gum bubble. And it's all accompanied by typical video game music.
Toronto-based animation, design and visual effects studio The Juggernaut helped Grip develop the arcade cabinet, while Grip developed the game in house. Mediacom handled the media buy.
The agency has also developed an online version for more people to try. Those who stick it out to the end earn themselves a coupon to get three Cool Ranch DLTs for $5.
In addition to airing it on the brand's YouTube, Facebook and Twitter channels, a short version of the spot will air on TV, driving to Facebook and the online game. A separate TV spot is currently airing that depicts the long, painful wait for the Cool Ranch DLT to arrive and announcing that it's now in Canada.
Gourley says the team went with the idea for the "line simulator" because it made the concept of playing the waiting game "feel real."
He adds that the brand's 18- to 30-year-old male target audience is really into gaming culture and off-beat games like Goat Simulator – essentially a barnyard spoof of the Grand Theft Auto series – has become hugely popular.
"This was shaped by our social community," he says. "We're hoping this is the next iterative thing people take ownership of."
It's not the first stunt the QSR has pulled to promote Doritos Locos Taco. In January, to celebrate the tacos becoming a permanent fixture on Taco Bell Canada's menu, it released an online and TV spot showing one hardcore fan having the taco tattooed on his arm in exchange for a lifetime supply of the meal. Meanwhile, when it first introduced DLTs to the Canadian market, some months after it was available in the U.S., it engraved Twitter users' complaints about the length of the wait on the taco shells and served it to them at a restaurant location so they could "eat their own words."