Facebook still king of social
Despite claims the site is passe, Intercept Group's new survey of millennials suggests otherwise.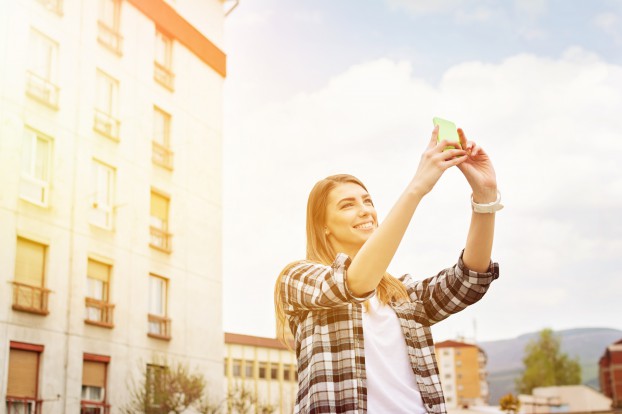 With brands getting less organic reach through Facebook and other social sites sure to follow, figuring out where millennials are spending their time is becoming even more crucial for marketers.
Facebook, for the record, is still king among the youth crowd, according to data from the 2014 POME annual report, the largest youth marketing study in Canada and a syndicated research property of Toronto's Intercept Group, a millennial and youth marketing agency. But not all millennials are alike, with the younger demo preferring quicker media consumption, according to the survey of 2,000 Canadians ages 13 to 29 conducted during May and June.
Here's the rankings and a quick breakdown of some of the data by Intercept Group.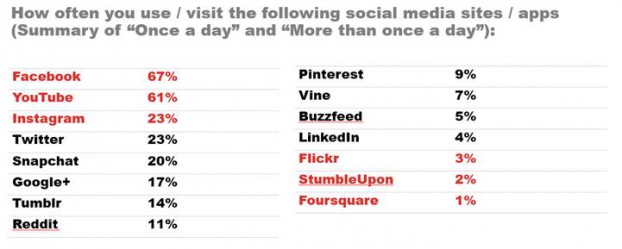 Facebook: With an average of 67% of Gen Y using it at least once a day, Facebook is the most frequently used social media site. It's most popular among millennials between the ages of 18 and 22 (77%), who are largely in post-secondary school and have a schedule that allows them to browse more than other age groups, according to Intercept Group.

YouTube: Again, millennials aged 18 to 22 are the most regular users of this social site, which is used by 61% of millennials once a day or more. Meanwhile, 43% of millennials use the site three times per week or more.

Twitter/Instagram: The micro-blogging and photo-sharing sites are tied in the survey, with 23% visiting at least once a day. Twitter is most popular amongst 18- to 22-year-olds, with 27% using it daily, while 30% of the same age group use Instagram.

Snapchat: Used by 20% of millennials, it is also most popular between the 18- to 22-year-old range, which the researchers say further supports the insight that the post-secondary student millennial has more time available for using social media than the younger group in high school and their older counterparts. The survey found 30% of 18- to 22-year-olds use Snapchat daily.

Google+: With 17% of millennials using it at least once per day, Google+ appears to be well received by teens. Though a lower percentage of them had visited the website, according to the survey, those who did seemed more likely to be regular users than their older peers.

Tumblr/Vine/Vimeo: Ranking (14%, 7%, 2%)

Tumblr also proved most popular in the 18- to 22-year-old range, while Vine is most popular with females 13 to 17, though usage declined with age. Vimeo, on the other hand, sees usage increase with age and is used most frequently by those aged 23 to 29. Intercept Group says this demonstrates an evolution within Gen Y, with younger millennials seeking quicker media consumption, while millennials on the whole are consuming content.

Image via Shutterstock.