Throwback Thursday: strategy in 1999
For our 25th anniversary, we're travelling through time. In 1999, Rethink launched and brands jumped on the millennium bandwagon.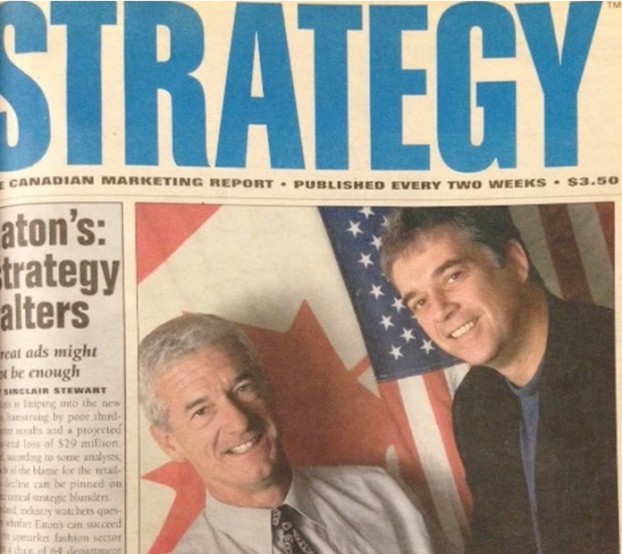 For strategy's 25th anniversary, we're travelling back in time, flipping through the pages of old issues to highlight some big news you may have forgotten, trends you wish you'd had a crystal ball to predict and marketing issues that never seem to change. Check back next Thursday to pick up some valuable insights into Canadian marketing history. This week, we tackle 1999.
Fun fact: This was the year strategy's parent company Brunico Communications launched Boards, its third international business magazine at the time, which was meant to inform commercial production companies of industry news. It sadly folded during the tail end of the recession in May 2010.
Also, strategy celebrated a big milestone – its 10th year anniversary.
What were they thinking?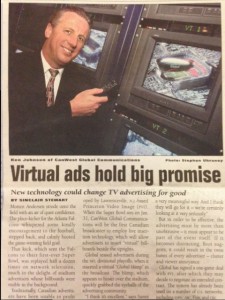 Virtual ads hold big promise Feb. 1, 1999
The industry called the new ad format "live insertion technology" and it basically allowed brands to insert virtual billboards onto a TV screen during a live broadcast of a football game, for example. CanWest Global Communications was the first to employ the technology, and "teased advertisers during the NFL divisional playoffs, when it inserted a virtual 'Global blimp' in the broadcast," we wrote. The blimp could be seen hovering over the stadium, and was billed as a game-changer for TV advertising.
Cashing in on millennium madness Feb. 15, 1999
It seems marketers made the millennium their mission during the final year of the century. "It was bound to happen," we wrote. "As we approach the turn of the century, the temptation to tie the marketing of one's product or service to the year 2000, the future, the millennium, will be too great to resist."
Some industry pundits weighed in.
Karen Howe of then-Due North Communications said, "It's getting flogged to death" and "It's become so hackneyed, it's like oral wallpaper," adding that brands were hiding behind the novelty of the mysterious millennium. Some of the brands that jumped on the year 2000 bandwagon included M&Ms, Cheerios, Loto-Quebec and even Girl Guides of Canada.
Über big year for Canada's agencies and creatives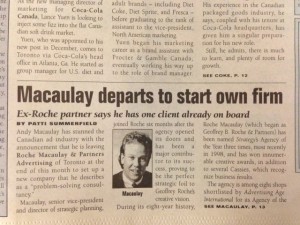 Macaulay departs to start own firm March 15, 1999
Andy Macaulay shocked the industry when he left Toronto-based Roche Macaulay & Partners Advertising. We reported at the time that he was heading out to open up a "problem-solving consultancy" and already had one client on board.
We're not an ad agency, say Zig founders April 12, 1999
One month later, we found out what Andy Macaulay was up to. The creative joined forces with Lorraine Tao and Elspeth Lynn to join Zig. "Although the troika is adamant that Zig is not an ad agency and will not be pursuing conventional advertising assignments, senior Zigger Macaulay concedes that the best solution for a client may, in fact, lie in the realm of traditional advertising."
Canadian agencies favouring co-creative approach April 26, 1999
"…many of Canada's agencies have decided that when it comes to filling their top creative position, two heads are better than one."
MacLaren McCann was doing it, even BBDO, Young & Rubicam, Cossette and Ogilvy & Mather were doing it – the trend to bring in two creative directors at the top to work together as a unit was starting to emerge in the early part of the year. The rationale behind the creative chief duos was that if the managerial duties can be shared, then they would be able to better focus on the creative product.
Ogilvy: the man and the myth Aug. 2, 1999
"David Ogilvy, arguably the most famous adman on the planet, died at his home in Touffou, France on June 21. He was 88."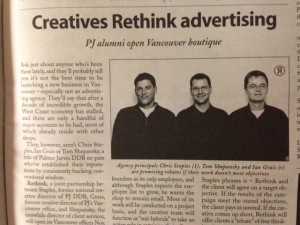 Creatives Rethink advertising Oct. 25, 1999
We have to give it to Chris Staples, Tom Shepansky and Ian Grais…they're pretty brave. It's tough enough starting your own agency, but to open up shop in a market that was reported to have stalled in terms of growth – now that's courageous. The former Palmer Jarvis DDB creatives launched Rethink, a now successful, award-winning, multi-office agency in Vancouver and Toronto, during the fall.
Oct. 25, 1999
Fifteen years ago, almost to the day, Judy John was hired to replace Jeff Finkler as creative director. She has since risen up the ranks, now handling the dual role of CCO and CEO at the agency.
How things have changed
Shoppers gets a makeover Oct. 25, 1999
Shoppers Drug Mart wasn't always what it looks like today. Before its store rebranding in 1999, the pharmacy was reported to have "cramped aisles, long lineups and cluttered check-out counters." Back then, Toronto's Design Vision helped re-envision the store layout with new lighting, floor plans and approaches to product presentation and customer service.
T.O. gets N.Y.-style ad opportunity March 29, 1999
Toronto's Yonge-Dundas Square was to get a Times Square-type treatment in 1999.
It was to open up to pedestrians and drivers in the fall, and even during its construction phase, media companies had big plans for the space. Eller Media Company Canada, Cadillac Fairview Corp. and Ellman Companies entered a joint partnership in order to place large-format backlit billboards on the Eaton Centre building and two other towers in the area. We all know what happened next.
Canadian brands expected to survive Unilever cut Oct. 11, 1999
This week, it was P&G that decided to slash hundreds of brands from its portfolio. But 15 years ago, Unilever was the one to put many of its products on the chopping block. While the parent company cut 1,200 brands from its portfolio back then, it was reported that the Canadian operations and ad agencies were to feel little impact.
The year of Molson
Molson rethinks marketing spend March 1, 1999
The company was concerned at the time that it was overspending on marketing, and not getting enough return for the amount of dollars spent on advertising its products.
"We're currently trying to identify where the spending is effective, and where it is not," Dave Perkins, president of the Ontario and Atlantic regions for Molson Breweries told strategy back then. So, it brought in a new EVP and COO, Daniel O'Neill, who came to the company from Pittsburgh-based Heinz.
I am retired? March 20, 1999
Rumours that Molson was thinking of dropping its iconic slogan, "I am Canadian," were beginning to circulate, with some sources reporting that the brand was looking at creative that would show Canadians braving the cold weather for the sake of a good time. "The idea is positioned as being distinctly Canadian: Despite the cold, Canadians are still willing to venture outside, sit on the patio, have a great time…and a cold one," we wrote.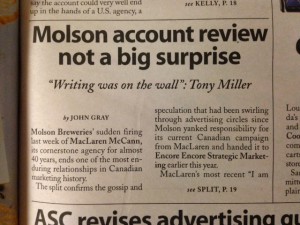 Molson account review not a big surprise
May 24, 1999
Trust a beer brand to make front-page news on May 24 (or what's affectionately known as "May two-four," the first weekend of the year when it's warm enough to lounge at a cottage with a pack of beers). The brand suddenly fired MacLaren McCann the week prior, after a 40-year relationship, and put the coveted account up for a review, exciting every agency in the country to take part.
Molson, Rogers reveal shortlists Aug. 2, 1999
The agencies invited to pitch for the Molson account in 1999 were JWT, Leo Burnett, Bensimon Byrne-D'Arcy, Taxi and London, England-based Howell Henry Chaldecott Lury and Partners. JWT was later bounced from the shortlist after its Chicago office won the Miller Genuine Draft business in the U.S. And in late September, after all the pitches were done, Molson announced Bensimon Byrne-D'Arcy as its new agency of record.
As for Rogers, JWT, Young & Rubicam, MacLaren McCann and BBDO were called in to pitch. One month later, the media company announced it had chosen MacLaren McCann to handle its creative advertising.
Online shopping? Who would've thought?
Chapters may turn page on Globe deal March 15, 1999
This was the year Chapters dove into e-commerce. We reported that a "branded e-commerce site expected [to launch] in April" and would have the bookstore sit separately from the then Chapters-Globe.com, which was an online book store led by both the retailer and Globe & Mail newspaper.
Retailers now focusing on Web marketing April 12, 1999
Less money was going into making "elaborate websites" and rather, being injected into web marketing, according to Ernst & Young's Tracey DeLeeuw, who had presented the company's Internet Shopping Study in Toronto that month.
"According to the study, roughly one to two percent of retailers' revenues in the U.S. and Canada now come from online sales. That figure is expected to reach nine percent in 2001."
HMV chooses Canada for e-commerce experiment April 12, 1999
Before Britain or even Japan, Canada was the first market to try out the music retailer's online store. The company chose Canada "because of Canadians' acceptance of the Net" and because HMV had a pretty strong presence in the country at the time.
tSc takes on new frontiers June 7, 1999
"Is a shopping channel really a shopping channel if it's not on TV?"
That year, The Shopping Channel expanded beyond television and launched its e-commerce website, tSc On-Line.
Creative Report Card
And as always, we'll wrap up our time travel with the top creative agencies, brands and creatives who graced strategy's annual Creative Report Card. See if you can spot any names still playing big today.

Want more strategy Throwback? Catch up on the headlines from 1989, 1990, 1991, 1992, 1993, 1994, 1995, 1996, 1997 and 1998.