Mini turns back the clock
All aboard for the 1920s. Since all car cos seemingly use the words "all new" in their marcom, Mini went an old-fashioned route.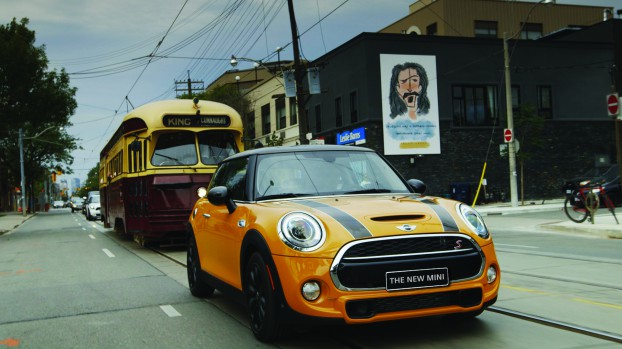 People boarding one particular streetcar in downtown Toronto Saturday may have thought they had stepped through a time portal.
The old-fashioned Toronto Transit Commission vehicle was running on regular downtown routes along Queen and King Streets, but curious passengers who chose to ride it were greeted by a cast of characters right out of the 1920s.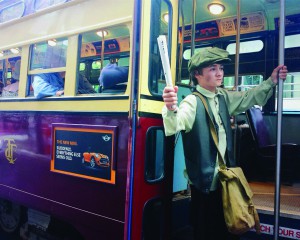 But two modern-day Minis (new models called The New Mini) cruising ahead of and behind the streetcar might have given them a hint of what was happening. It was an experiential stunt from Mini Canada, with the BMW-owned auto brand and AOR Anomaly turning back the clock to bring to life its campaign slogan for its latest model, "Suddenly, everything else seems old."
"We really felt the word 'new' had lost a lot of its meaning," Steve Ambeau, national brand communications manager at Mini Canada, says of the slogan. "If you look at our competition…everybody [uses phrases like 'all new' in their messaging]. Our challenge was how does Mini say 'all new?'"
"There's that old adage, a picture is worth 1,000 words," he adds of the stunt. "What [people] experienced was essentially a moving picture."
Customers who tentatively approached the vehicle were allowed to ride for free. Many would have been surprised when they looked down the aisles and saw seats filled with people dressed up like they were going dancing at a jazz club or when a paper boy walked up and down the vehicle calling "Extra! Extra!" and handing out papers that turned out to be a newspaper-style promo, with stories all about the new Mini, which was introduced to the market in March.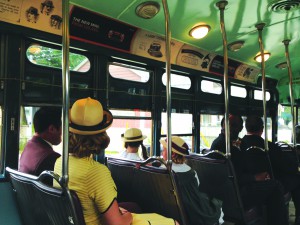 The brand also had a video team on the rented TTC vehicle, filming the experience for a video that will live online once it comes out toward the end of September, Ambeau says. Digital and social is where the brand does the majority of its advertising, he says, trying below-the-line and experiences that grab attention, rather than competing against larger auto brands on TV.

With that underdog mentality, Ambeau and his team of four, including a marketing co-ordinator, CRM and partnership specialist and online/digital specialist, have been busy this summer, capitalizing on the brand's sponsorship of Yonge-Dundas Square's City Cinema, a weekly screening of a free movie in the public space. It's been setting up a film set and encouraging audience members to take part in a Mini-themed spoof movie trailer, which is then shown before the movie, including a recent take on the movie Rush.

With a five-door version of the new model due to arrive soon, Mini is actively trying to increase its market share, Ambeau says. The company's year-to-date share of light vehicle sales in 2014 is currently 0.3%, according to DesRosiers Automotive Consultants.

Mini handles 90% of its social media in house, with Anomaly picking up the remainder, while Media Experts is its media AOR. Globally, creative is led by the parent company in Munich and its global agency, AKQA.