Mark's banks on jeans
VP of marketing and digital Frederick Lecoq on how denim marks a shift in brand focus to urban, confident, casual Canadians.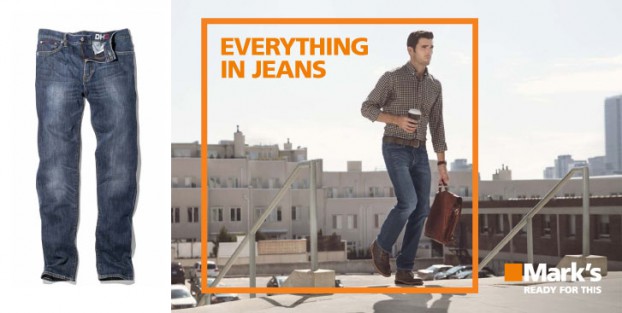 Mark's has been studying guys' wardrobes lately and spotting a lot of jeans – for the office, the yard or a night out.

It's a simple insight for the Canadian fashion retailer but one it is planning to wear for a long time as it launches a new campaign – #Everythinginjeans – to promote an expanded selection of denim.

"This is a way for us to really nail the brand repositioning we started a year ago," says Frederick Lecoq, VP of marketing and digital at Mark's.

Lecoq says the brand's commitment to its jeans goes beyond a campaign. Jeans have been made the hero product in store, following a deep dive into the brand's core consumer, which it calls "Mr. CCC" or "Confident Casual Canadians," – an urban male between the ages of 30 and 49 who participates in outdoor activities and rec league sports, watches sports on TV and when it comes to clothing, values casual, comfort and quality.

Lecoq says Mark's began conducting research about a year ago as part of the overall repositioning for the brand to focus in on a more urban demographic. It quickly became apparent that the common thread for its target is that "jeans are ubiquitous," he says.

For example, as part of its campaign, the brand has released a national survey of 1,000 Canadians done over a week in July that found more than two-thirds of men believe jeans are the most important item in their wardrobe and 64% say they wear their jeans "anywhere and everywhere." The average man owns between four and six pairs and wears them an average of 29 hours per week.

Taking that research, the brand decided to dedicate more square footage and premium locations in its store to jeans, and to amp up its offering to include 100 different styles, while training all of its store staff on the different types of jeans.

It was important to have its in-store in order before launching a new campaign, he adds, to ensure what it advertised for was consistent with its offering.

"When you are saying there is jeans for every occasion…and you have a very limited selection in your store, that is an issue.

"We have kept improving our assortment and jeans offering but now this is really a milestone," he adds. "We really feel we have ticked all the boxes and can lead our promise more than we ever did."

That led to the #Everythinginjeans campaign, with creative by Sid Lee, North Strategic handling PR, social media and strategy and Touché! handling the media buy.

It includes a TV ad to air around Labour Day, a social media contest, an online jean's guide, OOH and a PR media tour featuring style adviser Glen Baxter.

Lecoq says the campaign, launched this week, is already driving a peak in traffic to stores.

"The minute you buy a pair of jeans you are very likely to buy something that goes with it," he says. "This goes beyond just selling jeans. It is an emotional connector, it is traffic-generating and a basket-builder.