The Wiserfund is here to help
Whisky brand Wiser's is sending cash to men who might need a hand getting out of tough situations.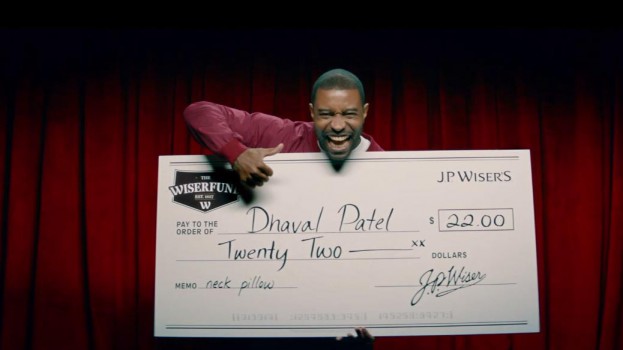 So your mother knitted your dog a sweater that you hate and you're not sure how to tell her. Luckily for you, Wiser's whisky has an idea: buy a blender, destroy the sweater, and blame it on the dog. They've even set up a fund to help.

The Wiserfund is spun out of the Wiserhood, a campaign the company has been running since 2008 around television spots that applaud men that are "uncompromising" by getting out of embarrassing or undesirable situations. Those commercials have had a more lighthearted take on the usual serious whisky ads, using the heritage element of the brand and applying it to more down-to-earth situations.

"I think the good thing is that [Wiser's is] a really accessible whisky," says Jacob Greer, writer at John St., which created the campaign. "When it comes to spirits, a lot of alcohol ads do the heritage and craft thing, so it's good for Wiser's to make a bit of a conscious move to do things differently without falling into beer humour [territory]."

The "Wiserfund" campaign is led by a video showing men that need a small push in the right direction and a cash boost to get out of uncompromising situations that they don't want to be in – $87 for a knee brace to get out of ballroom dancing lessons, or $22 for a neck pillow when a guy's girlfriend kept running into the store "for a minute." The video will be shown online as preroll, with 15- and 30-second versions for television.

"[The Wiserhood] has always been based on being witty," says Laura Bruce, senior brand manager at Corby Spirit and Wine. "You don't need to take your whisky that seriously, it should be a bit of fun, and our consumers have been responding to that."

The spots all drive to the J.P. Wiser's Facebook page where people can submit their own story for chance to get their own funding for an escape plan. Bruce says how much money the company gives away will depend on the applications that the company receives, but it plans to give it out in small portions about once a week between now and April. The money will come with a suggestion about what to spend it on and how it will get them out of the situation.

The lighthearted tone of the campaign, plus a move to incorporate social media, is an effort to skew the Wiser's brand more towards the younger 20- to 30-year old male audience.

"The brand was skewing a bit older, but generally consumers will determine their brand repertoire in their 20s and 30s," Bruce says. "Wiser's is a mainstream brand, but targeting older isn't going to give us the growth we want."

In order to reach that male audience, the TV versions of the commercial have started to air during Sportsnet's Scotiabank Wednesday Night Hockey broadcasts. Wiser's is also sponsoring a second period live poll during the games that plays on the "uncompromising" theme. The media planning on the campaign was handled by Vizeum.