Are you falling for the chase?
On Tinder, Snapchat and Instagram, the Responsible Gambling Council is warning people of the perils of excessive gambling.

The Responsible Gambling Council (RGC) and Red Lion want young adults to stop the chase.
The gambling term refers to the moment when you stop betting because you enjoy the experience, and start betting to win back the money you've lost, says Jamie Wiebe, director of research and development at the RGC.
For the preventative campaign that's targeted at 18- to 24-year-olds, RGC is turning to social media channels including Instagram, Snapchat and Tinder.
The challenge is trying to make the messaging about responsible gambling "sticky," says Matt Litzinger, president at Red Lion. "We're talking to people [reminding them] 'When you happen to be gambling, recognize the signs that you're starting to chase wins and walk away,'" he says. "All of that makes logical sense – but it doesn't make a lot of sense when I'm out in a bar or in my dorm room studying."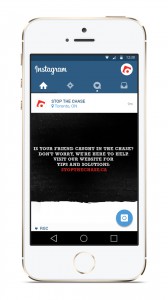 To deal with this challenge Wiebe says they wanted to do something exciting and new on social channels.

Though the brand isn't the first to advertise on Tinder or Snapchat (with lots of brands already active on Instagram), it is among the early adopters. For the dating app, the brand created two profiles of attractive people designed to appeal to a wide-ranging audience, says Litzinger. If someone "swipes" or tries to connect with the profile, a real-life person on the other end will engage them in a short conversation, which encourages them to head to Stopthechase.ca to learn more about responsible gambling.

And on SnapChat, the organization is using banner ads to invite users to follow it for the chance to win a trip for two anywhere in North America to see their favourite sports team or musician. When they follow RGC, they're asked to watch a short video that eventually reveals an entry code, which can then be entered on the organization's website for the chance to win. By persevering (as one would when fighting the chase) through the process of following the organization and then watching the clip through to the end, they're given the opportunity to win a prize for their persistence.

In line with the idea of perseverance, the organization is also scouring through Instagram feeds to find user selfies taken in places like a library, where a student is studying for an exam, for example. The RGC then comments on the image, congratulating them for their perseverance and directing them and their loved ones to visit its website for more information on responsible gambling.

"We have to be very careful that this is done in a professional way, that it isn't creepy and doesn't offend," says Wiebe. "It's not meant to lead people on."