What keeps David Bigioni up at night?
Molson Coors' VP marketing talks about finding efficiencies, managing data and fostering talent in a world where it feels like nothing is allowed to fail.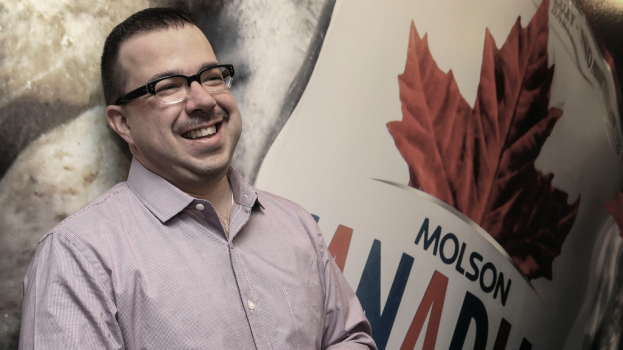 We're wrapping up our series, asking top marketers across the country about their biggest fears and concerns. What are the things of marketing nightmares? We've chatted with Kraft CMO Tony Matta,  Caroline Losson, VP marketing at Natrel, Christine Kalvenes, CMO, PepsiCo Foods Canada, Tangerine's CMO Andrew Zimakas and L'Oréal's CMO Stéphane Bérubé about their fears and challenges. Today, we catch up with Molson Coors' VP of marketing David Bigioni to talk about the problems he faces. 

What keeps you awake at night?

The biggest thing keeping me up at night these days is the challenge of doing more with less in transformational time.

We're in an industry that is in transformation and that requires strong leadership from a marketing, brand and portfolio perspective to help lead the business, while at the same time, we're being asked to work with less – tighter budgets, smaller teams. And it's a dichotomy between those two and how we navigate through that is a challenge.

And is there a solution?

I think the way we're addressing it is how we work in a couple areas, how we ruthlessly focus on our priorities, culling down lists to those that will make the biggest impact on our business and make sure we're more efficient in the areas of communication planning and development and evaluation. Another thing we're ruthless on is making sure we're surrounding ourselves with agencies and partners we highly value and want to go to war with.

A real challenge for us is how do we focus on efficiency and effectiveness? How do we reduce the effort and turn behind the output? I look at the "Beer Fridge" campaign of the last year, which has been remarkably effective for us in moving the business. But as we reflect on that, the effort required to do something original, do something unique and navigate through that, how might we have done that more effectively and more efficiently? What's the learning that we can carry forward to reduce the churn?

And what do you identify as the learning to make it more efficient?

The learning for us is that historically, we're a business built to make traditional ads and we work in a regulatory environment that's built for 30-second ads. As we venture into real-world talent, producing overseas, it creates change for our partners, from production companies right through our own teams in how we evaluate an idea and look at its complexity. So it's been a big change – but one we wouldn't go backwards from. The more we've seen success, the more it's taught us that there is no going back into a world where we're solely creating 30-second ads. The idea that brands need to be experienced, that we live in a multi-sensory, multi-channel world, is a really important way that we're creating momentum for our business.

We are in the process of overhauling how we develop marketing and communications across our agencies and internal teams to [see] how we can do it in a more efficient and effective way.

If we've been guilty of one thing over the last couple of years, it has been waiting for the creative idea from our creative agency and the rest of the team – from our on-premise to retail teams. And that's caused some challenges for us to be able to plan and execute across a multitude of channels.

So, a big learning for us is that we need to be better planned-out early. Once we know the brief we're working against, we need to have more input into the media channels that make the most sense, the way we want to use on-premise, retail, digital and social, strategically so that it informs the creative development process instead of trying to figure it out how to stretch it into different channels after we come up with one idea.

What are some of the other major issues keeping you up at night?

Talent: As we bring new people into our business, whether just out of school or from another [industry] I'm just amazed at the smarts and passion of people who are graduating into the market place. And our need and our focus is how do we build them into marketing professionals?

We need to invest in training and development. I think it's an important part of what we as a Canadian company need to do. I grew up in the Unilever world, I led brand strategy, creative activation, innovation development – but in a lot of companies that's changing. It's becoming something that Canadian companies import. At Molson, we create those things. We're responsible for the brand strategy, activations, how the brand expresses itself – so we need that skillset inside the business.

So what's the challenge for you to make sure people have that expertise?

It's investing in that training and development. It's exposing them to more across our business, doing it early in their career, pushing people in situations that are uncomfortable for them, that stretch their comfort level of what they know, but letting them know you have their back.

And I think when you're in a period of transformation, everything can feel so mission critical, there is nothing that can fail. When you put yourself in that situation you're not creating an opportunity for young people to learn. So we've tried to give young marketers projects that challenge their abilities to understand the P&L, that brings them into our supply chain and customer world, versus just solely focusing on marketing communications development and managing marketing communications projects.

The world marketplace is constantly changing and we need to continue to evolve. We can't just do a series of beer fridges. We're at a stage where ideas are currency and fuel our brands and results. And those aren't static.

What else?

We're grappling with data. We don't have the traditional data sources that a CPG would have, where we understand by store, competitive share, display and price and the key drivers within each of our customers.

So how do you weave it together between business results and marketing effectiveness, tied together with social and digital, how to we tie that to traditional brand health – and how do we make it relevant – not just looking back and say 'did it work?' But how do we make it [so that in] real time a community manager understands the effectiveness in a post or tweet? And how to lean into that or raise the alarm bells, and say "Hey, we've got something here. What's the Instagram or Vine version of this?" I think the real time-ness of our ability to respond is changing how we need to look at data. We can't wait 14 weeks to get a post review on a TV ad. We need understand in real time – and that's not easy.

And I wouldn't say we've cracked it yet. There are just so many data sources available to us that impact our business. And all that data on the page becomes a blur.

But it's certainly on our radar in 2015 as something we want to dial into more acutely.