Weekend reading: Incubation nation
Read up on three organizations that are taking the incubator model in new directions.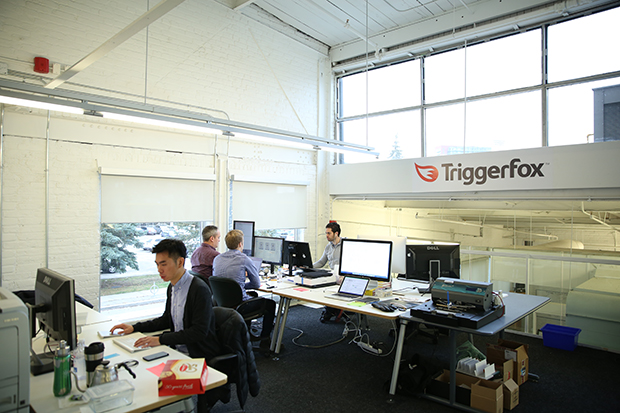 This story appears in the February/March 2015 issue of strategy.
Phrases like "startup mentality" and "entrepreneurial thinking" have found their way into the "about" sections of so many agency websites that they're beginning to feel a bit hollow. But finding startups to incubate can encourage staff to think creatively outside the confines of a client brief.
Most of all, a healthy incubator program can open up doors for an agency looking to bring in new talent and business. Here's a look at programs from three organizations that have taken the incubator model in new directions in the hopes it will bring their work and products into the future.
Cossette Lab experiments on Toronto
Since 2012, Cossette's office in Montreal has hosted 10 different startups, with another three currently going through the six-to-12 month Cossette Lab program. This fall, the agency picked two startups that would be the first to come through a new Toronto version of the Lab: Wattage (a web platform that aims to take the complexity out of electronic design so anyone can create their own devices) and TriggerFox (a social tool that allows users to manage professional contacts).
Joe Dee, VP of product and technology strategy at Cossette, leads the Lab in Toronto. He believes what sets it apart is the weight of resources the agency is putting behind it right out of the gate, spurred by the momentum of the Montreal program.
This includes, as they are needed, full access to the office's creative staff and media teams, additional branding and packaging support from the Vancouver office and public relations from fellow Vision7-owned firm Citizen Relations, plus 600 square feet of office space (which is set to expand this year) and operational resources like office supplies, whiteboards and Wi-Fi. In addition to Dee overseeing the program, Vision7 VP of finance Shalom Shapurkar and a three-person office services team act as liaisons between the agency and the startups, connecting them with the support and services they require.
Dee says the program is likely a loss for the agency from a monetary perspective, as it does not take equity or charge any fee beyond what is legally required to house the startups within the building. He does say, however, that the program has generated positive interest from potential clients during RFPs, giving Cossette something substantial to point to when it says it is a digital-oriented agency looking to do more work in emerging tech. In addition, it keeps staff grounded.
"We get to see something that we don't always get to see as a big agency," Dee says. "That gives our staff the ability to see how things can be created with a more lean and nimble structure. If we talk about, 'How do we do this in two weeks instead of two months?' or with a smaller team, we understand how to work in a different way."
DDB shifts its accelerator partnership
Three years ago, DDB Vancouver partnered with the University of British Columbia's e@UBC business accelerator. The program is designed to bring concepts to market very quickly, continuously "pivoting" based on the needs of (and reception from) the marketplace, as opposed to sticking to a five-year plan that could be rendered obsolete. As part of that partnership, companies have been coming into DDB's offices in the summer to take advantage of the branding and consumer engagement expertise that the program was otherwise lacking.
That work will continue, and Lance Saunders, EVP managing director at DDB Canada, points to many of the same benefits other agencies with incubators cite: exposure to new tech before it hits the market, being around the enthusiasm and energy of the entrepreneurs, outside-the-box thinking and so on. But now, that thinking has led to the agency turning the tables on the program.
"We have a lot of product ideas that we present to clients as part of a project," Saunders says. "For whatever reason, be it the resources or ability clients have, they fall by the wayside. But this means we have a lot of ideas we could take through the startup program ourselves and productize."
Late last year, DDB held an internal competition where two- and three-person teams came up with product ideas, with Saunders, Marty Yaskowich, managing director at Tribal Worldwide Vancouver, and professors from e@UBC choosing a winner that will now be sent through the accelerator (Saunders couldn't reveal exactly what the product was, but did say it involved using new, experiential tech in the travel sector). If, after going through the accelerator, the product idea seems like a viable business, Saunders says the agency will explore the possibility of investing its resources and providing financial support to get it off the ground, or seeking outside investors if needed.
"Every agency has great ideas but the one thing about our business is we only get paid when we're awake and working," he says. "We need to find new ways to drive revenue, and maybe the way to do that is licensing these technologies and selling it in categories we have expertise in. Whether that's consumer goods or retail or travel, it can drive revenue for us in new ways."
Building ideas in Microsoft's Garage
Worldwide, Microsoft has more than 40 different chapters of Microsoft Garage, an extracurricular program where staffers can build and test out ideas that come up in the course of their work. This is done through activities like after-hours coding, hackathons and maker sessions. Prototypes for ideas are presented quarterly at science fair-like presentations.

In Canada, Garage is kept to the software-focused Vancouver Development Center and is heavily contributed to by its Foundry university internship program, both of which are set to expand with the opening of the Microsoft Canada Excellence Centre in the city later this year. Some of the program's biggest successes thus far have come out of Vancouver, including the Tetra Lockscreen app and games like Voice Commander and Lost Turtle.

Garage maintains a loose, grassroots structure. In the past, Microsoft had Live Labs, and now it has FUSE Labs – formal working groups meant to bridge the gap between the company's research and product groups. While Fuse Labs still operates as a 25-person team in Redmond, WA., John Weigelt, national technology officer at Microsoft Canada, says the company as a whole was disconnected from the work it was doing. Garage is not only a way for its broader staff to test out ideas, but to do so in a way that suits them and keeps the idea at the forefront.

"We really try to keep it organic so you can look at the idea and build it out from there," Weigelt says. "When you're at Microsoft and working with products millions of people use on a daily basis, to have an idea that doesn't go well is a bit more challenging than if you had the kind of smaller ideas we work on in Garage, knowing you can come back and try it again."

So Garage is oriented towards getting your hands dirty, so to speak, prototyping, building out and testing ideas.

"As we look at the way some products are being delivered today, the ability to bring ideas quickly to light and proof them out is an increasingly important skill to have," Weigelt says.