Zulu execs leave to start The Garden
Former Zulu ECD Shane Ogilvie and executive planner Shari Walczak are looking beyond advertising to solve brand problems with their new model.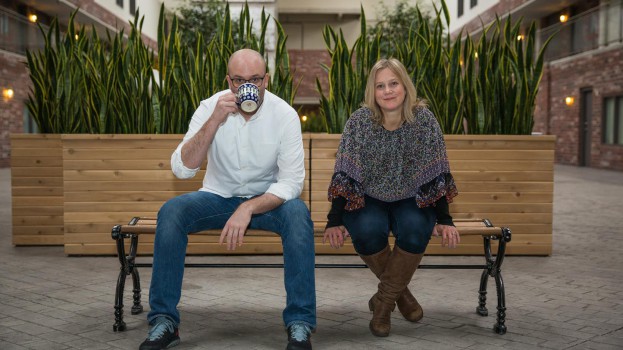 Shane Ogilvie, ECD, and Shari Walczak, executive planning director, have left their posts at Zulu Alpha Kilo to launch The Garden, a creative company that will look beyond advertising for ways to fulfill their clients' creative needs.
The Garden will take an "up-stream" approach, working with clients earlier in the process and in collaboration with their other partners, including agencies, to create solutions to business problems that can reach consumers outside of communications, as audiences become splintered and look to each other for information more than they do brands. This model will see the company bring in many outside experts, such as technologists, consultants in specific industries like hospitality and creatives in other fields, like interior design, depending on the problem they are trying to tackle.
"This idea of getting briefed and going away doesn't work in this structure," Ogilvie says. "We solve the problems together and those solutions could be anything. It could be an ad campaign, but it could also be the customer experience at the store level or working with content providers on YouTube. And it's not an art director and copywriter that's going to solve that, so we're going to bring in consultants or experts."
Ogilvie says the increased role of consumers in communicating information about a brand means The Garden is looking to "shore up the walls" of the points consumers interact with it, and make sure the message and offering lines up with what is being delivered.
"It's not about making the advertising the solution, it's about communicating whatever the right solution is," he says. "You can put an amazing spot on the Super Bowl that gets all kinds of eyeballs, but before [consumers] actually drive to a decision about whether they want to participate with your brand, they're going to look to each other. That's a step that didn't used to exist, at least not on the level it does today."
The distinction between "agency" and "company" in this model is an important one for Ogilvie, as he wants The Garden to be a place brands go  for any problem that creativity might be able to solve.
"When you call an ad agency, it's because you need advertising. We can provide communications and advertising solutions if that's what you need, but our output isn't going to be limited to that," he says, adding that he and Walczak were interested in pursuing something they could lead themselves. "Zulu is a wonderful shop and we're still huge fans. But rather than try to force-fit a new way of thinking into an existing model, we thought it was best to start from scratch and build it from the ground up."
Ogilvie says the company is working on two pieces of business at the moment and hopes to formalize those relationships with announcements in the coming weeks.
As of now, Ogilvie and Walczak are the company's only full-time staff, pursuing a freelance model that can bring experts and consultants in as needed. Ogilvie says this model is not only a more cost- and time-efficient way to approach the work they want to do, but less limiting in terms of the thinking they are going to get.
Ogilvie joined Zulu in 2011 as CD, being promoted to ECD in early 2013. Prior to that, he spent just over a year as CD at Grey and four years as ACD at DDB. Walczak joined the agency in her role in 2012, following six years as strategic planning director at John St.
Three weeks ago, Zulu named Ebrahim El Kalza as Walczak's replacement.