Cracker Barrel's cheesy repositioning
The Kraft Canada brand is putting cheese at the heart of culinary experiences by deconstructing dishes.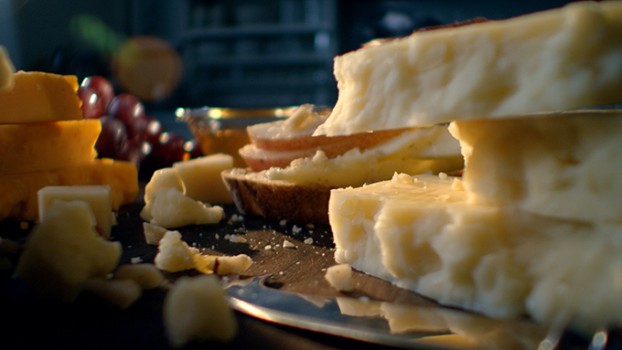 This story appears in the May 2015 issue of strategy.
As part of Kraft Canada's ongoing effort to revitalize its popular brands (other efforts include Peanut Butter's "Stick Together" platform and KD's new wacky persona), Cracker Barrel is rolling out a new brand positioning encouraging Canadians to "show more love" through the foods they cook.
"Too often, people were treating food as a convenient, mindless stomach filler," says Rebecca Harth, director of marketing for natural cheese at the CPG co. "In short, they were eating to live, rather than living to eat."
So the brand wanted to remind consumers to take some time to be mindful of what they put into their bodies. In exploring the folks who "live to eat" rather than "eat to live," they discovered a nuance: cooking is viewed as more than just meal preparation – it's an expression of love, says Morgan Kurchak, creative group head for Cracker Barrel at Leo Burnett, the agency behind the latest campaign. And nothing says "I love you" like a delicious cheesy dish.
This inspired the latest thinking from the brand, which puts cheese at the heart of culinary experiences ("In many ways, cheese is the soul of a meal," Harth says).
The brand is rolling out three new TV spots starting this month, which will air in rotation for the rest of the year.
The commercials actually start at the end, with mouth-watering dishes, such as a cheese platter, lasagna and a steak sandwich, reverse engineered until they are just a set of ingredients. The tag states "Start with Cracker Barrel. End with Amazing."
Much like other Kraft brands, Cracker Barrel is eschewing a specific gender or age demographic, favouring a psychographic of consumers – namely "culinary adventurers" who have a strong passion for food and are typically very involved in food preparation.
The three TV spots will be supported by a print, digital and social campaign, and are the first creative from Leo (with media handled by Starcom), which joined on as AOR last fall. This is also the first time the brand is promoting itself in the Quebec market, where it has seen increased growth over the past few years (and where there is an over-representation of the culinary adventurer target).
The creative is a shift for the brand, which has typically focused on promoting the functional benefits of its offering (such as the fact that it is made from Canadian milk, without antibiotics), usually revolving around a family coming together over a cheesy meal.
"We did everything we could to make that food look big, epic and delicious and let people see food in a way they maybe hadn't before," Kurchak says of the new campaign.
"It's almost like the ingredients are characters – with cheese being the main one," Harth adds. "It's seen through the point of view of the food."

Kurchak says they explored the backwards creation of the dishes because they were looking for a way to stand out amid the mass of cooking shows and food ads already on the market. "This is one of the things we think people hadn't seen. Cheese un-melting, eggs un-cracking – it looks really beautiful and it's infinitely more watchable."

"Before we were very focused on the functional, but that doesn't really allow you to tell a story in a meaningful way," Harth says. "This is all about bringing it back to purpose-based marketing, which is rooted in the brand's point of view on the world and telling that story."