The primetime jungle heats up
In today's PVR and binge-watching world, media experts weigh in on which shows will make the cut this season.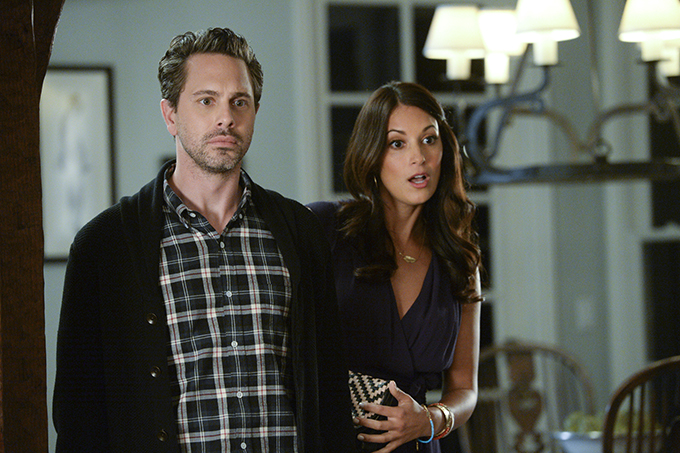 This story appears in the July/August 2015 issue of strategy.
By Harmeet Singh and Josh Kolm
Hope springs eternal this fall, with the networks making big bets on superheroes, brazen doctors, mockumentaries, some enigmatic crime series and a bit of nostalgia. We asked three of Canada's media experts – PHD's managing director of broadcast media Christina Laczka; Mindshare media director Victoria Morris; and Maxus Canada director Carolyn Froude – to chime in on this year's potential big wins and how they stack up against others in their genres. In an age of PVRs and binge watching, which genres will have standout stars, and which will fall short?
Are superheroes still winning?
One need only look at the box office numbers for comic book movies and the ratings Agents of S.H.I.E.L.D. and Agent Carter pulled in for CTV this year to see that superheroes remain a hot property.
But both Laczka and Froude expressed worry that Supergirl (pictured), airing on Mondays at 8 p.m. on Global and CBS starting in November, might be overkill in the genre. Even though there's demand for female superheroes and an appeal for younger viewers, Laczka points out that Superman's younger, female cousin is not a big name in the pantheon of DC Comics.
Add to that the fact that she is played by Melissa Benoist – an actress best known for supporting roles on Glee and the film Whiplash – and the show has little notoriety in what's becoming a more crowded genre.
Even though Supergirl might be on shaky ground, Global does have another horse in the superhero race to compete with CTV's roster. Heroes Reborn, airing on Thursday nights at 8 p.m. on Global and NBC, is a 13-episode mini-series that retells the story of the original series, which went off the air in 2010 after four seasons. The reboot – up against The Big Bang Theory – will take some of the more recognizable original characters and mix them with a new batch of people who suddenly develop super powers.
"There was huge love for the original, so the characters are well known enough that there's interest," Laczka says. "The best thing NBC is doing is a preceding digital series to introduce the new characters, so there will be enough excitement that [it will] do well for a limited run."
Morris adds that Heroes Reborn could provide an alternative to other shows in the genre – especially the ones from CW that tend to skew to a slightly younger audience – for older viewers, both those who watched the original series and those attracted to a slightly darker tone.
Kind of a funny story(telling format)
The Muppets (pictured), Mondays at 8 p.m. on City and Tuesdays at 8 p.m. on ABC, takes a cue from The Office and Modern Family, debuting in a mockumentary format that aims to give a behind-the-scenes look into the lives of the beloved characters.
Part of the show's appeal will be the nostalgia factor for adults who watched the original show in the '80s. The new series does drop more lines with a wink and a nudge to adult viewers ("The band is always happy. Legally now," Kermit says to the camera in the trailer). But what will make it work – as is usually the case for The Muppets – is its broad appeal.
"It still gives viewers a family-friendly environment," Froude says. "There's no murder, there's nothing scary, although the nostalgia and format will skew to an older audience."
"It's not a DVR or VOD show, it'll be great family viewing, and like the original, they can bring some stars into the mix to broaden the appeal even more," Laczka says.
While Life in Pieces (main image), Mondays at 8:30 p.m. on City and CBS, has been gaining comparisons to Modern Family, it does buck the mockumentary format for its own storytelling method. Each episode will be retold through the eyes of a different character, based on their own version of events.
Morris says it won't be a top show, but will get a following, something Laczka adds will come from a cast that includes Diane West, James Brolin, Colin Hanks and Betsy Brandt.
Bad comedic timing?
Angel from Hell, airing Fridays at 8 p.m. on Global beginning in November, features Jane Lynch (pictured) as an inappropriate, loud-mouthed guardian angel.
"I love Jane Lynch, but I really hope she can carry a show," Maxus' Froude says. "I'm used to seeing her as a supporting character, so fingers crossed, because it looked pretty funny."
However, it is airing in post-release in Canada (it will run Thursday nights on CBS), which PHD's Laczka says might mean it's facing a tough time here.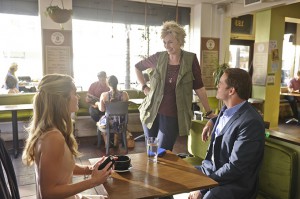 Things look a bit more bleak for City and Fox's block of comedy on Tuesday, with Grandfathered airing at 8 p.m., followed by The Grinder at 8:30 p.m.
Rob Lowe stars in the latter as a former TV lawyer who joins his family's firm. It didn't seem very funny to Froude, who found more to like in Grandfathered, starring John Stamos as an aging lothario who discovers he has a son, plus a granddaughter.
The series has comedic potential and over-30 appeal, but Laczka says the women drawn in by Stamos as lead actor won't offset its scheduling challenges. In addition to facing The Muppets, both it and The Grinder are up against The Flash, NCIS and The Voice, which Laczka says will make it tough.
Meanwhile, People are Talking, a new comedy airing Fridays at 8:30 p.m. on Global and NBC will be up against The Amazing Race and Undateable. Starring Mark-Paul Gosselaar (Saved by the Bell), the new series features a pair of neighbouring couples examining issues from sex to race. It looked funny and reflects the surge in comedies with more ethnic diversity in their casts, Froude says.
But Laczka says her hopes for the comedy aren't high, mostly because it was created by DJ Nash, whose track record is full of shows that failed to make it past a season, including 'Til Death. "It's great that shows are examining these [issues], I just don't know if this creator is the one to do it justice."
Will teens scream for primetime?
Mix some millennial stars and a sorority house with horror movie veteran Jamie Lee Curtis (pictured), and you get Scream Queens, airing Tuesdays at 9 p.m. on City and Fox. Created by Ryan Murphy, the brain behind Glee and American Horror Story, the show is likely to be a hit among millennial and Gen Z females.
The series has a similar feel to the Scream movie franchise (which will also be brought to the small screen this year). It has a fun factor to it, including the slight silliness of the masked killer, Froude says. That unique blend of comedy and horror is likely to be a draw for a younger demo, many of whom are CW watchers, she points out. It's also likely to pick up from Glee's audience, both because of its casting of that show's youthful star Lea Michele, and its hybrid genre.
The 9 to 10 p.m. time slot does bring tough competition against Agents of S.H.I.E.L.D., Laczka notes. That said, many of the show's millennial viewers might be tuning in at off hours to watch. The real challenge may be surviving past one season, she says.
Adding a little variety
While reality shows like The Voice and MasterChef still draw strong ratings, no conventional networks will be debuting new reality this fall, perhaps signalling that its popularity in primetime is coming to an end.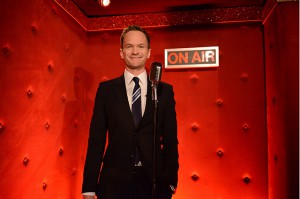 However, Best Time Ever, an adaptation of U.K. variety show Saturday Night Takeaway will combine comedy bits, music and in-studio games. Airing Tuesdays at 10 p.m. on CTV Two and NBC with a 10-episode run, the show could fill a hole for viewers still looking for singing and dancing, says Laczka.
"I don't think it's going to be a hit, but it's going to be that same kind of fun, mindless viewing," she says. "And there's room for this kind of show, so long as they keep it to its limited run before people get tired of it."
While Mindshare's Morris says the reality market is saturated and the impending finale of American Idol signals that singing competitions are done, host Neil Patrick Harris has built up enough of a following that a show centred on him could be different and entertaining enough for viewers.
"Harris is very funny and I think people will tune in even if they don't really know what the show is about just to see him," Morris says.
Laczka does add, however, airing the show at 10 p.m. is strange, as it seems perfect for family viewing.
Real Canadian stories
CBC still has some bets on factual TV, although it's venturing away from the competition show space. Six-part series Keeping Canada Alive (pictured), airing Sundays at 9 p.m., was shot during a 24-hour period in hospitals and trauma centres across the country to capture the everyday realities of patients and health care providers in Canada.
"Canadians are drawn to their own stories and understanding what's going on in the country," PHD's Laczka says. "CBC tends to have a higher eastern audience with things like this, as well as parts of the Prairies. But in Ontario and B.C., the tastes are different, so we'll see if it gets attention there."
The broadcaster's CBC Arts cross-platform culture project is also set to launch this summer, which will take its form on TV with limited run series Crash Gallery debuting on Fridays at 8:30 p.m. in October. That show pits four artists against each other in creative tasks in a non-elimination competition that aims to highlight the creative process.
Interrupt This Program will take over its time slot in November, examining the vibrant arts and culture communities that have thrived in cities around the globe otherwise torn apart by war or political unrest. Meanwhile, weekly half-hour show Exhibitionists, which has yet to be given a time slot, will dive deep into how both established and up-and-coming Canadian artists find their inspiration.
Thrill seekers
A mysterious Jane Doe is literally let out of a bag in Times Square, inexplicably covered in tattoos, with zero memory of who she is or how she got there. That's the gist of Blindspot (pictured), airing on CTV Mondays at 9 p.m. and at 10 p.m. on NBC.
The uniqueness of the concept makes it a standout for Mindshare's Morris. "It looks really intense and very good," she says, noting the show is a mix of crime, thriller and sci-fi. It also has some style elements reminiscent of Orphan Black, which make it a potential winner. "I think this will do well just because it's kind of unique," Morris says.
Along with competition from surprise hit Scorpion, Blindspot will also go up against Minority Report, airing Mondays at 9 p.m. on Global and Fox. Set 10 years after the events of the Tom Cruise film, the series follows one of the movie's crime-predicting precognitive triplets as he tries to operate in the regular world but gets sucked back into crime fighting. "They seemed to have strayed from the original movie storyline," Morris says. "I don't know how well that concept is going to translate."
Minority Report is a bit of a nostalgia play, as is the adaptation of Limitless, airing on Tuesdays at 10 p.m. on Global and CBS. However, what that reboot has that Minority Report doesn't is the involvement of its star (Bradley Cooper) as an executive producer and guest recurring actor.
Laczka says without Cruise, there isn't enough to draw in viewers to Minority Report and the original film, despite its success, doesn't have a devoted fanbase that will follow it to TV, especially when compared to the competition, Blindspot and Scorpion.
Still, Limitless may not be able to live up to the hype. "At the Upfronts, the expectation was high, the buzz was good," Maxus' Froude says. Unfortunately, it's a little too similar to the movie and the pilot essentially shows the same experience as the film – a character able to gain superhuman abilities for a short time by taking one mysterious pill, she adds.
Still, Bradley Cooper's involvement may help it succeed, Laczka says.
Smooth criminals
Quantico (pictured), airing Sundays at 10 p.m. on CTV, features Bollywood actress Priyanka Chopra as an FBI trainee accused of being behind the most devastating terrorist attack in America since 9/11, leading her to investigate her classmates to find the real culprit.
The show, which will compete with the long-running Bones on Global, has uniqueness, and while the storyline might also lack longevity because of the focus on one major event, a dive into character backstories might have viewers coming back for more, PHD's Laczka says. "What's really important now is that there's some kind of backstory to keep people coming back," she says. "The procedurals don't seem to be working as well, so keeping them coming back for more works."
Chopra's growing recognition in North America might also work for the show and could draw in a South Asian audience, Mindshare's Morris notes.
On the homegrown side comes The Romeo Section, new to CBC's roster this October, airing Wednesdays at 9 p.m. The hour-long drama is set in Vancouver and follows Prof. Wolfgang McGee, an academic who also happens to manage a group of espionage assets. Known as Romeo or Juliet spies, the informants have intimate relationships with targets, and McGee himself is a semi-retired agent.
Da Vinci's Inquest showrunner Chris Haddock's successful track record, coupled with the show's character-building possibilities make The Romeo Section a potential hit for CBC, Laczka says. After doing fairly well with spy thriller X Company, CBC is sticking with what works for it, she says.
Along with going up against Modern Family, Criminal Minds and Chicago Med, the show will also compete with Wednesday night hockey, but that isn't much of a concern since the show – and CBC generally – skews more female, Laczka adds.
Paging the doctors
With the demise of Grey's Anatomy's McDreamy (Patrick Dempsey), there's a chance some viewers might begin flocking away from the long-running success. But never fear, the medical drama isn't dead on the table just yet.
Of the shows in that genre launching this fall, Code Black (pictured), airing on Wednesdays at 10 p.m. on CTV and CBS, is pegged to be a winner. The series, reminiscent of ER, stars Marcia Gay Harden (The Newsroom) as a tough emergency room doctor guiding a group of comparatively naive medical residents in a busy Los Angeles hospital.
"It looks very high production [and] it's a great cast," Morris says. "The medical dramas are kind of dwindling since House," she notes.
"You could feel the audience response in the room when they presented it," Maxus' Froude says. "I'm not into medical dramas, but the trailer is gripping. It kind of sucks you in."
The nostalgia factor of ER might also help draw in an audience, Laczka says, although its biggest strength is its time slot – the series will stack up against Chicago P.D. which hasn't had a big following in Canada.
However, perhaps Chicago Med will fare better than its sister show. Airing on Global Wednesdays at 9 p.m., up against Criminal Minds, Law & Order: SVU and Modern Family, the series is the latest spinoff in the Chicago franchise (which also includes Chicago Fire). Originally scheduled as a mid-season show, the series – starring Laurie Holden, Colin Donnell and Oliver Platt – was bumped up to the fall lineup in June.
Though it is executive produced by Dick Wolf (of Law & Order fame), the lack of simulcasting might be a problem for the show, which will air a day earlier on NBC in the U.S. If there's going to be a winner in the medical space, Code Black's stronger writing and storyline may just leave Chicago Med flatlining.
Shipping in new drama
In August, CBC will premiere Love Child (pictured ) on Saturdays at 10 p.m. to fill the weekend block before the return of Hockey Night in Canada. The show, from Australia's Nine Network, is a period piece set at a boarding house for unwed expectant mothers in 1960s Sydney and centres on a rebellious midwife sent to work there.
"We don't see a lot of top programs come out of CBC, but this is something people will tune in for and will do well for them," PHD's Laczka says. "It has an interesting premise, and another period piece fits for their schedule. They stick to a really good format, and bringing over all these international programs is also a really smart move and fits really well into what people are used to from them."
On the homefront, the network will be adapting Radio-Canada hit Nouvelle adresse for English audiences with This Life. On Mondays at 9 p.m., the show follows a columnist and single mother in Montreal who is diagnosed with terminal cancer and sets out to prepare her children and family for life without her. While the show is in a tough time slot against the buzzed-about Blindspot and Minority Report, Laczka says it will likely attract more of an older, "tried and true" CBC audience than its competition.
New soap on the block
Joining the primetime soap realm among dramas like Empire and Scandal comes North Dakota-set Blood and Oil, starring Gossip Girl alum Chace Crawford and Don Johnson. Airing on CTV and ABC Sundays at 9 p.m., the series centres on a young couple who loses everything but hopes to strike it rich.
"It's like they're trying to bring back Dallas over and over again," Morris says. It also feels like the show is targeting the same watchers of Shonda Rhimes-created dramas (Scandal, How to Get Away with Murder), but won't be able to pull it off, she says.
Laczka disagrees, pointing out that the show benefits from a lack of competition outside of The Good Wife. The 9 p.m. time slot on Sundays is also one that does well for CTV, she says.
Rise of the mid-season
Winter is coming. But that's a good thing. "I think the networks are realizing that you need to not just focus on one portion of the year to really go hard," Mindshare's Morris says. "If you want to keep the audiences, you have to be bringing fresh things all the time."

This year's Upfronts were a standout for their strong mid-season lineups, bringing a mix of nostalgia and playing off the momentum of current successes.

CTV has picked up The Catch, a new drama from Shonda Rhimes. "They have that really strong lineup with the Thursday nights and they know not to mess with that," Maxus' Froude says of ABC, the U.S. network running the series. "It's mid-season but a new Shonda show is almost a guaranteed hit," she says.

DC's Legends of Tomorrow (pictured) also will debut mid-season on CTV and CW, when it will join a lineup of superhero shows on the former network that already includes Arrow, The Flash, Gotham, Agents of S.H.I.E.L.D. and Agent Carter.

Both Morris and PHD's Laczka say that, while the show also centres on a cast of lesser-known heroes like Hawkgirl and Firestorm, it could leverage the audiences from Arrow and The Flash, which take place in the same universe and whose characters will likely cross over into the storylines.

The mid-season will also see the return of Mulder and Scully in the rebooted X-Files series, which is sure to have many old fans returning.

Premiering next winter on CBC, the 10-part British drama Jekyll and Hyde will star Tom Bateman, Richard E. Grant (Downton Abbey) and Natalie Gumede in a 1930s, London-set retelling of the classic story. The series has potential, both from its Downton Abbey casting and people's recognition of the Jekyll and Hyde story, Laczka says.

Jennifer Lopez will also be coming to the small screen on Global and NBC in the mid-season, starring in Shades of Blue as a New York City cop and single mother. Global will also premiere procedural drama The Code (a working title), starring and executive produced by Jason Priestley. He will play a former-pro-hockey-star-turned-private-investigator. The network will also run Houdini and Doyle, a supernatural crime series inspired by the real-life friendship of illusionist Harry Houdini and Sherlock Holmes creator Sir Arthur Conan Doyle.

As Froude puts it, "Winter's not a dead period anymore."