Enercare sings a new tune
The former Direct Energy is selling "perfect harmony" as part of its rebranding effort with its first-ever TV spot.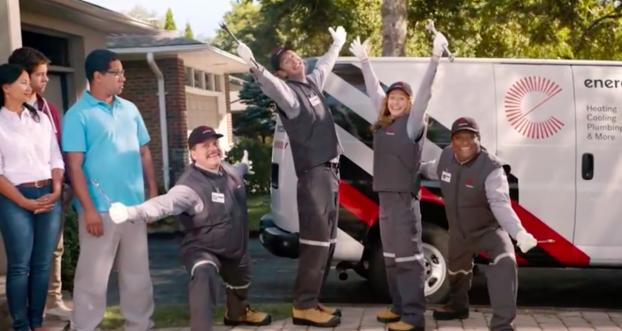 Starting early next week, heating, cooling and plumbing co. Enercare (formerly Direct Energy) will bow its first-ever television campaign as part of a rebranding effort.

The new campaign, dropping Sept. 21, is meant to help grow brand recognition, as well as educate consumers about the breadth of services offered by the company and emphasize that it is a people-first organization, says Lorne Solway, CMO, Enercare.

He says the campaign is meant to address a number of challenges, not least of which is the fact that Enercare remains a relatively unknown brand in Ontario (despite having more than 1.2 million customers in the province). Enercare acquired Direct Energy's home and small business platform last year, and has been working on a rebrand ever since, he says.

"I don't think our category itself is particularly sexy," he says of the challenges in breaking through.

The process started with three campaign spots that never came to air. Working with Sid Lee, it developed a "beautification" spot (featuring beautifully presented products in the home), a "family" spot (featuring someone singing in the shower to showcase how great life is when everything, in terms of heating and cooling, works together) and a "futuristic" spot (featuring today's products in a futuristic home).

None of the campaigns developed tested well with audiences, he says; the first two were labelled as "not edgy enough," while the third simply didn't resonate.

The singing in the shower struck a chord, however, with most consumers; so the brand and agency took that idea a step further. "We also learned we needed to be crystal clear around what we do, and [we] wanted to create something that was recognizable and memorable."" he says.

The resulting 30-second TV spot features a barbershop quartet of Enercare technicians as they service a home, all while singing a song about Enercare's offerings. It's meant to showcase how nice the home can be when everything works in "perfect harmony," says Solway.

The campaign, geared at homeowners aged 35 to 55, also introduces the new tagline "It's better inside" (also the title of the campaign) as well as the mnemonic sound of a wrench tightening to help drive brand recognition and recall.

While the brand has been increasing its digital spend in recent years, TV was chosen as the primary medium for the campaign, he adds, saying it is still the best medium on which to reach to desired target. The spot will be supported by radio and digital elements, specifically geared at targeting a slightly younger audience of older millennials who may soon be home-owners themselves.

Fall is an important season for the brand, he adds, as people start to think about prepping their homes for the long, cold winters. The new campaign, with media by OMD and PR by High Road, will run until mid-December.