How Yoplait's keeping up with toddlers
New on-the-go packaging targets moms with young kids who crave eating independently.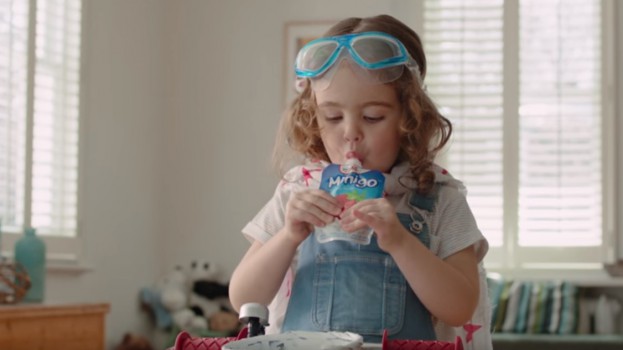 Keeping up with toddlers can be tough.

Yoplait is responding to the demand for on-the-go packaging in the kids' yogurt category with its new Minigo pouches.

First launched in stores in January, the main differentiator is that the drinkable pouch is all-yogurt, rather than fruit purée mixes with yogurt that competing brands offer, says Jenny Chiasson, communications manager for Liberté.

On-the-go, drinkable packaging has been driving growth for the kids' yogurt category, she says. The idea behind the new packaging wasn't to replace other products in the Minigo line, but to be a complement to them, especially given that Yoplait has been a leader in the kids' yogurt category.

A new campaign, promoting the pouches, led by Cossette Montreal, is based on the insight that toddlers love accomplishing things on their own and uses the tagline "The only all-yogurt, all-by-myself pouch."

Aimed at mothers of toddlers between one and five, the digital campaign includes online pre-roll and banner ads linking to the product website and coupon offers to drive trial. Yoplait has launched 20,000 "buy three, get one" coupons into the market. For pre-roll video outside of YouTube, the brand also partnered with Spotful to lead to more content, including an infographic explaining product benefits (such as no artificial colours or preservatives).

In stores nationally, the brand is also using POS materials, including shelf danglers and tent cards to promote the new pouches, along with doing in-store product sampling in Quebec.

The campaign launched in the last week of February and will run until the end of the month.