What had SXSW buzzing this year?
Why VR and Snapchat were on everyone's minds during the annual innovation conference.
Yesterday, we gave you a look at some of the more interesting gadgets and tech to come out of the 2016 SXSW Accelerator Program. Today, we're looking at the announcements, talks and trends from some of the more established players at the annual innovation conference.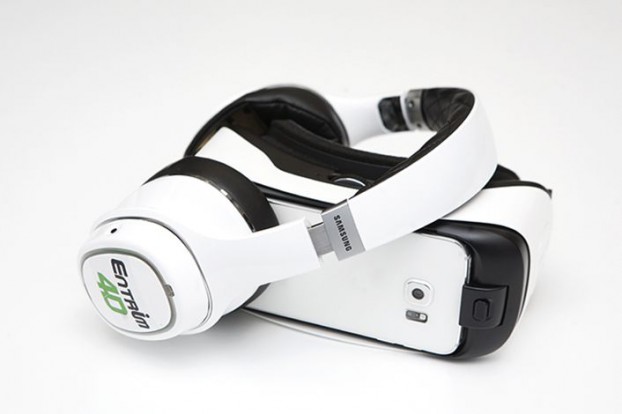 Virtual reality steals the show
You've heard it before, but virtual reality was a hot topic at yet another conference, and SXSW saw numerous new advancements and possibilities for the tech. Samsung debuted the Entrim 4D headphones, which works with the Gear VR headset to not only play realistic sounds, but send motion signals to your brain through your inner ear, better simulating the movements you're seeing and making the experience more immersive.
Voxon showed off a prototype for the Voxiebox, which creates virtual image displays without the uses of goggles or headsets (though its display is currently about seven inches wide).
A new app named Splash debuted, taking a Snapchat approach to VR by allowing users to shoot 360-degree videos and share them with friends to be viewed on their phone or headsets like Google Cardboard, creating a more casual, social experience.
What seemed to make this year different, beyond the advancements in the tech, was that numerous brands were also utilizing VR within steps of the conference halls where it was being demoed and discussed. McDonald's, for example, had a VR experience using the HTC Vive to send users into a world where they could virtually paint their own Happy Meal box with a paint gun, while Budweiser offered virtual tours of its brewery.
Seeing so many new players in the space, from both a development and utilization perspective, suddenly makes VR seem less like a far off, inaccessible platform and more of a tangible, impending reality.
The influence of Snapchat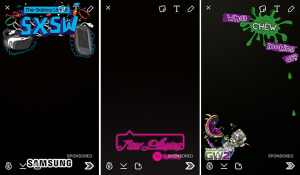 As Snapchat continues to gain users, and brands are increasingly turning to it as a way to get content to younger audiences, new ways to roll out and measure that content are a major talking point. Today, MTV will be debuting its first "Snapchat documentary," according to Mashable, rolling out in 10-second intervals as it films hip-hop artist A$AP Ferg throughout the day at SXSW.
On the more technical side, Austin-based startup Gnack is saying its app – which pairs brands with influencers for campaigns on Snapchat and Instagram – can measure how often photos and videos its influencers create are viewed and screen-captured, a step towards giving marketers the same level of data from Snapchat as they currently get from Facebook, Twitter or Instagram.
But Snapchat itself is flexing its muscle, using its sponsored geofilters (versions of its popular photo and video filters only available in certain locations) on one of its biggest audiences to date. It also appears to be the first time multiple brands have used the filters at the same area, as AdWeek says it has spotted filters from Samsung, Spotify and Mashable, among others, while roaming the conference.
Brands, brands, brands
Though SXSW attendees who are there for the music and movies might lament the increasing shift in focus to the tech and marketing side of the event, brands still seem to be very mindful of how big a draw the entertainment portion is, using it as an opportunity for some unique activations.
As part of its ongoing self-esteem efforts, Dove partnered with Twitter to launch a new phase of its "#SpeakBeautiful" campaign. If attendees retweeted this tweet from Dove, the brand would respond with an analysis of how many of their tweets relating to body image are positive and how many are negative, as well as what times of day they (and women around the globe) are more likely to tweet negative things about how they look.
But not all the activations were high tech or data-driven. USA Network show Mr. Robot rolled out a 100-storey Ferris wheel to partially recreate its Coney Island setting, while HBO's Silicon Valley showed up with posters advertising the app the show's characters work on that spoofed similar ads for other apps. One of the most extreme, though, was turning a local tattoo shop into Harley Quinn's Tattoo Parlour to get temporary or real tattoos, provided it was one inspired by characters from Warner Bros.'s upcoming Suicide Squad film.
Embrace your bad side, come down to 513 E 6th St for a free #SuicideSquad tattoo. #HarleysTattooParlor #SXSW pic.twitter.com/RoBFxB00gb

— Suicide Squad (@SuicideSquadWB) March 14, 2016
Featured image courtesy Ed Schipul