Hellmann's guide to sandwich anarchy
A new shopper marketing campaign for the Unilever brand in Quebec enlists Bob le Chef to bring some fun to sandwiches.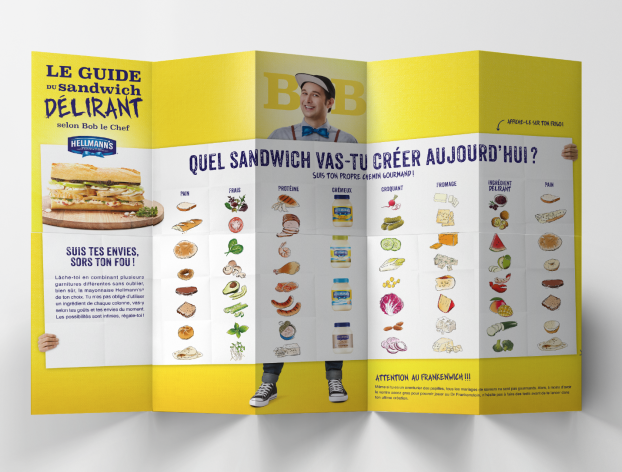 Hellmann's is looking to make sandwiches (and mayonnaise, by extension) more fun, picking Bob Le Chef as the face of a new Quebec campaign that comes with a guide for shoppers.
Bob le Chef is the face and founder of the book series, website and YouTube channel L'Anarchie Culinaire (Culinary Anarchy) and is known in Quebec for making cooking accessible, simple and fun. Bob Agence in Montreal enlisted him to create "Bob le Chef's Sandwich Guide," a fold-out chart that shows consumers how to make more exciting sandwiches by trying different combinations of ingredients, including several varieties of Hellmann's. The guide also includes four recipes to get people started: one by Bob himself, and three by Hellmann's own chefs.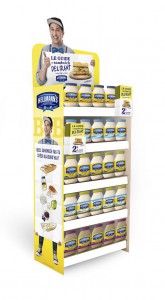 Beginning last week, the guides (which include a $2 coupon) are being distributed in Quebec stores through two different product display units.

While the guide is focused exclusively on the sandwich, one of the most common ways Canadians consume their mayo, the agency and Hellmann's have used similar methods in the past to get customers to think of new uses for the condiment.

Last year, the "Experience a World of Flavours" shopper marketing program featured a fold-out guide that provided recipes from around the world to get consumers to try different Hellmann's flavours and products. Dominic Prigent, account director with Bob Agence, says Hellmann's was looking to re-focus on the "sandwich occasion" after spending the last two years educating Canadians on different ways to use mayo, adding the Bob Le Chef was a good way to do that without losing the creative flair previous work had hinged on.

"'Lift your food, lift you mood' is within the DNA of Hellmann's, so we always want to reflect that, rather than being boring with a straight-forward recipe card," Prigent says. "Bob is a free spirit who wants to inspire people but also to feel confident in cooking and not intimidate them with a long list of ingredients and steps. That's really close to the DNA of the brand and what we try to achieve."

Prigent adds that the fold-out recipe guide has been a particularly useful shopper marketing material for Hellmann's because it inserts the brand into the path of purchase in a way that gives consumers looking for meal ideas solutions right away.

"People still get a lot of inspiration from recipe books," Prigent says. "We also think the booklet is an easy thing to pick up and fits into people's busy lives and guides them, but having a kind of infographic gives them a way to express their creativity at the same time."