This watched pot will boil
We look at the marijuana industry's high hopes for new regulations and how three producers are preparing their brands.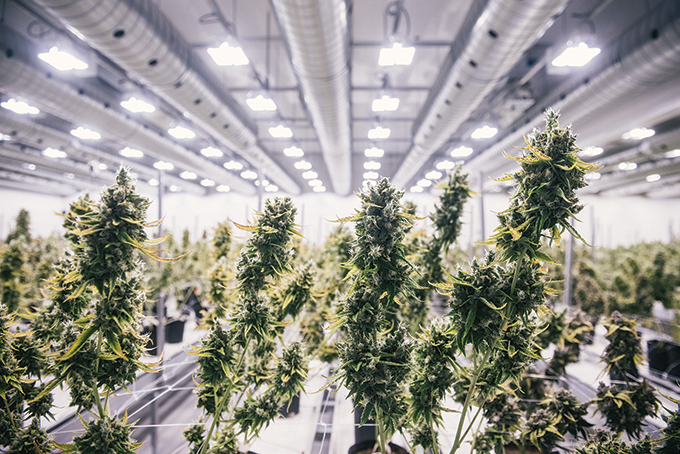 This story appears in the April/May 2016 issue of strategy.
One ordinary day in February, a slightly overexposed photograph of Snoop Dogg appeared in New York's Times Square. The all-black tee he wore displayed a barber shop-style logo with the word "Tweed" in hipster vintage script. "Snoop Dogg partners with Tweed – Canada's largest marijuana producer," stated the Thomson Reuters billboard (which features PR Newswire announcements) to the 1.5 million people who make their way through the square every day. The no-frills image of the Long Beach rapper was only up there for a day, but it could have a more permanent impact on the marijuana industry in Canada. That's because this was (pretty much) the closest a cannabis producer had ever gotten to mass advertising.
The (so far) 29 licensed producers (LPs) of medical cannabis in Canada today have to navigate an uphill marketing battle, and they're doing a lot of the climbing in the dark. While the rules for marketing marijuana may seem simple, "it can be somewhat of a grey area," says Eric Nash, a B.C.-based cannabis industry expert, business consultant and adviser, as well as co-owner of cannabis brand Island Harvest. Health Canada states that it "does not endorse the use of marijuana" and that the "publishing of promotional materials and advertisements are of serious concern." While the department has to comply with court orders to allow Canadians a reasonable amount of access to legal, physician-prescribed marijuana, its regulations can be fairly ambiguous and sometimes met with confusion by the industry.
"I think producers are still testing the waters of Health Canada," notes Nash. "It's a brand-new, legitimate industry in Canada, [but] there are limitations to the ability of LPs to market or advertise their product…You're allowed to be on social media [for example], you just have to be very careful on the claims that you make about the benefits of your product." For instance, you can't make claims of efficacy or state that your strain of Hindu Kush (the street name for a popular and potent type of cannabis plant) will heal arthritis. You also can't promote your brand in the mainstream media or to anyone who does not currently have a medical licence to purchase, and as such, create demand for the product. Images of dried marijuana buds aren't even allowed to appear on a brand's website. (If you go to Tweed.com, for example, you'll only find logos that represent each of its 20-plus strains.) LPs can also only sell their products online and through a mail-order system.
Nash believes it could take a few more years for Bill Blair (former Toronto police chief and so-called architect of the federal government's plan to fully legalize and regulate marijuana) and his expert task force to set up new policy for recreational production, sale and consumption. However, the medical marijuana industry is showing that it's not one to lie in wait while the other side catches up. Dozens of dispensaries (illegal for-profit storefronts that stock and sell products from various LPs, and sometimes have a physician on-site) and compassion clubs (also illegal, but not-for-profit) have sprouted up in Canada's biggest cities since Prime Minister Justin Trudeau pledged recreational legalization in October last year. Shoppers Drug Mart and London Drugs have also both expressed interest in distributing medical marijuana in their stores.
Right now, there are 40,000 licensed patients, a pittance compared to what the recreational market could be if legalized. Forum Research conducted a poll late last year with more than 1,200 Canadians, and found that just under one fifth (18%) had consumed marijuana within the past 12 months. Another 13% said that they would be willing to use cannabis recreationally if it were made legal. This means the potential total market could be a staggering 11 million Canadians (31% of the total population). Today, the medical marijuana industry is worth between $80 and $100 million, but it has a market potential of $5 billion if legalized for recreational use, said Dundee Capital Markets analyst Aaron Salz in an interview with the Financial Post. That's (ironically) more than the Canadian video game industry, which currently sits at $3 billion.
It's too soon to say exactly what the industry will look like once fully legalized. The recreational market could one day be government-run and regulated (similar to alcohol), it could be corporate-led, with LPs selling in privately owned dispensaries and stores, or even somewhere in between. In the meantime, three Canadian players are building their brands to be either pure-play medical or recreational (or possibly a hybrid), while also figuring out how to navigate the muddy minefield of Canada's advertising legislation.
Tweed: If you build it, they will come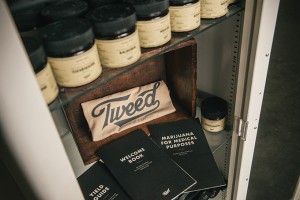 The aforementioned partnership between Snoop Dogg and Tweed not only elevated the cannabis producer's name in Canada (and globally, with a second image of the musician wearing a Tweed shirt posted on his Instagram page reaching 9.4 million followers), it also marked a significant shift for Tweed.
Since its debut in 2014, Tweed has positioned itself as a player in the medical marijuana market. However, its branding and marketing have typically steered away from being seen as stiffly clinical, instead adopting an edgier, more lifestyle-oriented tone. Announcing its three- to five-year union with Snoop Dogg, which provides Tweed with exclusive Canadian access to content and products the musician produces, was a deliberate (and more obvious) move to position itself as a future recreational player.
"When I started Tweed, it had no name for about six or seven months," says Bruce Linton, co-founder, CEO and chair of the brand's parent company Canopy Growth. "I thought everyone else is going to be clever and use the word 'Can' or 'Green' and 'Med'…I didn't want to do what everyone else was doing. I didn't want a name that was useless in the likely event that recreational access happens."
The brand was originally intended to play both sides, but putting Snoop Dogg next to clinical trials demonstrating the medical effects of Tweed's products didn't quite make sense. So Linton decided to purchase the purely medical brand Bedrocan Cannabis Corp., with the goal of the two brands eventually sitting in their own respective categories, while still under the same Canopy Growth umbrella.
But until that day, Tweed is being set up as the brand-name face of the company, which recently rebranded its four Canopy Growth clinics in Ontario to be called Main Street Tweed. The stores, just like its products (from tees and caps to muffin mix from its "Tweed Pantry") are designed with a clean, contemporary look and feel. When it first made the announcement of the rebranding in late March, the company called the stores "a comfortable, welcoming environment where Canadians can walk in to learn more and simply have a dialogue."
While licensed producers aren't allowed to sell cannabis in a physical retail capacity, Canopy is using the clinics as a showroom to educate people (with or without a licence to purchase) about cannabis, as well as its brands. Clinics are typically set up as patient in-take centres, with on-site physicians issuing prescriptions and redirecting people to various LPs, which they can then purchase from online.
"Clinics are a way to get people into a program," says Nash. "The LPs can't really go out there and advertise in print or on TV or radio, so they need to find alternative ways to find and speak to customers."
With its heavily branded clinics and celebrity partnerships, Canopy is looking to create high enough visibility for the brand, which it hopes will help vouchsafe a dominant "first-mover" position if recreational sale is legalized. "You walk into an LCBO store [for example], and you go to the corner with cannibinoids and cannabis, and there are six brands," explains Linton of a potential future scenario. "The first time you buy something you don't know so much about, it's doubtful that you'll go with the company you've never heard of. So maybe [you'll think to yourself], 'I should get the one that has Snoop Dogg' [as an ambassador]. We're trying to get people to feel comfortable with the brand, and in a new market with not so many [players], I suspect the dominant players will have a large market share [right out the gate]."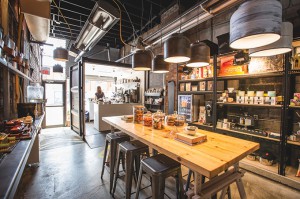 Tokyo Smoke: Classing up the stoner image
Alan Gertner has a pretty good idea of what mainstream society thinks of cannabis. "Most know that pot makes you hungry, that there's potentially going to be Cheetos at the end, and you might fall asleep – but there's so much more to it than that," says the former Google exec, who spent the past decade working abroad in places like New York, San Francisco, Bangkok and Singapore, before returning home to Toronto to launch Tokyo Smoke with his entrepreneurial father Lorne Gertner in 2015.
For the father-son duo, cannabis culture is more than the stereotypical couch-surfing stoner or back-alley head shop image. They say many Canadians smoke marijuana – which is why they launched a cannabis company that speaks to the "creative class" (as Alan likes to call them). "That's an audience who believes that design is important to them and their life. They believe in creativity and making society better through creativity," he explains.
The ironic thing about launching a purely recreational cannabis company in Canada is that it can't actually sell its products, yet. But that doesn't worry the Gertners because Tokyo Smoke is also a coffee and clothing brand. If you visit its retail showroom-cum-coffee house (located in what was once a shipping dock in downtown Toronto), you can order a cup of coffee before sifting through racks carrying Tokyo Smoke-licensed clothing brands, as well as shop its shelves that contain high-end, artisanal cannabis paraphernalia. The idea is to create a complete experience that appeals to the cannabis consumer by building a brand that's "cannabis-friendly" or "cannabis-adjacent" and which can stand on its own, says Alan.
"We're attacking this from multiple perspectives so that we can build a true lifestyle brand. We don't think of each of these pieces as being compartmentalized," he says, adding that they're also looking at food and cosmetics licensing deals. "We can benefit from taking a broader approach and having expertise in other verticals."
Of course, Tokyo Smoke is able to (and does) sell cannabis, but only in U.S. cities such as Alaska, Washington, Colorado and Oregon, where non-medical weed is legal. (There are also plans to launch similar retail showrooms, like the Toronto space, in Seattle and Los Angeles later this year.)
Alan adds that because of the challenges surrounding advertising weed in Canada, it's difficult for a brand to enter a consumer's mind. But by creating a three-pronged brand, they have more opportunities to reach consumers. "The clothing business gives us the chance to touch consumers in ways that we otherwise wouldn't be able to," says Alan. "It's pretty unlikely that a [cannabis] brand is going to end up in a Hudson's Bay store in Winnipeg, but we could."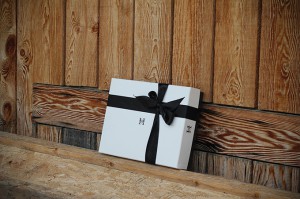 Hydropothecary: Pot in a luxurious box
Hydropothecary is so discreet, you wouldn't even be able to find an accurate return address on its Purolator delivery boxes. It spent two months negotiating with the company to mask its location so that if one of its clients' nosy neighbours or inquisitive kids decides to Google where the boxes keep coming from, they wouldn't be able to trace it back to the cannabis company.
That's just one component of the premium experience the Gatineau-based brand is offering to compete in the medical marijuana space. At $15 a gram (the average price for cannabis in Canada is between $8 and $10), expectations are set pretty high. To meet them, Adam Miron, co-founder and chief brand officer of Hydropothecary, says the company spent a great deal of time on the design of its packaging. Plastic Ziploc-style bags are the norm, but Miron says his team wanted the experience of unboxing its product to be luxurious.
So it worked with designers to create packaging that has the look of a "Chanel shoe box" and the functionality and ease of an "Apple Mac Book" box, he says of the current box, which is all-white with a thick, black satin ribbon, sealed with gold-embossed stickers. To add to its promise of discretion, the brand heat-seals the packaging and stores the product in glass jars to lock in the smell. Miron says his company is the only one in Canada to do this.
The company (which launched in 2013) also offers customer service that includes "concierge agents" who are available 24/7 and have done things like arrange for personal delivery of packages to a remote location by car when Purolator was unable to deliver.
While most of the market players target a broad range of age groups and consumers with various health issues, Miron and his partner Sebastien St-Louis launched the company to specifically speak to moms with sleep problems after focus groups indicated a high desirability for cannabis among women with children. "Instead of saying, 'We know the good stuff, we know what people like, let's just grow it and move it,' we decided we wanted a fresh approach to the industry," Miron says. "Let's [speak to] upper-middle-class soccer moms about giving up sleeping pills and transition to an all-natural alternative."
The tight regulations around advertising have made it tough for Hydropothecary to create awareness, but Miron says he has learned to "change the framework in which a conversation is happening" to talk about the brand with consumers.
"Health Canada doesn't allow an LP to promote medical marijuana to someone who doesn't already have a prescription. So I couldn't necessarily hold an open house to talk about medical marijuana, but if there was an invitation event, in which the individual understands the content prior to coming, that changes the framework," he says.
From a regulatory standpoint, producers are allowed to work with physicians to talk to the public about the benefits of cannabis through research and medical reports, with Health Canada calling this "non-promotional information." So Hydropothecary will regularly speak with people through health-care practitioners, who host information sessions such as webinars, and educate them about the product in a more general sense. "It's not really getting around the rules, it's understanding the rules," he adds. "If you educate people, you don't have to really sell it. The [option to use cannabis] hasn't crossed at least 99% of people's minds. But if you educate and say, 'Did you know that some people take medical cannabis as an alternative to sleeping pills?' Then the light bulb goes off."