Belairdirect goes back in time
The insurance co sends its knight spokesman to the Middle Ages to inject some novelty into its creative.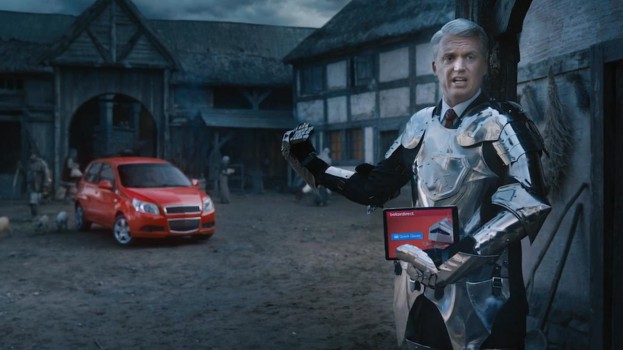 Belairdirect's latest campaign is putting its recognizable knight into an environment that will grab more attention from consumers across Canada.
In the new spot by Sid Lee, Belairdirect's knight, previously more comfortable in the boardroom, finds himself in a medieval village, explaining to a more historically accurate depiction of a knight how he protects his "horse" with car insurance he found using Belairdirect's "Quick Quote" service.
PHD is handling the media buy on the spot, which launched this week and will be running in Quebec until mid-July, and nationally until August. A 15-second pre-roll version of the spot will be running until the middle of June.
Martine Bouthillier, marketing manager at Belairdirect, says the company was looking to strike a balance between what has previously worked in its advertising – the sarcastic knight, the humour – while also injecting something new to continue to get attention.
"To be effective, we know an ad needs to get noticed and trigger some kind of reaction, and we felt we needed to inject a bit of novelty to our creative execution," she says. "This has the type of high-quality production you'd expect from a blockbuster trailer, because the way we approached it was it needed to look like a damn good movie and then our knight shows up unexpectedly. You do not expect to see a 'modern' knight in his nice, shining armour in the middle of an authentic, gritty medieval village."
Bouthillier says what remains in the message is the focus on simplicity – "'Quick Quote' is still an important, fast and powerful tool that's relevant to consumers," she says – as well as the humour, both of which help differentiate the brand from others in the financial and insurance space.
Belairdirect's previous "boardroom" creative relied on celebrities interacting with the knight, and the company often had to enlist a different one for the Quebec market. The new spot is allowing it to go out with one consistent, recognizable message across the whole country.
"It not only creates consistency but simplicity," she says. "Everyone is looking for simplicity and clarity when it comes to an insurance decision, so we're doing that in our advertising as well. We did a lot of work beforehand on this, because when you're going out with one message and approach, it has to be as powerful and relevant in every market, and we feel that this is."