AToMiC Awards: Made you look
Through creative use of their environments, these OOH campaigns won eyeballs and hijacked mobile reach.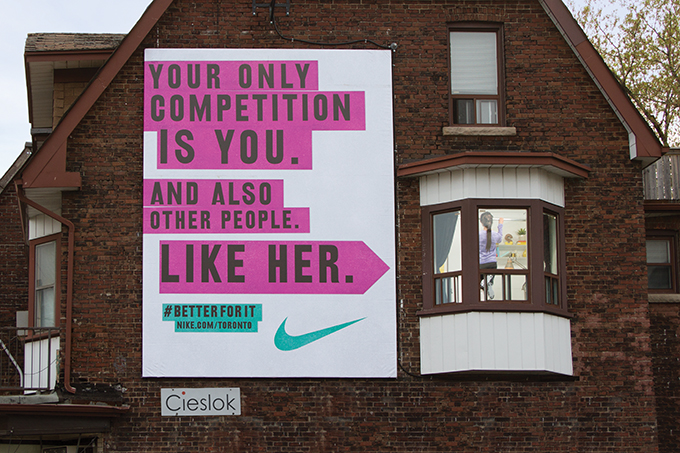 This article appears in the June 2016 issue of strategy.
All forms of print advertising are working harder to compete with multiple screens. Winning attention requires more creativity, but once it's earned, the devices can become allies in expanding a campaign's reach. Nike, Leon's and Raising the Roof broke through the clutter with startling OOH executions, prompting people to look up from their phones and take notice.
Raising the Roof's "Coming Soon" campaign anticipated the audience's reaction to a faux billboard and baked it into a campaign video.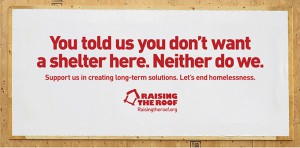 The organization, which promotes long-term solutions to homelessness, and Leo Burnett Toronto took dead aim at the NIMBYs – those who respond to development projects with "Not In My Back Yard" – by erecting a plywood façade in Toronto's Leaside neighbourhood with a sign indicating that a homeless shelter was coming soon, complete with a phone number, email address and URL for those with questions or concerns.
The writers couldn't have scripted the response any better. Residents' reactions, recorded with hidden cameras (faces are blurred) and on phones, were cynically clichéd: a shelter would "ruin the neighbourhood"; it would be inhabited by "drug addicts and drunks"; "I'm a very tolerant person, but…"; and "There must be some other place."
But the idea of a shelter was a red herring. Raising the Roof later replaced its "Coming Soon" sign with one that read, "You told us you don't want a shelter here. Neither do we," before appealing for long-term solutions to homelessness.
It may have been manipulative, even ugly – the residents of Leaside no doubt felt singled out for what is a pervasive attitude – but it worked, garnering international media coverage and forcing affordable housing onto the political agenda in the waning days of the Oct. 19, 2015 federal election. Donations to Raising the Roof went through the roof, up 506% from the previous year and its video has been viewed 52,000 times.
The Nike and Leon's campaigns, by Lg2 and Taxi, respectively, were less severe but just as clever, also playing off their surroundings. To help introduce itself to a relatively new market, Leon's demonstrated its understanding of Quebec by embracing Moving Day, the July 1 phenomenon that sees thousands move homes every year on the same day. As the abandoned furniture piled up on sidewalks – much of it in fine condition but deemed unworthy by its owners – Leon's saw an opportunity to highlight the quality of its own products.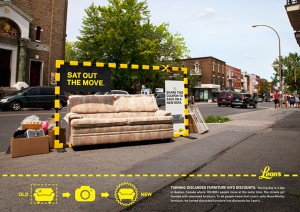 The campaign, built around the idea of "move-worthy furniture," turned discarded items into coupons for Leon's. The brand created life-sized frames that mimicked coupons and placed them around the sofas and mattresses that had been kicked to the curb. Passersby could take photos that became coupons when presented in store.
Like the Raising the Roof campaign, Leon's purpose was built into the execution: not only did it generate buzz – with people sharing the photo-coupons on social media – and drive traffic to the store, but it also got people thinking more critically about waste and acquiring durable furniture. The "#GetMoveWorthy" execution garnered more than one million earned media impressions, leading to a 15.8% increase in store traffic and a 34.7% increase in sales.
Nike's "#BetterForIt" campaign also incorporated its setting, with a billboard on a Toronto apartment building. In the apartment adjacent to the billboard, Nike and Lg2 built a robot mannequin, decked out in Nike gear, doing chin-ups in the window. The message – "Your only competition is you. And also other people like her"– was meant to ignite female athletes' competitive drive. The execution earned six million impressions and coverage in national and international media.
The hardware
Raising the Roof "Coming Soon" Leo Burnett Toronto Gold Best Experiential Engagement, Silver Online Video

Nike "#BetterForIt" Lg2 Gold Best Print / Out-of-home Engagement

Leon's "#GetMoveWorthy" Taxi Silver Best Print / Out-of-home Engagement