Tim Hortons takes good deeds national
The QSR is bringing its holiday campaign on the road.
Tim Hortons is spreading the generosity of the season by bringing back its holiday campaign built around good deeds, this time on a national scale.
For last year's "#WarmWishes" campaign, a Tim Hortons restaurant in Grimsby, Ont. was turned into a "House of Warm Wishes" where visitors could drop their good deed requests for someone in the community in a "Cup of Good Deeds." Staff from Tim Hortons then tried to fulfill as many of the deeds as they could.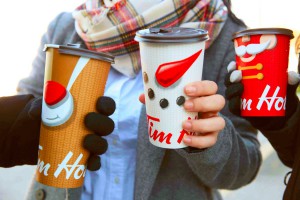 This year, a "Cup of Good Deeds" was brought to six different cities – Moncton, Montreal, Hamilton, Toronto, Calgary and Vancouver – alongside coffee trucks that handed out free cups of coffee to passersby on Nov. 16, the day Tim Hortons also debuted this year's holiday coffee cups (pictured, left). Like last year, those who weren't able to put a good deed into the cup in person were able to share using "#WarmWishes" on Twitter. Tim Hortons staff – this time from across Canada – tried to accomplish as many of the good deeds as they could in a single day.

The company wouldn't say if any content would be produced from the truck tour or the good deeds' execution, as it did last year, but it will continue to promote the campaign through all of its social channels. It has also enlisted a long list of agencies to support the program, including Ogilvy Toronto on creative advertising, Notch Video on production, Rhoddy Marketing Group on experiential, North Strategic on social and digital, and Citizen Relations on PR.

In an email, a spokesperson for Tim Hortons said the main insight behind the "#WarmWishes" campaign is that while many Canadians feel especially compelled to give back to their communities during the holidays, they sometimes lack the resources to do so. Tim Hortons has always tried to have a positive impact on the communities it operates in, but seeing the restaurant do that in one community during the holiday season was so well-received it compelled the restaurant to do the same on a national scale this year. Giving away free coffee along the way also allows the brand to thank its customers for their generosity.