Schneiders stays true to tradition
The meat-packing business J.M. Schneider opened in his Ontario home 125 years ago is still thriving today.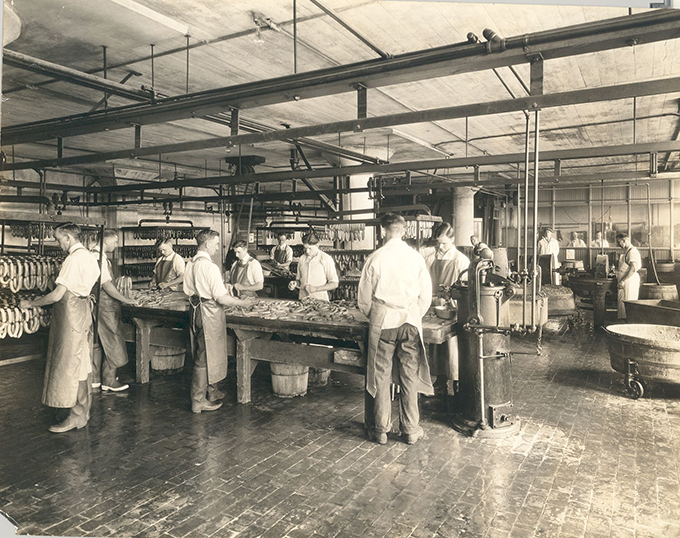 This article appears in the January/February 2017 issue of strategy.
John Metz Schneider was an accidental businessman.
In 1886, he injured his hand working on the assembly line at a Kitchener, Ont. button factory where he made the grand sum of $1 a day. With a family to support and no social safety net, J.M., his wife and mother started making sausages using a family recipe to sell door to door.
He went back to the button factory when his hand healed but continued to make sausages at night for his many satisfied clients. The word spread and local butchers and grocers started buying Schneiders' sausages.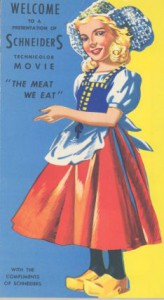 By 1890, J.M. was able to quit his factory job and launch his company. One year later, the business moved from his home to a two-storey building down the street. The company prospered, J.M.'s sons followed him into the business and he continued to go to work every day until his death in 1942 at the age of 83.
In 2004, Maple Leaf Foods purchased Schneider Corporation from Virginia-based Smithfield Foods, which had bought it in 2001. Today, Schneiders has been first or second in market share across categories (including bacon, hot dogs, sliced meats and sausages) for many years. For example, Red Hots, introduced in 1928, is Canada's number one hot dog brand.
Adam Grogan, SVP of marketing and innovation at Maple Leaf Foods, says the company has not made many changes to J.M.'s original German recipes.
"A Red Hot [wiener] today is the same Red Hot it was before," he says. "That said, we have started to do a lot more product innovation."
Schneiders has been listening to consumers as they've requested cleaner ingredients and healthier products with fewer calories, less sodium and fat, or gluten-free. Beyond those options, consumers want convenience and variety, and Grogan says Schneiders has innovated and expanded the portfolio with those things in mind.
In 2011, the brand launched Country Naturals, a product based on the original sausage recipe but that's also antibiotic-free. In 2017, it will add more products to the Country Naturals label and to its Oh Naturel! line of vegetarian products, which launched in 2004.
"We have taken a brand that stands for great tasting meat products and applied that to where consumers are going, which is obviously augmenting their diets and their meals with things that aren't necessarily meat-based," Grogan says.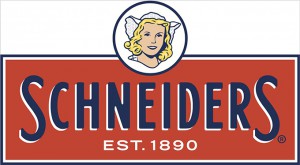 In 2016, Schneiders rebranded with its first redesign since the 1960s. The new packaging by John St. has a simpler, more appealing look with easier-to-read product information. The agency refreshed the Dutch Girl trademark and Schneiders wordmark but kept the traditional blue and orange colours.
"When you have a brand for 125 years, the stewardship and responsibility that comes with it is a company-wide one," Grogan says.
"Even talking about how our marketing has evolved, there's such a reverence for making sure that we celebrate and respect the history while obviously wanting to be relevant and current – and it permeates well beyond the marketing department."
Over its long history, Schneiders has worked with many ad agencies, including Foster Advertising and McCann Erickson. John St. has been its agency of record for the past 10 years. National in-store programs are handled by Hunter Straker, while regional programs are supported by Spider Marketing and Maple Leaf Foods' internal creative team.
D'Arcy Finley, VP integrated marketing for Maple Leaf Foods, leads the push on digital with a team of five full-time employees handling digital buying and the brand's focus within social, video and search.
"Schneiders used to be almost exclusively on television and in grocer flyers but we've increased our investment in digital, multi-platform and mobile," he says. "We're also developing day-to-day content that is relevant for our consumers such as recipe videos that complement [Schneiders'] more emotional and higher-production-value creative."
Schneiders' current loyal consumers are aging and Finley says the digital focus is part of Schneiders' strategy to reach younger demos and new Canadians. Recipe videos housed on Appehtite.ca and created by culinary experts and chefs in the kitchens at Maple Leaf Foods are part of the strategy.
"I think to be relevant, you have to make consumers' lives easier or better in some way in terms of what you're offering," says Finley. "By communicating these recipe ideas, by being clear about our packaging, by making it more convenient to open or access – all of those things we're doing every day to overcome any erosion in the market."
Schneiders also has a partnership with the Toronto Blue Jays. Centre fielder Kevin Pillar, the spokesperson, has resonated with consumers of all ages. Cundari handles the advertising and promotions featuring Pillar.
The Blue Jays connection is a great fit for Schneiders because it ties in well with its summer product push and heavy in-store presence.
"The lion's share of our business is in celebratory hand-held categories like sausages and hot dogs. We have some really fun promotions, during that time of year, often tied to the Toronto Blue Jays. We do have a really well-developed shopper marketing function now," says Finley.

The partnership is also a good fit because it relates to the brand's positioning around "traditions" (and nothing is more traditional than a hot dog at a Blue Jays game). The Schneiders brand rejuvenation earlier this year also included a new campaign from John St., which continues to play into J.M.'s heritage story. The "Traditions" campaign includes TV spots, social posts and the brand's first long-form commercial, an online film called "Fist Bump" that launched in time for Father's Day. The film follows the lives of a boy and his father, sharing a traditional fist bump to mark the son's accomplishments, both big and small. The brand will stick with the "Traditions" campaign, says Finley, and will build on it with future creative focusing on the Country Naturals sub-brand.
Although many Canadians have grown up with the Schneiders brand, a lot of new Canadians have not. Grogan says that because of the country's multicultural diversity, views of traditions have evolved over time.
"New Canadians use digital media to get news from home and to communicate. What we're doing now is starting to retell the story of Schneiders' heritage and tradition in a new way and re-establish the brand as being relevant even if the consumer may not have grown up with it. So we're talking about traditions big and small, some different from what I grew up with,"
says Grogan.
"At its essence, 'Traditions' stays true to what the brand is all about – being part of consumers' lives as opposed to shouting messages from the rooftop. I feel we're continuing to honour the Schneiders history but we're celebrating the future. People want to reach out to brands that speak to them in an authentic way, but are also current. That's what we're focused on. We won't be here 100 years from now if we don't do those things."
Schneiders advertising through the years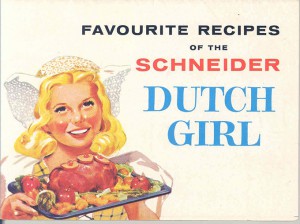 The origin of an icon

The Schneiders Dutch Girl (modeled after a real woman from Kitchener, Ont.) has been smiling back at Canadians since 1936. Back then, a Schneiders sales manager, a salesman and a Toronto ad exec got together to decide on a new symbol for the brand's packaging, signage, trucks and marketing material. They chose the bonnet-wearing Dutch Girl as a way to reflect the Pennsylvania Dutch origins of the farmers who supplied livestock to Schneiders, as well as the Dutch reputation for having immaculately clean homes (speaking to the brand's quality message). Over the years, the girl has aged and been updated (more recently in early 2016), but continues to be one of Canada's more familiar brand icons.

Beans and wieners: one of Canada's earliest shopper marketing partnerships

In early 1967, Schneiders and canned beans brand Stokely-Van Camp teamed up for a joint campaign in Ontario. It was the first time Schneiders had joined another company to promote complementary products – Stokely Beans and Schneiders Wieners – at a time when cross-promotions were not a common marketing tactic. The month-long promotion featured a two-page colour ad with a coupon that ran in 25 newspapers in 23 Ontario cities for an estimated reach of three million readers. Retailers helped make the campaign a success by highlighting the two products in-store. It was the beginning of numerous Schneiders joint promotions with brands that include Canada Dry Ginger Ale, Bick's condiments and Weston's D'Italiano hotdog buns.

J.M. schneider and his legacy live on (in TV spots)
J.M. Schneider has been the central figure in a number of the company's ad campaigns including work from Foster Advertising in the 1980s, The Ongoing Partnership in the 1990s and McDonnell Haynes in 2006. In 1999, he appeared for the launch of the 1890 Heritage line of sliced meat products. The campaign mixed actual black and white archival footage of J.M. with appetizing product colour shots to emphasize that the meats were made naturally, just the way he did in 1890.

They brought J.M. back again in early 2003 in a series of four TV spots to highlight a history of quality and care. The black and white archival footage of Schneider talking about his beliefs was once again juxtaposed with modern-day colour footage as a way to attribute his values to Schneiders today. The campaign represented the biggest commitment to television advertising the brand had ever undertaken.