Dairy Farmers gets cheesy to sell milk
A new campaign pokes fun at over-the-top retro beer advertising to get guys pouring a tall cold one.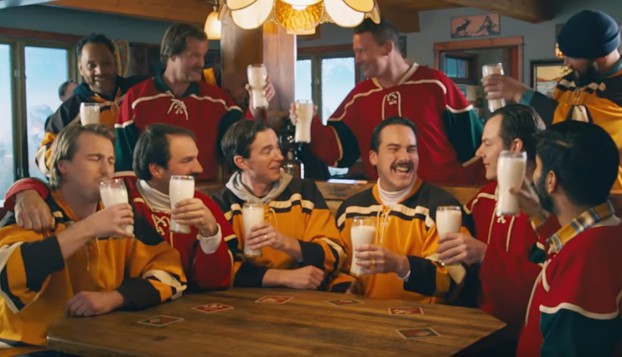 The Dairy Farmers of Canada is trying to stop the decline in milk sales with a cheeky campaign playing on the simplicity of its central product: milk.

Targeting men in particular, the new English-only campaign plays on the old clichés of beer advertising, namely a bunch of guys relaxing after a day of hockey and the over-the-top "slow pour."

The idea behind the campaign is to embrace the perception that milk is, quite frankly, just milk.

"Men are most likely to pour themselves a glass of milk at lunch, dinner or as a snack," Sébastien Bergeron, assistant director, marketing at Dairy Farmers of Canada, said in a press release. "They already know all there is to know about milk, so we needed to take a different approach. To drive consumption, we crafted a story that is self-aware, unexpected and gives men permission to drink milk more often."

Along with the 30-second "Hockey" TV spot and 15-second slow pour, the 13-week campaign also includes pre-roll and social videos, homepage takeovers, OOH (including high impact transit shelter advertising and a 3D billboard) and a paid influencer program.

DDB Canada's Toronto office led the campaign, working with Initiative on media and DDB Public Relations on the influencer program and PR support.

This isn't the first time the Dairy Farmers has poked fun at just how basic its core product really is. Last October, the organization created a parody campaign centred on the innovative thinking behind "The Milk Glass."

At the corporate level, however, it has taken a more serious tone with its recent logo refresh and focus on the superior quality of dairy with Canadian origins. While its most recent campaign did take a lighthearted tone, the message of quality is an important one, as the dairy industry here faces possible increased competition from abroad in the wake of international trade deals.