GoDaddy ups its product game
The second spot in the "Itty Bitty Ballers" campaign reinforces the focus on easy website building and customer support.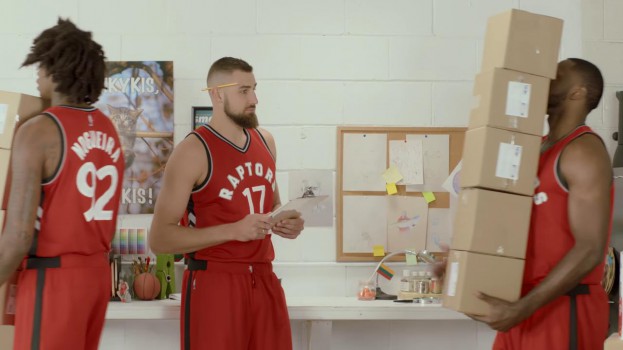 In January, GoDaddy Canada launched a new campaign featuring Toronto Raptors player Jonas Valančiūnas using the company's services to create a website and turn his passion for making miniature figurines of himself into a small business.

Now, in the company's second iteration of the campaign, Valančiūnas' business has grown because of his new website, and he has hired his first two employees – Raptors teammates Lucas Nogueira and Patrick Patterson.

Juniper Park\TBWA led creative on the campaign, with MEC on media and North Strategic on PR support.

The first edition of "Itty Bitty Ballers" earned more than six million engagements and nearly seven million video views on social, one million views on YouTube and resulted in a 50% increase in ad recall, brand interest and product interest among consumers. New revenue is also up year-over-year for GoDaddy Canada.

The major idea behind the campaign has been how Valančiūnas turned his passion into a self-run business, which epitomizes GoDaddy's target customer in the Canadian market.

"We target the really, really small businesses," says Jill Schoolenberg, country manager of GoDaddy Canada. "Mid-market for us is companies with 10 employees and above. It's consumer, plus small business. So that could be a small business, or it could be a hockey team website or wedding website."

Both spots in the campaign have focused on the ease of setting up a website with GoDaddy, with the latest one specifically calling out the company's website builder tool and the ability for users to make site updates through mobile. Schoolenberg says on a global scale, the company has been more product-focused since Blake Irving joined as CEO in 2013 and has worked to improve the technology it offers to customers.

"We really are increasing our awareness and communication of the website builder itself, and it seems to have resonated with customers," Schoolenberg says, adding that the option of making site updates over mobile is a big part of what differentiates GoDaddy's offering. "We're a global company, and many markets are all mobile, all the time. In Canada, it's more about having the option of both. That's why you see JV editing his site in the spot, because sometimes just need to add a photo or update a price while you're on the go. You don't have to be tethered to your desktop, and I think that makes our offering very different."

While tools like the website builder are meant to give customers all the tools they need to set up and manage their website, the other focus in the campaign has been on GoDaddy's free customer support.

"In Canada, we know what it's like to call other providers for support, and I'll leave it at that," Schoolenberg says, referring to competitors based in other countries. "That differentiates us as well, because our staff spends as much time as possible to get people the help they need. That's really important when you're a small company that may or may not have any IT support or knowledge of their own."

While the real versions of JV's "itty bitty" figurines sold out within 10 days of the campaign's launch, they will soon be back in stock. As with the first round, all revenue from sales of the figurines goes to the MLSE Foundation, helping kids get involved with youth sports.