AToMiC 2017: Beyond tears and victimhood
Cause campaigns choose empowerment over sentimentality, and win big at AToMiC.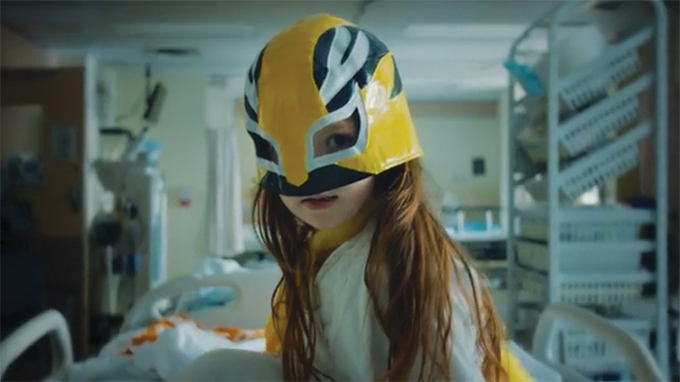 This article appears in the June 2017 issue of strategy.
The Wins: SickKids Foundation "VS" Grand Prix, Gold AToMiC ROI, Gold AToMiC Shift, Gold AToMiC Idea and "Undeniable" Gold Online Video, both by Cossette
The departure is stark based on the soundtrack alone. For its 2015 multiple award-winning "Life Unpaused" campaign, SickKids used Coldplay's "Fix You," a sentimental ballad by a notoriously vanilla band. The pitch to donors was captured in the song's imagery ("Tears stream down your face") and refrain ("And I will fix you"): these patients need your help.
Donnie Daydream's theme song for the hospital's follow-up "VS" campaign, on the other hand, simmers with angst beneath its drum beat, tension building up to its assertive chorus: "We undeniable."
The contrast only intensifies with the images in the "VS" anthem spot: wheelchair cemeteries, exploding casts, imperial soldiers readying muskets, tigers roaring, kids applying war paint in mirrors and bashing hospital equipment with baseball bats.
Something has shifted in cause marketing. The SickKids Foundation's 180, by Cossette, was the most dramatic and visible case – enough to claim the AToMiC Grand Prix – but other brands and organizations have also changed their tunes.
With increased competition in the space, some non-profits are moving beyond the straightforward awareness campaign, often based around compassion. Instead, pitches have become more assertive, flipping outmoded ideas about victimhood with a message of empowerment.
"When you're thinking about social issues and causes, when you can be on the positive, more affirming side, it will generally lead to people wanting to engage and create larger and more sustained outcomes," says Phillip Haid, CEO and co-founder of Public, an agency that works with brands to create social impact. "Empowerment will generally lead to action."
Cause campaigns won an outsize number of AToMiC Awards this year: 13 of the 25 winning campaigns were for organizations pitching causes, in addition to brand-led work like Honey Nut Cheerios' "Bring Back the Bees." And several of these, including SickKids, relied on empowering creative.
Rethink Breast Cancer designed the "Give-A-Care" product line to be given in lieu of flowers (useful items like hoodies and hand cream) with sassy labels to reflect the challenges and attitudes of women recently diagnosed. The Canadian Down Syndrome Society's "Down Syndrome Answers" eschewed any notion of victimhood in its no-nonsense information campaign. The Starlight Children's Foundation's "Ward+Robes" empowered kids in the midst of long hospital stays by giving them a means of asserting their individuality. And Children's Wish Canada, with dance move "#DoTheLivi," offered joyful defiance.
The campaigns shared an overriding ethos: empowerment over awareness, courage over pity, goosebumps and fist pumps over lumpy throats and welling eyes.
SickKids, of course, was the most striking example. Hospital ads, particularly children's hospitals, typically go for the heartstrings, portraying vulnerability and need. "VS" feels like a cross between a music video and one of those over-the-top, shiver-inducing intros sports networks air before playoff games.
Jason Chaney, Cossette's chief strategy officer, told strategy in April that the campaign was intended to reframe the hospital's brand, making it "more like Under Armour or Nike than a not-for-profit" (indeed, the song "Undeniable" has also been used in an Adidas spot).
While SickKids' prior campaigns both set fundraising records, the number of donors wasn't increasing with the amounts raised. With "VS," the foundation wanted to diversify its donor base, especially among males and a younger generation. Since the campaign's release in October, the hospital has seen an increase in those segments, as well as in regular monthly donations (as opposed to one-time donations). Between October and December, the campaign led to an all-time record ($57.9 million), a 695% increase in online donation revenue, and a 32% increase in total donations.
The video's mixing of soldiers, knights and wrestlers with the young patients portrays the power of imagination and defiance against illness. It won't appeal to anyone who objects to war metaphors applied to sickness (and some did), but the spot's impact was, well, undeniable.
Lori Davison, VP of brand strategy and communications at SickKids, told strategy when the campaign launched that the foundation is still looking to resonate emotionally by telling patient stories. "It's a different tone but it's still highly emotive and what we've added into the mix now is a feeling of empowerment and a way of telling these stories that makes people want to get up out of their seats and help," she said.
Public's Haid says that boldness, and the foundation's decision to go all-in, offers a model for other brands.
"They found a powerful platform and idea that is so true to the organization and the brand and how they operate in the world, and they went for it. They didn't back into it – they really went for it," he says. "I think it's a great lesson for other brands: when you have something very honest and authentic and real that you can live day in and day out, don't half-measure it. Go all the way."
A common mistake in cause marketing, Haid says, is assuming that people care – or that they will if they are simply made aware of an issue. Organizations have to give people a reason to engage, often through some kind of reciprocal value or a "clear, simple action," he says.
Beyond sympathy
The Wins:  Rethink Breast Cancer "Give-A-Care" by Lg2 Silver Niche Targeting, Bronze AToMiC Design, Bronze AToMiC Idea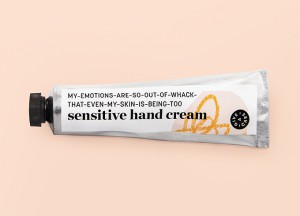 Lg2's campaign for Rethink Breast Cancer did just that. To move away from "pink-washed" campaigns around the disease, and to create gift options that are more relevant than flowers and sympathy cards, the agency designed products that are both useful and refreshingly frank – a break from the well-meaning but sometimes grating positivity cancer patients deal with from friends and family.
The "Give-A-Care" product line (co-branded with companies that donated, including Aveda, H&M and Pluck Teas) also provides some laughs when they're needed most, with items like "My-emotions-are-so-out-of-whack-that-even-my-skin-is-being-too-sensitive-hand-cream" and "All-the-slow-jams-and-silk-sheets-in-the-world-couldn't-do-it-for-me-right-now-I-need-lube."
The awareness campaign has become a permanent product line, with shoppers from more than 100 countries and a 565% increase in average donations.
Beyond anonymity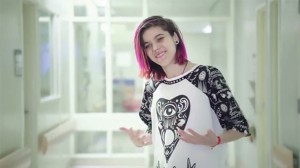 The Wins:  Starlight Children's Foundation Canada "Ward + Robes" by Rethink Gold AToMiC Design, Bronze AToMiC Collaboration 
Rethink's "Ward+Robes" campaign for the Starlight Children's Wish Foundation also created a product line that empowered patients. The agency recognized how vital teens' clothing is to their sense of individuality, and tapped fashion designers to help make hospital stays less institutional by reimagining the dreary hospital gown. It provided specs for designers from around the world to apply their creativity, making hospital garb that teens wanted to wear.
Where the old awareness/compassion approach would have focused on the negative, showing how teens lose their identities in a hospital, Haid says, Starlight and Rethink created a solution and contributed to their recovery.
The program, pushed with an online video, has expanded globally after leading to a 780% increase in donations.
Beyond the facts
The Wins: Canadian Down Syndrome Society "Down Syndrome Answers" by FCB Toronto Gold AToMiC Idea, Gold Best Niche Targeting, Gold Cause & Action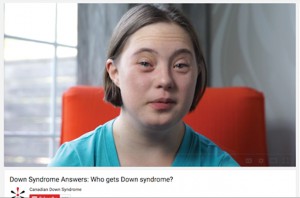 FCB Toronto and the Canadian Down Syndrome Society (CDSS) also helped provide reassurance during a highly emotional period. When expecting parents find out their child has been diagnosed with Down syndrome, they typically only have about 10 days to decide how to proceed with the pregnancy.
Naturally, they have a lot of questions, and most turn to the internet.
"Doctors do their best and there are lots of websites offering the medical perspective but they typically use very clinical terms that don't capture the emotional and human side of the Down syndrome story," Kirk Crowther, national executive director at the Canadian Down Syndrome Society, told strategy.
To fill in the gaps, FCB Toronto's "Down Syndrome Answers" campaign featured 38 YouTube videos (boosted using Google AdWords, to make sure they were found in searches) answering common questions about the condition: from "What health problems do people with Down syndrome have?" to "Can a person with Down syndrome make their own meals?" to "Can people with Down syndrome have a baby?"
What made the campaign unique was that people with Down syndrome provided all the answers. The videos, delivered in an unsentimental, straight-up tone, gave a face and voice to those living with the condition while providing the facts.
"Just by casting real people with Down syndrome, we start to dispel some misconceptions about the developmental disability," Jeff Hilts, CCO at FCB Toronto, said when the campaign launched.
"Down Syndrome Answers" generated a lot of positive earned media, increasing organic traffic to the organization's website by 101% (over 50% of which was through Google search), and increasing referral traffic by 893%.
Beyond pity
The Win: Children's Wish "#DoTheLivi" by Mosaic Bronze AToMiC Social
Children's Wish Canada is all about empowering kids by making their dreams come true. For nine-year-old Olivia, in remission from kidney cancer, that dream was to become famous by dancing. Agency Mosaic looked at the success of viral dance moves from the Dab to the Harlem Shake, and decided to help Olivia create her own: "#DoTheLivi."
The agency tapped So You Think You Can Dance Canada's Blake McGrath to choreograph the move with Olivia, and to perform it on the red carpet at the iHeartRadio Much Music Video Awards. It focused on influencers within the dance community to spread the move worldwide, generating 81.6 million impressions with no paid media, and increasing the organization's social following by 605%.
"With all the turbulence in the world, just to tell people about more problems I think shuts down people's desire to want to engage and learn and take part," Haid says. But presenting a solution amidst all the "doom and gloom" is engaging.
Shockingly simple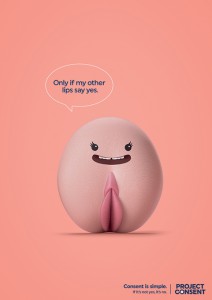 The Wins: Project Consent "Consent is Simple" by Juniper Park\TBWA Silver AToMiC Social, Bronze Online Video, Bronze Global
There's no shortage of ways to shock people into paying attention with PSAs about sexual assault. Not many of them are memorable by being funny. And few approach the topic as directly as Project Consent's "Consent is Simple," from its startling protagonists to the unequivocal tagline, "If it's not yes, it's no."
Juniper Park\TBWA's campaign wanted to avoid analogies and the presumed grey areas that make sexual assault more complicated than it needs to be. Its animated videos starred cartoon genitals interacting in familiar social situations, and ended with a blunt rejection when one of the characters behaved inappropriately.
"It's about sexual consent and these are the most relevant characters in that conversation, so why aren't we saying and showing what it is?" Terry Drummond, the agency's CCO, told strategy.
Project Consent founder Sara Li said she wanted to address the topic directly, without dancing around it (even though the genitals do some dancing, as well as whistling and laughing, in the campaign spots). "It makes it easier to talk about, like it should be, for students or teachers or parents," she said when the campaign launched. "It should be approachable and direct and easy to see what is and isn't appropriate."
The campaign earned mainstream and alternative media attention, leading to more than 14 million YouTube views without any paid media.
Mocking the miracle product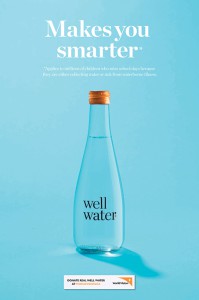 The Win: World Vision "Well Water" by KBS Canada / Maxus Silver AToMiC Shift
World Vision had a marketing image problem: too many associated the organization with guilt-inducing imagery. And despite being the leading provider of clean water, it was viewed primarily as a child sponsorship charity. The organization wanted to build awareness for its water projects, and to do so in a positive way.
KBS Canada's campaign invented a fake product with unrealistic health benefits. Bottled "Well Water" could make you stronger, smarter and more productive. It could even help you live longer, explained the campaign, modelled on a typical health beverage promotion.
The spot featured athletes running and boxing, scientists innovating, and old people displaying unnatural vitality before the kicker: "Well Water… is not a product." But the benefits to the communities with new wells are real.
The TV and OOH campaign generated a 33% increase in traffic to a revamped website, and a 393% increase in donations made directly to World Vision Water Projects.
Correction: An earlier version of this story didn't properly attribute one of SickKids and Cossette's wins for "VS," a Gold for AToMiC Idea. We regret the error.