Brands do it for dad
With Father's Day approaching, a look at how some companies are paying tribute.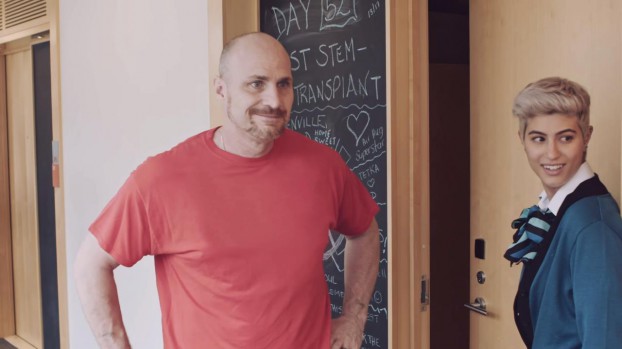 Father's Day is on Sunday (there's still time to buy a card if you forgot) and we've already seen Canadian Tire and SickKids find ways to celebrate. But they aren't the only ones, so we've compiled some other ways – from heart warming to tear-jerking – brands have paid tribute to dads across Canada leading up to this weekend.
WestJet and Ronald McDonald House organize a reunion
When Troy Hunt's son Darian was diagnosed with leukemia, his family immediately flew from their home town of Clarenville, Newfoundland to a Ronald McDonald House in Toronto. Troy – who also donated stem cells as part of Darian's treatment – stayed with Darian, keeping them separated from Troy's daughter/Darian's sister Kaiya for two months. It also kept them from the hockey team Troy coaches and Darian plays on – a major part of their lives.
You know from the title that WestJet is involved, so you might know where this is going.
The airline partnered with Ronald McDonald House Charities on one of its trademark surprises, flying Kaiya and players from the team to Toronto, reuniting Troy with his daughter and giving Darian a day with his teammates to help lift his spirits.
A galaxy far, far away…
One of the most recognizable lines in all of film is in The Empire Strikes Back, when Darth Vader, locked in a duel with Luke Skywalker, reveals the truth about where he came from: "No, I am your father." It's not exactly a happy moment for the father/son duo, but a video celebrating Father's Day from Disney and Toronto's No Fixed Address turns it into one.
In the video, we see dads and their kids playing all forms of Star Wars make believe, be it through video games, toys or reading a book. Each one eventually culminates in the iconic line, and it definitely seems like the families are enjoying it far more than Luke did when he was fighting for his life – especially when we cut to a dad saying it for the first time to his newborn child.
The video was developed for the Canadian market and will air on cinema screens this weekend, but will also be picked up globally.
Plan Canada helps dad save the day
A spot that will be running in broadcast and online through the weekend was created by DentsuBos using entirely found footage. The compilation of various home movies shows dads displaying some super-human dad reflexes, saving their kids from what would be incredibly nasty falls or projectiles flying through the air.
The video is promoting Plan Canada's Gifts of Hope program, which allows people to purchase specific items – from sports equipment to livestock to medical supplies – for people in a developing country and "save the day" just like dads do. It might also be your best bet if you've run out of gift ideas for your old man.
Cineplex helps dads and kids bond over a love of movies
Spielberg's The Empire of the Sun. That's the masterpiece film I'd want to share with my future kid, in a Cineplex cinema. Just the two of us, watching the movie for the umpteenth time (for me) and the very first time (for him/her). Death Becomes Her comes a close second.

That's the gift Cineplex gave dads this week when it invited a group of them and their little ones to watch their favourite films in one of their boxes. The private screenings were filmed, with each pair being interviewed in their seats, talking about what they love about the film in a video (below) that was posted on YouTube and Facebook in celebration of this coming Father's Day.