What's in WestJet's mystery box?
A recent stunt and social campaign aims to generate excitement for the airline's loyalty program.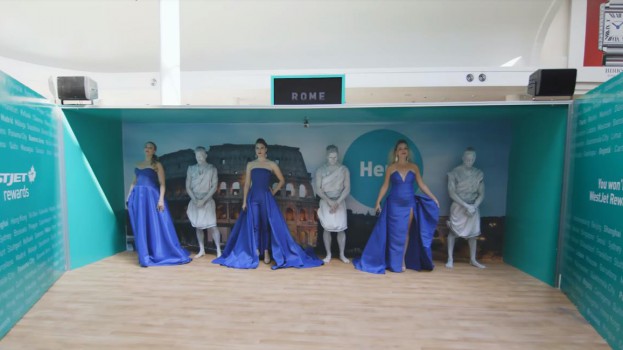 WestJet has launched a new campaign aimed at building awareness for its Rewards program and continuing to make inroads with Canada's business travellers.
At the heart of the campaign is a stunt set up at at the CF Sherway Gardens shopping centre in Toronto. The brand set up a giant container in WestJet's signature teal overnight. As shoppers began to fill the mall, a countdown clock would eventually show a different location WestJet Rewards members could redeem their points to visit, and the container would open to reveal performers emblematic of each location's culture. That included traditional dragon and Wushu dances for Shanghai, mimes and can-can dancers for Paris and opera singers and statues for Rome.
Those watching the performances were also given food representative of each location, and six participants also received WestJet dollars to be redeemed for a flight to one of the destinations.
Publicis Toronto led creative and strategy on the campaign, with media handled by Media Experts, experiential handled by GMR and production by Studio M.
The campaign launched on YouTube last week and has been running in pre-roll, digital and social channels. A second phase of the campaign will be coming in the near future, tailored more to traditional media channels and utilizing high-profile programming, like Rogers' NHL coverage.
"We wanted to launch the strategy and the campaign with something more experiential-led," says Rob Daintree, director of marketing communications at WestJet. "We capture those people in the moment, and connect with those who come across the video content in social. Yes, it was also because WestJet is known to leverage experiential to promote different products and the brand overall, but this is multi-phased approach, so we wanted to do something big and disruptive to get it out the door."
Promoting the WestJet Rewards program is going to be a priority for the airline going forward. While the three locations spotlighted in the activation were selected due to their popularity, the overall number of destinations Rewards members can redeem their points for has reached 50 and will continue to grow. In addition to the new locations, the WestJet Rewards program was also enhanced over the summer through a new partnership that allowed members to accumulate points on Air France and KLM flights as well.
The emphasis on Rewards is part of WestJet's recent priority on growing its market share with business travelers in particular. While the execution happened at a busy shopping centre in front of the general public, Daintree says it fits with the fact that business travelers tend to redeem loyalty points accumulated for business travel for personal trips, and the video content from the execution will be targeted more directly to its target audience.
"We know loyalty programs are an important attribute and need for business travellers," Daintree says. "We have a great program, and this seemed like a good moment to go out and talk about it again and build more awareness around it and the enhancements we've been able to make."