Hunt's enters foodie territory
The ConAgra brand is reaching for the premium market with new heirloom tomatoes packaged in a smaller format.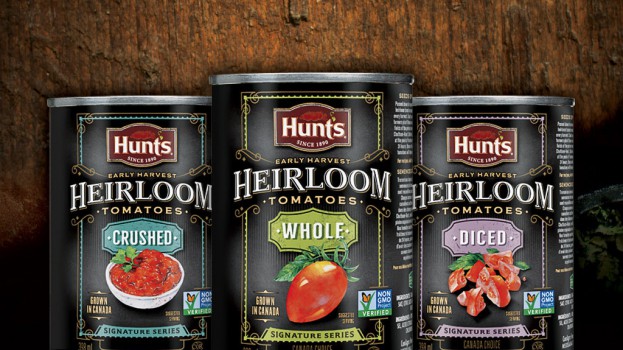 Hunt's has launched a new heirloom tomatoes line of products designed to appeal to consumers seeking premium, high-quality ingredients.
The ConAgra Brands-owned company began rolling out the products earlier this month across Ontario, Quebec and the Maritimes, with a western expansion planned for next year. The heirloom line includes crushed, diced, and whole tomatoes, sourced from Southern Ontario growers and containing only non-GMO ingredients.
Hunt's partnered with Davis on branding and packaging, Per Se Brand Experience on creative, Match MG on in-store executions, MK Media and Active International on media, and Lamb Creative Group on PR.
ConAgra Brands began producing Hunt's entirely out of Canada a few years ago. But the heirloom line "takes it to the next level," says Ryan Fowler, senior brand manager at ConAgra Brands. The products are hyper-local and produced by a small group of multi-generational farms in Southern Ontario. By launching the new line, Hunt's is "starting to own that local story" and increasing its reputation as a leader in the tomato category, he says.
Consumers continue to want organic, healthy, non-GMO ingredients, says Barry Alexander, brand manager at ConAgra, and heirloom products meet those standards. However, Fowler adds that research showing that consumers still view heirloom products as being distinct from organic ones, with "organic leaning very much [towards] the real food and healthy [category], whereas heirloom is much more in the foodie territory."
To premiumize the line, Hunt's has given Heirloom products a black label and packaged them in a smaller format, differentiating them from its more mainstream offerings. The packaging emphasizes the brand's farming heritage, romanticizing the idea of heirloom products by using notions of "terroir" and origins typically reserved for wines.
Hunt's research has shown that consumers care about the story and heritage of products, but that "at the end of the day, they care more about the taste," says Fowler. The line's ability to "elevate" everyday recipes will be a key component of its marketing strategy.
The launch is being promoted through TV spots and chef integrations, running predominantly in the Quebec market. It's further being supported through a social media effort weighing heavily on recipes and possible meal solutions, which Alexander says is a another big part of the brand's marketing plan.