General Mills runs character-themed sock promotion
A national in-store program leverages popular mascots from the CPG co's biggest cereal brands.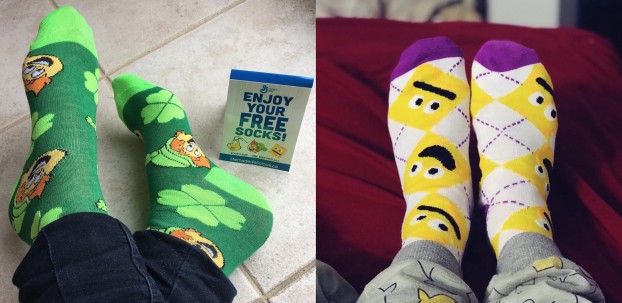 Many cereal box characters have become iconic with age, and those from some of General Mills' top cereal brands are no exception.
In a new national program, the CPG co is leveraging that popularity, giving away free socks designed with General Mills' characters on them as part of an in-store promotion that launched March 5 and will be in market until mid-April.
With purchase of a box of Honey Nut Cheerios, Multigrain Cheerios, Lucky Charms or Cinnamon Toast Crunch, customers obtain a pin code which they can use to redeem online. The socks are designed with the faces of Buzz the Bee, Lucky the Leprechaun and the Cinnamon Toast Crunch squares.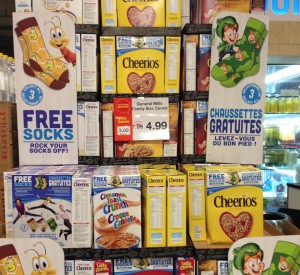 The promotion includes specially marked packaging and in-store displays. It's being supported by a social media campaign involving micro-influencers through a partnership with Influenster, a product discovery and review website. Through that partnership, General Mills engaged with roughly 700 micro-influencers, sending adults and their children free socks and asking that they share photos of them on their social channels using the hashtag #GeneralMillsFreeSocksRock.
Tiffany Carver, director of shopper marketing and promotions for General Mills Canada, says the company is on track to meet its goal of generating 4 million social impressions.
"Our breakfast characters have been around for a long time, and there's a lot of good memories associated with them," she says. Those memories often span several generations: Lucky has been around for almost 50 years, and Buzz nearly 40. Over time, Carver says they have become "highly sought after" by consumers and merchandise promotions that involve them "consistently exceed our expectations."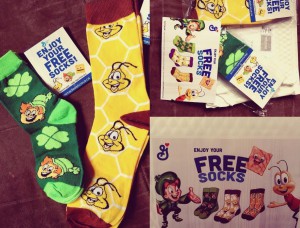 The success of the company's "Bring Back the Bees" campaign for Cheerios attests to the attachment consumers can have towards their childhood cereal mascots.
In the past, General Mills has run similar merchandise programs using beach towels, t-shirts and tuques.