How Samsung won back consumer trust
Experts weigh-in on the electronics co's rise in brand trust surveys, and offer insight on how Tim Hortons can replicate its success.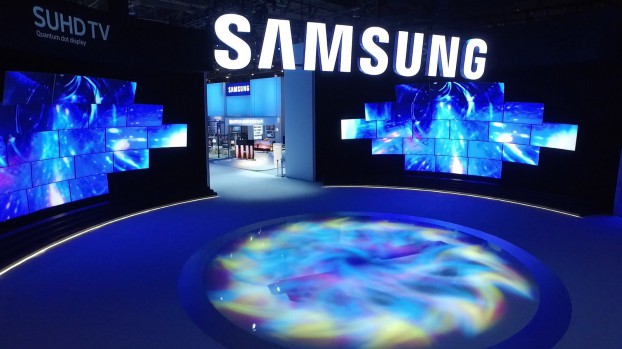 A flurry of recent surveys have offered a glimpse into where brands stand with consumers.
Ipsos was the first to take the temperature with its annual brand influence survey in March. Then, Leger dropped its own corporate reputation study last week, revealing similar trends in levels of brand trust. And today, Proof Communications (formerly Environics Communications) unveiled its 2018 CanTrust Index, exploring trust levels across both the private and public sectors.
Collectively, the surveys show Google has largely remained on top, consistently taking first or second place overall. But the studies also revealed a number of surprising shifts.
Frequent top-ten finisher Tim Hortons has dipped in the rankings — or "plummeted," depending on the report – following a year of disputes with franchisees and negative coverage (fueled, in part, by public protests) over restaurant owners' handling of the minimum wage hike in Ontario.
Meanwhile, Samsung has moved upward in the rankings, following significant losses in trust in 2016 due to the fire-starting defects of its Galaxy Note 7 smartphones. Leger's report showed Samsung jumping from #24 to #5 in its 2018 rankings, and Proof's CanTrust Index shows trust in the company rose from 45% in 2017 to 55% this year, propelling it to the sixth-place spot overall. (The full list of Proof's most trusted brands in the CanTrust Index can be found below.)
Strategy spoke to PR and crisis communications experts about what's behind Samsung's upward trajectory and Tim Hortons' slump in the rankings.
What Samsung has done right
Josh Cobden, EVP and general manager at Proof Toronto, says Samsung has done three things that have helped it rebuild trust with consumers in recent years.
First, it responded quickly to the original crisis by recalling the affected products and committing to a full review of its manufacturing and quality controls; second, it took accountability for the issue by communicating clearly with consumers; and third, it has since successfully introduced a strong line of models that have, well, worked. "They're walking the talk," he says.
According to his firm's CanTrust Index, product reliability is identified as the most important influence on trust with Canadians at 85%. Close behind is company reputation at 79%. Meanwhile, Canadian-ownership, a key trust driver, does not seem to have hindered the global electronics company's efforts.
Mark Childs, CMO at Samsung Canada, says that throughout the entire brand recovery process, the company has "done our best to listen to Canadians and put the customer first in all of our actions."
He says Samsung's desire to take accountability, to renew its commitment to customer safety (through, for instance, the development of an eight-point battery safety check) and to ensure future successful product launches were just some of the ways it has worked to rebuild trust.
What Tim Hortons has struggled with
The timing of the surveys has been unfortunate for Tim Hortons, says Janine Allen, SVP and general manager at Kaiser Lachance Communications, but the restaurant chain could recover if it acknowledges the issues it has been facing, shows empathy with consumers and franchisees, and communicates clearly how it plans to address their concerns.
To an extent, Tim Hortons' drop in the rankings has itself become fodder for negative news coverage, considering its longstanding position as one of Canada's most trusted brands. The company fell off of Ipsos' top-ten brands for the first time in six years, and it dropped from number four to number 50 in Leger's annual ranking.
Allen says a Tim Hortons statement circulating in the media saying it has a "strong plan and a positive agenda to continue to evolve our brand and meet the needs of our guests" is a step in the right direction, but that official statements only go so far. Many great crisis managers, she says, take it a step further by being available for face-to-face media interviews.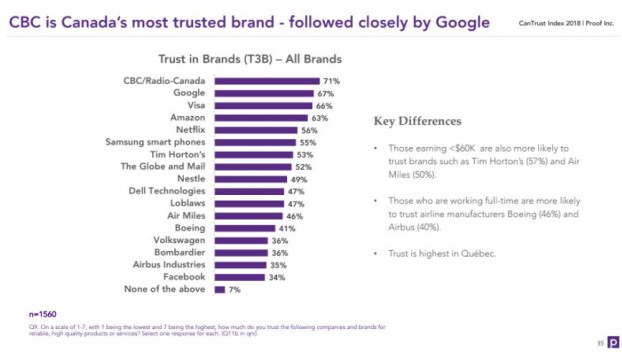 The complete list of the most trusted brands according to Proof's 2018 CanTrust Index. 
Editor's note: This story originally reported that Samsung jumped from #24 to #4 in Leger's 2018 rankings. We regret the error.