Kraft Heinz seeks to demystify KD's ingredients
The macaroni and cheese brand is less artificial than people think, according to a new campaign by Taxi.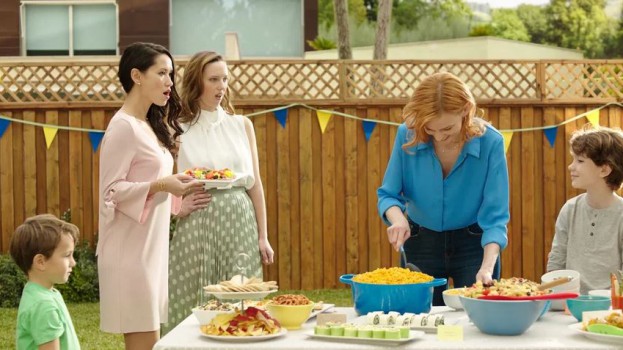 While KD has long been a staple of young people's diets, parents have grown more concerned about what they feed their kids and families, leading some to question whether the brand can align with a healthier lifestyle.
Kraft Heinz is looking to mitigate those concerns about KD in a campaign called "Better Than You Think" by Taxi, an effort that launched earlier this month and will be live through the summer.
The campaign revolves around the idea that KD is made with real cheese and has no artificial flavours, colours or preservatives. The effort is directed at mothers, which represents a shift away from more millennial-focused campaigns that sought to inject a sense of comfort into the brand.
A 30-second TV spot features a group of mothers at a neighbourhood potluck. When one of the mothers spots Janice placing KD on the table for kids to eat, one of the moms snidely remarks that she "really stepped it up this year." The comment prompts Janice to daydream about boldly celebrating the product, before informing the other mother that "KD isn't all artificial, which is more than you can say."
In addition to the spot, campaign assets include online video, social and contextual digital placements. Starcom led on media.
The effort signals Kraft Heinz's desire to position itself as more authentic in response to modern eating trends, says Nina Patel, marketing director of brand build communications and innovation at Kraft Heinz. Company research has shown consumers weren't necessarily aware of the ingredients in KD.
"When we drew their attention to the ingredient line, they were happily surprised because KD is better than they thought," Patel says. "This insight really helped showcase the opportunity to drive permission with parents, giving them the confidence to feel better about serving their kids KD more often."
"This campaign focuses on building continued relevance as the 'go to' kid-approved meal amongst moms and parents," says Patel, "but it's inclusive of millennials as well, many of which grew up on KD and are starting to become parents."
Last month, Patel told strategy that Kraft Heinz continues to look for opportunities to adapt to healthy eating trends, a position evident in a recent campaign for Renée's Gourmet Dressings.