Cossette wins double Best of Show at Marketing Awards
The agency took top honours for its work with McDonald's and SickKids.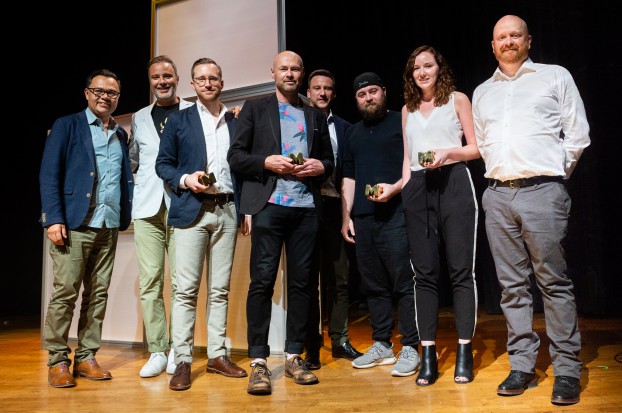 Pictured above and below: Cossette with clients McDonald's and SickKids as they each took home a Best of Show prize.
The 2018 Marketing Awards was another big night for Cossette, with the agency taking home two Best of Show awards.
At Thursday's gala, Cossette won Best of Show for the "Follow The Arches" out-of-home campaign for McDonald's Canada, as well as Public Service Best of Show for the "VS: All In" campaign for SickKids.
The "Follow The Arches" campaign also won three Golds and a Silver in Out-of-Home, a Silver in Craft for Art Direction (by Cossette's Spencer Dingle and David Théroux), as well as a Bronze in Design.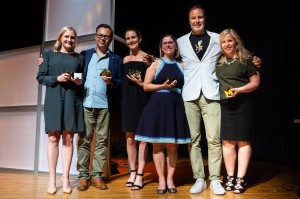 "All In" took home three Golds in the Public Service category, and shared another three Craft Golds with Skin & Bones Film Company for Direction (by Mark Zibert), Editing (by Marka Rankovic) and Cinematography (by Mark Zibert and Chris Mably). A52 was also recognized in the campaign's final Gold Craft award for Special Effects (by Jesse Monsour).
Cossette took home a total of 13 Gold, 11 Silver and 7 Bronze to go with its Best of Show honours.
Also leaving with an impressive haul were Sid Lee (five Gold, six Silver and five Bronze) for its work with clients including Loto-Quebec, Molson and Videotron, as well as Rethink (four Gold, four Silver and 12 Bronze) for clients including WestJet, RGD, Playland and YWCA.
A total of 164 trophies were awarded, including 39 Gold, to 29 agencies.
The Gold-winning campaigns can be found below. The full list of winners, including Silver and Bronze, can be found alongside case studies on the Marketing Awards website.
Best of Show
"Follow The Arches"
Brand: McDonald's
Agency: Cossette
Public Service Best of Show
"VS: All In"
Brand: SickKids
Agency: Cossette
Craft
Animation
"Mia & Morton"
Brand: Dairy Farmers of Canada
Animation: Gentleman Scholar
Agency: DDB
Animation
"Pride Stories"
Brand: Spotify
Production: Giant Ant
Cinematography
"VS: All In"
Brand: SickKids
Agency: Cossette
Cinematography: Chris Mably and Mark Zibert, Skin and Bones
Direction
"VS: All In"
Brand: SickKids
Agency: Cossette
Director: Mark Zibert, Skin and Bones
Direction
"VS: MomStrong"
Brand: SickKids
Agency: Cossette
Director: Mark Zibert, Skin and Bones
Editing
"Sounds of Trauma"
Brand: The David Lynch Foundation
Agency: Herezie Group
Editor: Yan Dal Santo, Morrison Films (A Mile Inn Boutique)
"VS: All In"
Brand: SickKids
Agency: Cossette
Editor: Marka Rankovic, Skin and Bones
Sound Design
"Sounds of Trauma"
Brand: The David Lynch Foundation
Agency: Herezie Group
Sound Design: Pascal Desjardins and Yan Dal Santo, Apollo Studios
Special Effects
"VS: All In"
Brand: SickKids
Agency: Cossette
Special Effects Artist: Jesse Monsour,​ A52
Design
Logo/Corporate Identity
"DesignThinkers 2017 Identity"
Brand: RGD
Agency: Rethink
"Humanity & Inclusion Logo"
Brand: Humanity & Inclusion
Agency: Cossette
Promotion
"Molson salutes the dépanneurs"
Brand: Molson Export
Agency: Sid Lee
Public Service
Community Building || Integrated Campaign || Online Film Single (three Golds)
"VS: All In"
Brand: SickKids
Agency: Cossette
Experiential/Special Events/Stunts || Integrated Campaign Led by PR (two Golds)
"Break Bread Smash Stigma"
Brand: Casey House
Agency: Bensimon Byrne / Narrative / OneMethod
Community Building
"Don't Get Sextorted, Send a Naked Mole Rat"
Brand: Canadian Centre for Child Protection
Agency: No Fixed Address
Online
"Destination Pride"
Brand: PFLAG Canada
Agency: FCB/Six
Online Film Campaign
"Six-Second Ambush Advisories"
Brand: YWCA
Agency: Rethink
Online Film Campaign
"VS: MomStrong"
Brand: SickKids
Agency: Cossette
Advertising
Billboard Campaign || Billboard Single (Next Exit) || Best in Point-of-Purchase (three Golds)

"Follow The Arches"
Brand: McDonald's
Agency: Cossette

Best Use of Social Media || Creative Use of Technology (two Golds)

"Lucky Stars"
Brand: Lotto 6/49
Agency: Sid Lee

Online Film Campaign – Long-Form || Online Film Single – Long-Form (Viking) (two Golds)


"Make a Date with Harlequin"
Brand: Harlequin Enterprises
Agency: BBDO

Influencer/Talent Marketing || Integrated Campaign Led by PR (two Golds)


"In the Head of a Hacker"
Brand: HP
Agency: Edelman

Branded Content

"Snack Time"
Brand: Milk West
Agency: DDB

Games

"No Man's Sky"
Brand: Hello Games
Agency: Alice & Smith

Online Film Single – 15 Seconds and Under

"Parking in 4.9 seconds"
Brand: L'Association des concessionnaires Toyota du Québec
Agency: Bleublancrouge

Experiential/Special Events/Stunts

"Desert Roulette"
Brand: WestJet
Agency: Rethink

"Mr. Robot Cryptocurrency"
Brand: USA Network
Agency: Bleublancrouge / Alice & Smith

Small-Scale Ambient

"Surveillance Cameras"
Brand: Loto-Quebec
Agency: Sid Lee

Transit/Posters Single

"Moving Organs"
Brand: Playland
Agency: Rethink

Radio Campaign

"Song Dedication"
Brand: Videotron
Agency: Sid Lee

Radio Single

"Angela"
Brand: Gain
Agency: Leo Burnett